2015 SUMMARY OF WORK-RELATED INJURIES AND ILLNESS[bs_row class="row"]
[bs_col class="col-sm-4″]
[/bs_col]
[bs_col class="col-sm-8″]The University's OSHA Form 300A Summary of Work-Related Injuries and Illnesses for 2015 will be posted in departments through April 1, 2016.  This notice summarizes the number of work-related injuries and illnesses reported by employees of the university campus that qualify as "OSHA recordable." In 2015 there were a total of 446 injuries reported. Out of the total claims reported to Workers' Compensation Fund, 132 claims were serious enough to be considered recordable with OSHA (11 of which resulted in time away from work).
As we start 2016, it's a great time for supervisors and employees to review how to make our workplace safer. We can start by focusing on systems and processes that have the greatest potential to cause injury as well as the most common injury types.
Stats regarding work-related injuries at the university in 2015:
Age group of most reported injuries: 30 to 39
Length of employment for the most reported injuries: one to five years
Day of the week most injuries happened: Wednesday
Time of day for most injuries: 9-11 a.m. and 1-3 p.m.
Months most injuries occurred: January, May and October
Most reported accidents:
Slip and fall: 25 percent
Cuts 21 percent
Most injured body parts:
Finger: 24 percent
Hand/wrist 14 percent
Head/face and knee/leg were tied at 10.35 percent
If you have a work-related injury or illness, be sure to report it to your supervisor and complete an Employers First Report of Injury form. The form is located on the HR website here.
Information about workers-related injuries and illnesses is on the HR website here.[/bs_col]
[/bs_row]
---
NEW TAX FORM 1095-C [bs_row class="row"]
[bs_col class="col-sm-4″]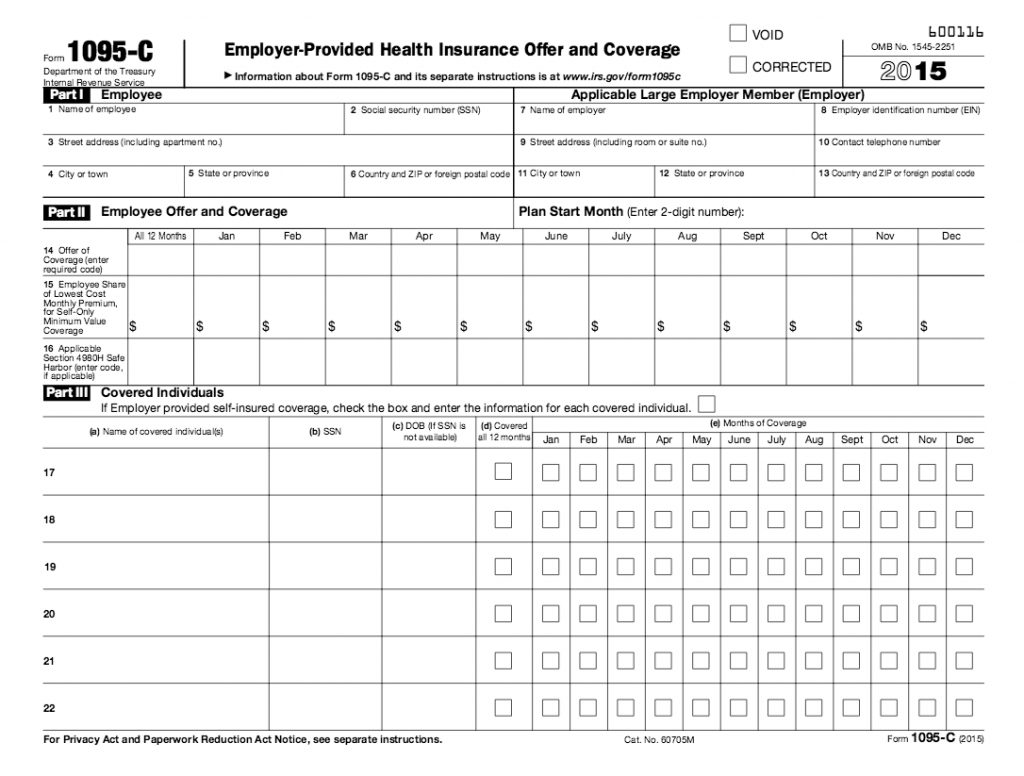 [/bs_col]
[bs_col class="col-sm-8″]Employees in full-time, benefit-eligible positions and those in part-time positions who enrolled in the University's Employee Health Care Plan will receive a Form 1095-C.  This form will confirm the university's offer of health coverage to you and your enrollment (if enrolled), together with an enrollment confirmation for any other enrolled family members.
The IRS has extended the deadline for delivery of individual employee forms to March 31, 2016.  The university will provide the forms to employees as soon as possible.
You do not need to send the Form 1095-C with your taxes. If you wish to file your taxes prior to receiving your Form 1095-C and you are unsure of the months in which you had coverage through the university, please contact the Benefits Department at 801-581-7447.
For information about Form 1095-C, see the Benefits Department's webpage.
[/bs_col]
[/bs_row]
---
MILESTONE YEARS OF SERVICE RECIPIENTS HONORED [bs_row class="row"]
[bs_col class="col-sm-4″]
[/bs_col]
[bs_col class="col-sm-8″]A luncheon hosted by President Dave Pershing and Chief Human Resource Officer Jeff Herring was held on Tuesday, Jan. 26, 2016, to recognize U staff who reached milestone years of service (25, 30, 35, 40, 45 and 50 years).  This year 116 staff members reached 25 years of service; 59 had 30 years; 31 had 35 years; 15 with 40 years; one with 45 years and one with 50 years – for a total of 6,450 years of service. Impressive!
Special recognition was paid to Leona Hollingsworth for her 50 years of service to the university.
Hollingsworth started in February 1965 when the University Hospital was located on State Street. Later that year when the hospital moved up to the U campus she and Dr. Larry Jung started the Newborn ICU with one nurse and borrowed equipment from Primary Children's Hospital which was adapted for use with tiny babies. Hollingsworth started in Pediatric Administration and has made this her life's work.
She is the mother of four children – three sons and a daughter, has 10 grandchildren and one great grandchild.
Congratulations to Hollingsworth, and all of this year's recipients. Thank you for your dedication to the university.
A full list of years of service recipients may be found here.
[/bs_col]
[/bs_row]
---