Editor's note:

U.S. Congressman John Lewis will speak at the University of Utah Nov. 10 at 11 a.m. at Libby Gardner Concert Hall. Lewis is a civil rights icon who recently published the first two graphic novels in a trilogy that chronicle his perspective of the civil rights movement. He will be joined by co-author Andrew Aydin and illustrator Nate Powell. His appearance is sponsored by the University of Utah MUSE Project (My U Signature Experience), a presidential initiative that works to enrich undergraduate education across the university.
In anticipation of his visit to campus and the MUSE Project's focus on "community" this academic year, several courses have adopted his graphic novels into the curriculum. Professor Lecturer Carolan Ownby, who is also associate director of the U's LEAP Program, outlines her course, Community as Idea and Experience: Definition of the Other, below. The course explores the theme of community and the process of exclusion, especially as it is motivated by perception of race and class, in a national, international and global context. It also explores the impact an individual can have on a community through service.
Students, faculty and staff interested in reading the graphic novel can pick up a free copy of March, books one and two, in the MUSE Project offices, located in the Sterling Sill Center (just east of the Union Building, 195 Central Campus Drive). Tickets to the event will be available soon, both online and in-person at venues across campus. Check muse.utah.edu for updates regarding ticket availability.
LEAP is a yearlong learning community for first-year students designed to help them transition more confidently to college and to play an active role in their own education. Students work in small classes and participate in social and service activities with other students and with peer advisors. All LEAP courses focus on the themes of diversity and community.
Before this year, the book with which my students and I began the semester was often one about poverty in America. Last year, I used "The Other Wes Moore," which was a previous MUSE selection. This year, however, we began the class with the first two volumes of John Lewis's "March," and the fit has been serendipitous.
Many of my students were born around 1995, and have a vague knowledge of the civil rights movement drawn from their high school history days. They know events, but not necessarily where to place them on a chronology. They know some names, but don't always know the importance of people who bear those names. They all know who Martin Luther King Jr. was, but have not heard of people like James Foreman or Bayard Rustin. They have not heard of Lewis.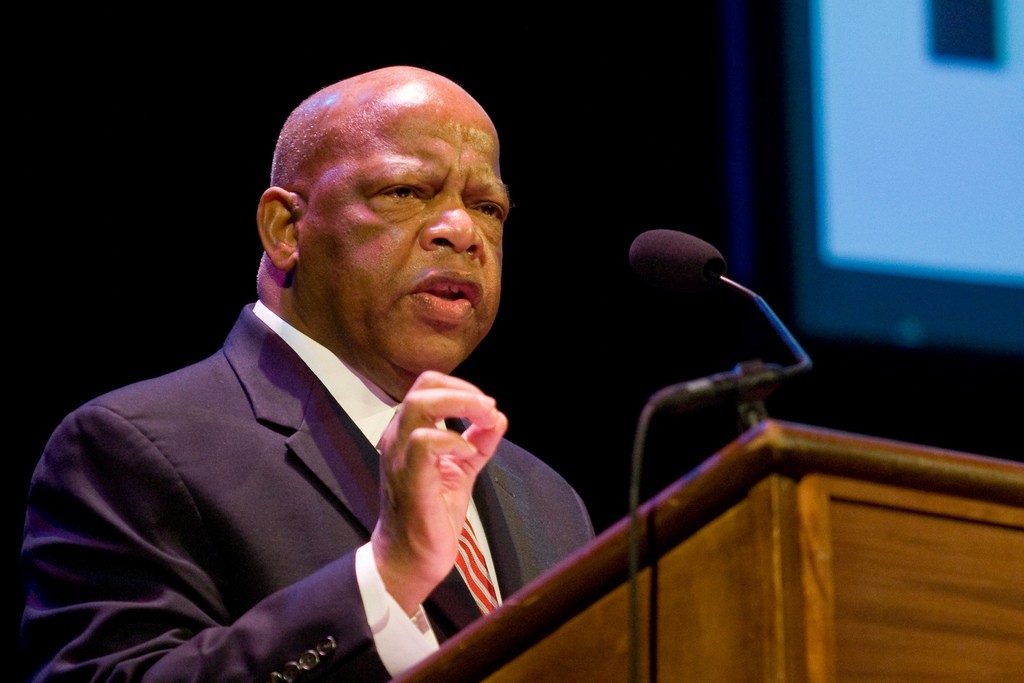 For me, one of the three most important images of the civil rights movement is that of Lewis in his light-colored raincoat, standing still at the end of the Edmund Pettus Bridge, being approached by police with clubs coming to beat him. I want students to know that image, and to consider and discuss the level of courage that must have taken. I want them to know that he spoke at the March on Washington, immediately before Martin Luther King Jr. I want them to know that he still is actively involved in service as a U.S. congressman.
The graphic novel format of "March" has worked especially well in my classes. Initially, I was intrigued by the idea, but wasn't sure precisely how I would teach a graphic novel. I discovered some important things:
Students actually read the entire book.
The books condense a great deal of information into a small space.
Students notice the nuanced interplay of ideas that occurs.
For example, early in "March: Book One," Lewis describes a trip he took as a boy, driving north from Alabama to Buffalo, New York. One crucial lesson he learned was that the farther north he got, the more relaxed he became. He also notices that black drivers going the other direction, from north to south faced increasing danger. This can lead to a discussion of the fate of Emmett Till, effectively and succinctly described in a single page, who died because he didn't know the difference that Lewis had learned.
Another theme we have focused on is the use of music in the civil rights movement. "March" makes this easy by using lyrics as occasional illustrations: "We shall overcome" or "Ain't gonna let nobody turn me around." I play the music before class starts to "set the tone" (as one student described it). However, I also want to talk about the importance of music such as Nkosi sikelel'i Afrika in the fight against apartheid later in the semester, so this baseline is important for comparison. We've watched one piece of the documentary "Long Walk to Freedom," part of which includes the speech that Lyndon B. Johnson gave about the Voting Rights Act, where he used the phrase "We Shall Overcome." The documentary explains how important that phrase was, both to the whites in the south, and to Martin Luther King Jr. I want my students to understand that importance.
A notable musical lyric in the second book comes from the "Star Spangled Banner," sung at the inauguration of President Barack Obama. This is an example of particular strength of a graphic novel, because it takes the reader seamlessly from the attack of the Freedom Riders and John Seigenthaler in Alabama in 1961, to the inauguration of President Obama in 2009, back to the bombing of a church in Alabama in 1961. All kinds of discussions can come from this. Is the national anthem a true expression of our community? Is the Obama presidency postracial? What is the significance of bombing churches? (The second volume ends with the 1963 bombing of a Birmingham church that killed four young girls). Once the question of church bombings is raised, one natural line of discussion is the bombing of the Charleston church in 2015, and the symbolism of the Confederate battle flag.
The story of Lewis will provide a solid foundation for the rest of the semester. We will next talk about scientific racism and privilege. I typically use the example of South Africa during apartheid to approach this, but I will pull in examples from "March" as well. We next discuss Eugenics and the Army tests prior to World War I, leading to things such as the 1924 Immigration Restriction Act and the Tuskegee Study. Again, the story of Lewis will provide a significant foundation. The Tuskegee Study doesn't end until 1972. How is that possible, given that the civil rights movement goes on through the decade of the 1960s? When we next move to a discussion of apartheid in South Africa, we will have more skill to make a comparison between the freedom movements of the United States and South Africa.
The final foreseeable impact that "March" will have on my classes will be understanding the potential impact of an individual on community. Because my course carries a community-engaged learning designation, my students complete 25 hours of service working with a community partner, such as Horizonte, International Rescue Committee, Promise South Salt Lake, Neighborhood House and Maliheh Free Clinic.
There will be some students in my classes who will be deeply influenced by their own foray into community service, and others who will not. But all of them will have the chance to understand how one individual, like Lewis, can impact a community. Even if they personally choose not to pursue the path of community involvement, they will better understand the contribution of Lewis. To have the opportunity to hear him speak in person, will indeed be a signature experience.
Each year, MUSE facilitates student-led book discussion groups surrounding the centerpiece text. If you're interested in reading the graphic novel "March" within a book discussion group, or if you're a student looking to start a "March" discussion group of your own, email MUSE Project Event and Communication Specialist Libby Henriksen at e.henriksen@muse.utah.edu for more information.