By Ashley Babbitt, College of Architecture + Planning, University of Utah (babbitt@arch.utah.edu)
A team of graduate students from University of Utah's Department of City & Metropolitan Planning are helping the state to view homelessness as a regional issue. Through an urban design class, students have developed maps to illustrate homelessness regionally and proposed design solutions to address those challenges. An exhibit of their research is currently on display in The Leonardo, 209 E. 500 South.
"The exhibit of student work is meant to supplement important information to the discussions about homeless services and facilities in Salt Lake City," said Soren Simonsen, urban designer and U visiting professor, who leads the class. "Their research sheds light on homelessness as a regional issue, and every community of the greater Wasatch Region has a role to play in addressing it."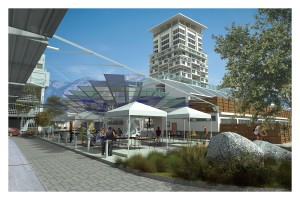 The student exhibit features an analysis of existing facilities and services in the region. It includes maps of homeless service locations for the six most highly populated counties of the Salt Lake metro area and a correlating map highlighting where individuals who become homeless come from based on the zip code of their last fixed address.
"When we combine these maps together, we can see which communities have the highest vulnerable populations, where they are coming from, and then overlay that with the location of services," said Christian Kirkham, graduate student of city and metropolitan planning. "This way, we can identify gaps where homeless services are needed."
Following the analysis, students proposed design solutions to address the needs for additional services in the region. For example, students explored permanent supportive and affordable housing, dependency treatment facilities and emergency shelter locations—including a specific proposal for a women and children shelter. There is not currently an emergency shelter in Utah exclusively for women and children, outside the domestic violence shelters.
"This experience has impacted my learning from a design standpoint, and not only that, but the way at which I go about fulfilling those designs," said Ashley Cleveland, graduate student of city and metropolitan planning, who is working on a proposal for an emergency shelter for women and children, as well as low- income housing and a charter school. "We have been learning about different applications to really talk about how urban design can affect people's lives and how that intersects with the streets edge and how that affects the community."
Kirkham proposed an affordable housing design that focuses on long-term housing solutions for at-risk families with children.
"Probably the most progressive part of the whole plan is the idea of a playscape, especially for children who are transitioning out of homelessness or on the verge of homelessness. They need to have a place to have a pause, and that pause needs to be a fun place for them to play. Not only for children but for their parents as well," added Kirkham.
Other facilities proposed include a substance rehabilitation center in a rural setting, and researching how being in a remote location could potentially aid recovery. Through analyzing best practices of facilities types, students further explored urban design considerations.
Homelessness is associated with a range of social issues such as domestic violence, substance abuse, employment issues, high costs of housing and many others. The students are not focusing on the specifics of why people are homeless, but rather, addressing present needs in locations where services are needed.
"Homelessness is something that needs to be a coordinated, collective approach, from all sectors—from real estate, from city planning, from every part of government. Every city government needs to be making their own strides toward this problem, instead of pushing it off to somewhere else," said Kirkham.
The students coordinated their research with staff members of Salt Lake City and Salt Lake County, and numerous community stakeholders including members of the Pioneer Park Coalition.
"The partnership with the city and the U has been very productive," said Elizabeth Buehler, homeless services coordinator for Salt Lake City.  "As a former planning student myself, this is the best experience you can get in the field for your professional career."
The student research is a companion to the "No Fixed Address" exhibition in the Human Rights Gallery of The Leonardo. Both exhibits will run concurrently through mid-February.