If you've never been, here's what you can expect: live dance, music, and theatre performances, film screenings, info booths, free food, interactive art, and LOTS of free swag.
Here's what you'll do
When you arrive, stop at any booth to pick up your Arts Pass-port (we'll just call it your passport)
Fill up your passport by visiting booths and learning all about how you can connect to and/or study in the arts
When your passport is full, bring it to the College of Fine Arts booth and redeem it for some sweet swag. Everyone will get a handy crimson lunch tote and the first 250 people will also get a black snap-back hat.
Why do we host this party for U students?
To celebrate all the arts have to offer at the University of Utah, of course. From our famous Arts Pass program that allows students use their UCard to access hundreds of arts experiences on campus each year for free or deeply-discounted prices, to learning about all the majors, minors, grad programs, and non-majors courses in the College of Fine Arts' five academic units (Art & Art History, Dance, Film & Media Arts, Music, and Theatre and our Arts Ed programs.).
One more prize-y thing (kind of a big thing)
Students will have the chance to win a pair of AirPod Pros and an Arts Pass prize pack on 8/31! Check @universityofutah on Instagram on 8/31 for the post about Arts Bash, like it, leave a comment tagging a friend you want to experience the arts with + follow @uofuartspass!
For a bonus entry you can participate in Arts Bash, fill your passport with stamps, and scan your Ucard at the College of Fine Arts booth!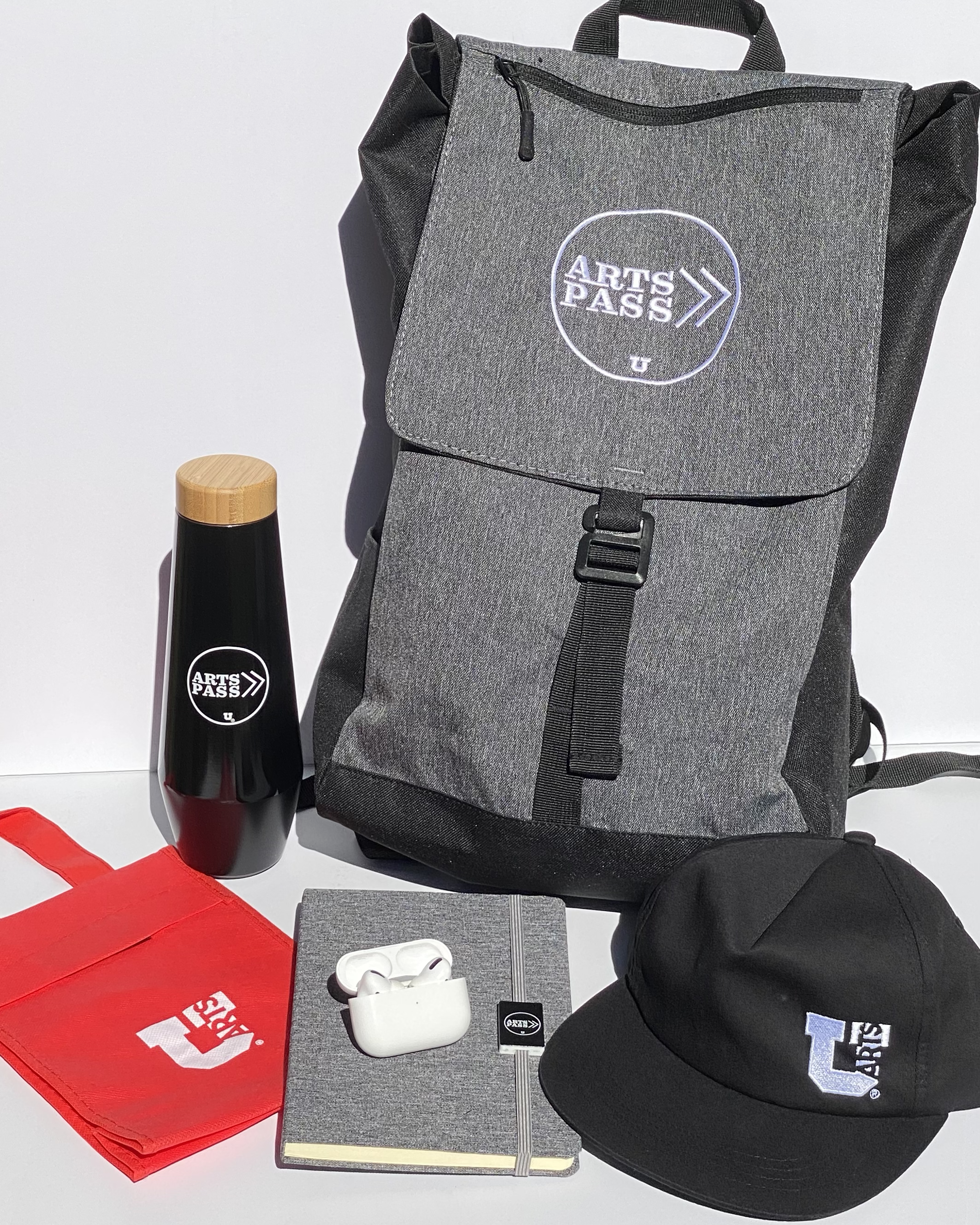 Prize pack includes
Apple AirPod Pros
Arts Pass Backpack
Water bottle
Notebook
Uarts Hat
Uarts Lunch bag
Student-designed stickers, and more!
The U's commitment to the arts and creativity
A growing body of research shows that arts experiences can positively impact students' lives – including enhancing health and well-being, tolerance, empathy, literacy, critical thinking, community building skills, and even graduation rates. Plus, the arts provide us all valuable moments of respite, reflection, and connection.