JUMP TO:
UIT makes changes to manage UMail spam
University Teaching Committee awards
Utah Red Zone Fan Cave Giveaway presented by America First Credit Union
MathWorks MATLAB Total Academic Headcount site license for U community
Customized promotional items by University Print & Mail
U5K now a WellU option
---
UIT MAKES CHANGES TO MANAGE UMAIL SPAM[bs_row class="row"][bs_col class="col-sm-4″]

[/bs_col]
[bs_col class="col-sm-8″]As part of The University of Utah's proactive stance on reducing the amount of email spam, we continue to implement best practices in security controls within the UMail environment. Accordingly, on Thursday, September 8, 2016 at 10:00 p.m. we removed off-campus access to less-secure means of sending/receiving UMail. This method is referred to as "Authenticated SMTP" in some email clients.
The vast majority of University UMail users are connecting to UMail through secure channels (HTTPS) and modern, industry-standard connectors. The small number of identified users of off-campus SMTP UMail have been identified and contacted directly and advised to change the way they send/receive email so that they don't experience any UMail service disruption.
In the rare event that you or a colleague are affected by this change, other options are:
For IT security reasons, the U currently does not support the Outlook mobile app for iOS/Android. Please do not try to use the mobile app to access UMail.
If you know of colleagues who received a direct email from UIT and are unsure why, or have any other questions, please call your local help desk or a central help desk:
Main Campus: UIT Help Desk 801-581-4000 x1
Hospitals and Clinics: ITS Service Desk 801-587-6000[/bs_col][/bs_row]
---
UNIVERSITY TEACHING COMMITTEE AWARDS[bs_row class="row"][bs_col class="col-sm-4″]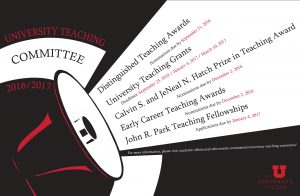 [/bs_col]
[bs_col class="col-sm-8″]The University Teaching Committee encourages the efforts of faculty members, departments and colleges to improve individual teaching skills, devise effective teaching techniques and recognize and reward superior achievements in teaching. A variety of awards are now seeking nominations.
To see criteria and deadlines, click here.[/bs_col][/bs_row]
---
UTAH RED ZONE FAN CAVE GIVEAWAY PRESENTED BY AMERICA FIRST CREDIT UNION[bs_row class="row"][bs_col class="col-sm-4″]

[/bs_col]
[bs_col class="col-sm-8″]Utah Red Zone and America First Credit Union are working together to give one lucky Utah Football fan the best seat in the house with the Utah Red Zone Fan Cave Giveaway. Utah Red Zone will make one fan's living room have as much Utah pride as they do with a fully furnished and decorated fan cave for the perfect home and away game experience.
The Utah Red Zone Fan Cave Giveaway grand prize includes:
Samsung 65″ Class 4K Ultra HD TV
(2) Imperial University of Utah Recliners
Blakeway framed Rice-Eccles stadium panorama
Northwest Utah tapestry woven blanket
Northwest Utah plush throw blanket
Northwest Utah rug
Legacy Utah vintage game poster artwork
Legacy Utah wall-mount bottle opener
Legacy Utah serving tray
Paulson Designs Utah athletic logo canvas art
Authentic Street Signs "Man Cave" sign
Dahl large vinyl decal
and more Utah Red Zone merchandise.
Utah fans can enter to win the Utah Red Zone Fan Cave Giveaway by going to URedZone.com/FanCaveGiveaway. The lucky winner will be randomly selected at the conclusion of the Utah Football season.
For more information, call or visit Utah Red Zone or the University Campus Store.[/bs_col][/bs_row]
---
MATHWORKS MATLAB TOTAL ACADEMIC HEADCOUNT SITE LICENSE FOR U COMMUNITY[bs_row class="row"][bs_col class="col-sm-4″]

[/bs_col]
[bs_col class="col-sm-8″]The University of Utah has negotiated and obtained a campus wide MathWorks MATLAB Total Academic Headcount site license for MATLAB, Simulink and 48 companion software products.
Access to the products will be available through the Office of Software License web store beginning Sept. 1, 2016, and the software is available to all students, faculty and staff for academic purposes, including academic research.
Information regarding this license, product pricing and the available products can be found here./bs_col][/bs_row]
---
CUSTOMIZED PROMOTIONAL ITEMS BY UNIVERSITY PRINT & MAIL[bs_row class="row"][bs_col class="col-sm-4″]
[/bs_col]
[bs_col class="col-sm-8″]Employee Appreciation Day is less than two months away — have you ordered your department swag?
University Print & Mail is ready to help you design your department or organization's customized promotional items, from office supplies to water bottles, totes and other fun giveaways. If you can think it, Print & Mail can create it. In addition to standard promotional fare, specialized items such as umbrellas, blankets, hats, shirts and other apparel are also available.
Some items can take six to eight weeks for production and delivery, so order now at printandmail.utah.edu to ensure your items arrive in time for Employee Appreciation Day which takes place on Thursday, Sept. 29.
University Print & Mail is your ongoing resource for customized promotional items any time of year. Contact Print & Mail for a custom quote at 801-581-6171, uprint@utah.edu or order online at printandmail@utah.edu.[/bs_col][/bs_row]
---
U5K NOW WELLU OPTION[bs_row class="row"][bs_col class="col-sm-4″]
[/bs_col]
[bs_col class="col-sm-8″]For the first time, the annual Homecoming Scholarship 5K (U5K) will be a WellU option. Sign up by Sept. 2 for a discounted rate on the already discounted staff/faculty pricing. This race is a great start to Homecoming Saturday and there will be lots of food and prizes.
Hope to see you there.
Date: Saturday, Oct. 8, 2016
Time: 8:30 a.m.
Location: 332 S. 1400 East (Old Law School building)[/bs_col][/bs_row]