JUMP TO:
University Teaching Committee awards
Utah Red Zone Fan Cave Giveaway presented by America First Credit Union
MathWorks MATLAB Total Academic Headcount site license for U community
You asked for it; U Drive Electric returns
Bridging the language gap (correction)
Corey Roach named Interim CISO
Customized promotional items by University Print & Mail
U5K now a WellU option

---
UNIVERSITY TEACHING COMMITTEE AWARDS[bs_row class="row"][bs_col class="col-sm-4″]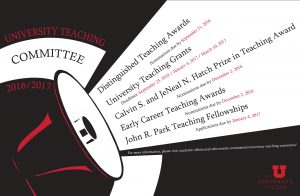 [/bs_col]
[bs_col class="col-sm-8″]The University Teaching Committee encourages the efforts of faculty members, departments and colleges to improve individual teaching skills, devise effective teaching techniques and recognize and reward superior achievements in teaching. A variety of awards are now seeking nominations.
To see criteria and deadlines, click here.[/bs_col][/bs_row]
---
UTAH RED ZONE FAN CAVE GIVEAWAY PRESENTED BY AMERICA FIRST CREDIT UNION[bs_row class="row"][bs_col class="col-sm-4″]

[/bs_col]
[bs_col class="col-sm-8″]Utah Red Zone and America First Credit Union are working together to give one lucky Utah Football fan the best seat in the house with the Utah Red Zone Fan Cave Giveaway. Utah Red Zone will make one fan's living room have as much Utah pride as they do with a fully furnished and decorated fan cave for the perfect home and away game experience.
The Utah Red Zone Fan Cave Giveaway grand prize includes:
Samsung 65″ Class 4K Ultra HD TV
(2) Imperial University of Utah Recliners
Blakeway framed Rice-Eccles stadium panorama
Northwest Utah tapestry woven blanket
Northwest Utah plush throw blanket
Northwest Utah rug
Legacy Utah vintage game poster artwork
Legacy Utah wall-mount bottle opener
Legacy Utah serving tray
Paulson Designs Utah athletic logo canvas art
Authentic Street Signs "Man Cave" sign
Dahl large vinyl decal
and more Utah Red Zone merchandise.
Utah fans can enter to win the Utah Red Zone Fan Cave Giveaway by going to URedZone.com/FanCaveGiveaway. The lucky winner will be randomly selected at the conclusion of the Utah Football season.
For more information, call or visit Utah Red Zone or the University Campus Store.[/bs_col][/bs_row]
---
MATHWORKS MATLAB TOTAL ACADEMIC HEADCOUNT SITE LICENSE FOR U COMMUNITY[bs_row class="row"][bs_col class="col-sm-4″]

[/bs_col]
[bs_col class="col-sm-8″]The University of Utah has negotiated and obtained a campus wide MathWorks MATLAB Total Academic Headcount site license for MATLAB, Simulink and 48 companion software products.
Access to the products will be available through the Office of Software License web store beginning Sept. 1, 2016, and the software is available to all students, faculty and staff for academic purposes, including academic research.
Information regarding this license, product pricing and the available products can be found here./bs_col][/bs_row]
---
YOU ASKED FOR IT; U DRIVE ELECTRIC RETURNS[bs_row class="row"][bs_col class="col-sm-4″]

[/bs_col]
[bs_col class="col-sm-8″]The University of Utah and Salt Lake City are co-sponsoring the community electric vehicle purchase program. The U Drive Electric program includes discounts on multiple makes and models of electric and plug-in hybrid vehicles. This is the second round of U Drive Electric, but the new program extends the offer beyond the U community to include Salt Lake City community members. The program will kick-off during National Drive Electric Week on Sept. 12, 2016, and will run through Oct. 31, 2016.
This year, the program is expanding to include more versatile options, with several additional dealers participating as well as the opportunity to purchase used vehicles.
This joint program is an effort to implement creative solutions to lessen environmental impacts by the university and Salt Lake City and to improve conditions for the community and future generations. With almost 50 percent of Utah's urban air pollution coming from tailpipe emissions, electric vehicles represent an important tool for improving air quality along the Wasatch Front.
To learn more about the program, there will be a community workshop on Wednesday, Sept. 14, 6-7 p.m. at the J. Willard Marriott Library in the Gould Auditorium.
More information on this and future workshops is available at udriveelectric.org. [/bs_col][/bs_row]
---
BRIDGING THE LANGUAGE GAP (CORRECTION)[bs_row class="row"][bs_col class="col-sm-4″]
[/bs_col]
[bs_col class="col-sm-8″]The U's Second Language Teaching & Research Center has been charged by the Utah State Board of Education to lead the program and is working closely with all Utah institutions of higher education to develop and deliver 3000-level university courses to high school students. This program will allow them to graduate from high school with up to nine upper division credits and further facilitate their development of advanced language proficiency.
The department of World Languages and Cultures is also involved in the initiative and developed the course, SPAN 3116, that is being taught at Taylorsville High School by Chantal Esquivias, associate instructor for the department.
Read the full story here.[/bs_col][/bs_row]
---
COREY ROACH NAMED INTERIM CISO[bs_row class="row"][bs_col class="col-sm-4″]

[/bs_col]
[bs_col class="col-sm-8″]UIT is pleased to announce that Corey Roach has been named Interim Chief Information Security Officer effective Thursday, September 1, 2016.* Roach comes to the appointment from his position as Enterprise Security manager in the University of Utah's Information Security Office (ISO).
Dr. Steve Hess, University of Utah Chief Information Officer, said, "We're extremely pleased to have Corey Roach serving as Interim CISO for the University, Hospitals, and Clinics. His qualifications and expertise are exactly what we need while we conduct an international search for a permanent CISO."
James Turnbull, Chief Information Officer for University Hospitals and Clinics, agreed, adding, "Corey's strategic and tactical knowledge of the modern information security landscape, particularly as it intersects with health care and patient privacy, is perfectly aligned with our ongoing enterprise security strategy and day-to-day operations."
Click here to read the full story.[/bs_col][/bs_row]
---
CUSTOMIZED PROMOTIONAL ITEMS BY UNIVERSITY PRINT & MAIL[bs_row class="row"][bs_col class="col-sm-4″]
[/bs_col]
[bs_col class="col-sm-8″]Employee Appreciation Day is less than two months away — have you ordered your department swag?
University Print & Mail is ready to help you design your department or organization's customized promotional items, from office supplies to water bottles, totes and other fun giveaways. If you can think it, Print & Mail can create it. In addition to standard promotional fare, specialized items such as umbrellas, blankets, hats, shirts and other apparel are also available.
Some items can take six to eight weeks for production and delivery, so order now at printandmail.utah.edu to ensure your items arrive in time for Employee Appreciation Day which takes place on Thursday, Sept. 29.
University Print & Mail is your ongoing resource for customized promotional items any time of year. Contact Print & Mail for a custom quote at 801-581-6171, uprint@utah.edu or order online at printandmail@utah.edu.[/bs_col][/bs_row]
---
U5K NOW WELLU OPTION[bs_row class="row"][bs_col class="col-sm-4″]
[/bs_col]
[bs_col class="col-sm-8″]For the first time, the annual Homecoming Scholarship 5K (U5K) will be a WellU option. Sign up by Sept. 2 for a discounted rate on the already discounted staff/faculty pricing. This race is a great start to Homecoming Saturday and there will be lots of food and prizes.
Hope to see you there.
Date: Saturday, Oct. 8, 2016
Time: 8:30 a.m.
Location: 332 S. 1400 East (Old Law School building)[/bs_col][/bs_row]