JUMP TO:
Tree removal around OSH
Union Market Place grand opening
Register now for the Legacy of Lowell Day of Service
Mathematician Joe Taylor remembered
Ms. Wheelchair America Names U. Student for 2017
University Campus Store, Bed Bath and Beyond partnership
Customized promotional items by University Print & Mail
Register for the Susan Sandoval Memorial 5K: A new WellU option
U5K now a WellU option

---
TREE REMOVAL AROUND OSH[bs_row class="row"][bs_col class="col-sm-4″]
[/bs_col]
[bs_col class="col-sm-8″]In preparation for construction on the building that will replace OSH, the University of Utah considered several options for managing the trees in the vicinity, including adjusting the building location and consulting with expert arborists. Ultimately, several trees were removed last week. While 14 trees were able to be transplanted to other locations around campus, not all were viable candidates. Two of the trees will be used to create stepping blocks and a play structure for the playground at the Child and Family Development Center at the Alfred Emery Building. Some of the trees will be used to make signage and furniture that will go in the new building, and others were removed because they were diseased.
The University of Utah is currently developing a landscape master plan that aims to introduce more species diversity into the tree population on campus. This is beneficial because trees are less likely to spread disease to different species. The University of Utah has been a state arboretum for 55 years. In 2015, it received Tree Campus USA recognition by the Arbor Day Foundation after, among other things, forming a tree advisory committee, maintaining a campus tree-care plan and dedicating annual expenditures for the campus tree program.[/bs_col][/bs_row]
---
UNION MARKET PLACE GRAND OPENING[bs_row class="row"][bs_col class="col-sm-4″]
[/bs_col]
[bs_col class="col-sm-8″]This week, the University Campus Store's new Union Market Place convenience store will host a grand opening celebration featuring prizes, giveaways, free popcorn and samples for students and members of the university community.
The Union Market Place is located on the second floor of the Union Building, next to the Union Help Desk. While grabbing a soda, hot dog, chips or snack, patrons can enter to win prizes from the University Campus Store throughout the week. On Monday, free Coca-Cola sunglasses will be given out from noon to 2 p.m. while supplies last.
The Union Market Place is open weekdays from 9 a.m. to 5 p.m. and welcomes students, faculty and staff to stop in for a quick drink, snack or for those last-minute essentials that help get you though the day.[/bs_col][/bs_row]
---
REGISTER NOW FOR LEGACY OF LOWELL DAY OF SERVICE
Saturday, Sept. 17 | 8:30 a.m.-12 p.m.
Glendale Community Center[bs_row class="row"][bs_col class="col-sm-4″]
[/bs_col]
[bs_col class="col-sm-8″]Be part of a U classic! Register now for the annual Legacy of Lowell Day of Service, Saturday, Sept. 17 from 8:30 a.m. to 12 p.m. at the Glendale Community Center. Sponsored by the Lowell Bennion Community Service Center, volunteers can choose from almost two dozen different service projects that help community partners throughout the Salt Lake Valley. Every year hundreds of U students, staff, faculty and community members combine for a great morning of service that improves neighborhoods and lives. Sign up now at bennioncenter.org.[/bs_col][/bs_row]
---
MATHEMATICIAN JOE TAYLOR REMEMBERED[bs_row class="row"][bs_col class="col-sm-4″]
[/bs_col]
[bs_col class="col-sm-8″]Emeritus mathematics professor Joseph Taylor passed away on July 28, 2016, at the age of 75. Colleagues, family and friends gathered to commemorate his life at a memorial service on Aug. 3 in the Cowles building loft. Taylor, who also served as mathematics department chair, dean of the College of Science and senior vice president for academic affairs was remembered as a brilliant mathematician, an insightful leader and a loyal friend.
Taylor was born in 1941 and grew up in Salt Lake City, graduating from Olympus High School in 1959. He enrolled in his first math classes at the U in the fall of 1960, but decided to leave Salt Lake the following summer. Recognizing Taylor's talent, U math professor Don Tucker helped him enroll at Louisiana State University at the graduate level in the fall of 1961. By the next year, Taylor had been offered a junior faculty position at Harvard University based on a well-received thesis. To fulfill Harvard's hiring requirements, Taylor finished his bachelor's degree in December 1963 and was awarded his doctorate the following spring. After a year at Harvard, Taylor returned to the University of Utah.
Read the full article here.[/bs_col][/bs_row]
---
MS. WHEELCHAIR AMERICA NAMES U STUDENT FOR 2017[bs_row class="row"][bs_col class="col-sm-4″]
[/bs_col]
[bs_col class="col-sm-8″]Eliza McIntosh, a junior in psychology and political science, has just been crowned Ms. Wheelchair America 2017. She won with the platform, "Where there is a wheel, there is a way – identify your passion, invite people to join you, and ignite your community behind you." Over the next year, McIntosh will travel the country as a spokeswoman for the disability community, visit with advocacy groups, make public appearances and participate in parades.
Ms. Wheelchair America took place in Grand Rapids, MI. over the course of seven days. McIntosh competed against 25 other contestants from different states. Although the contestants are showcased in pageant format, physical beauty in not a consideration. Of the experience McIntosh said, "I am excited and honored to be Ms. Wheelchair America 2017! I hope to use this opportunity to exhibit just how much you can do BECAUSE of a wheelchair, not despite it."
If you would like to get involved or donate, please contact Eliza McIntosh at 2017mwa@gmail.com or she can be reached at 801-792-7126.[/bs_col][/bs_row]
---
UNIVERSITY CAMPUS STORE, BED BATH AND BEYOND PARTNERSHIP[bs_row class="row"][bs_col class="col-sm-4″]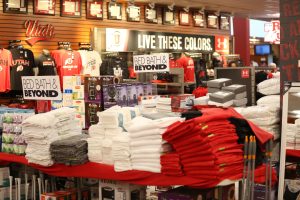 [/bs_col]
[bs_col class="col-sm-8″]As part of its mission to provide comprehensive support to students, the University Campus Store is teaming up with Bed Bath and Beyond to make back-to-school shopping easier, faster and more convenient this fall.
Through Aug. 29, Bed Bath and Beyond will operate a temporary store inside the University Campus Store. There, students will be able to purchase bedding, small appliances, cookware and other household items alongside textbooks and other school supplies, helping to consolidate shopping trips in the busy days leading up to fall semester.
This marks the first time that students will have the opportunity to purchase everything they need for both school and home in one place. It's also the first time that the University Campus Store will house household items to help students organize their kitchen, bedroom and bath spaces in concert with their academic and study spaces in a complete, convenient package.
As a special service to on-campus residents, the University Campus Store and Bed Bath and Beyond will be on site at the Heritage Center's move-in weekend on Aug. 18-19. A slightly smaller version of the University Campus Store collection, the Bed Bath and Beyond table will feature dorm room essentials to help students make their new spaces feel just like home.
For more information, please visit the University Campus Store or call 801-581-6326.[/bs_col][/bs_row]
---
CUSTOMIZED PROMOTIONAL ITEMS BY UNIVERSITY PRINT & MAIL[bs_row class="row"][bs_col class="col-sm-4″]
[/bs_col]
[bs_col class="col-sm-8″]Employee Appreciation Day is less than two months away — have you ordered your department swag?
University Print & Mail is ready to help you design your department or organization's customized promotional items, from office supplies to water bottles, totes and other fun giveaways. If you can think it, Print & Mail can create it. In addition to standard promotional fare, specialized items such as umbrellas, blankets, hats, shirts and other apparel are also available.
Some items can take six to eight weeks for production and delivery, so order now at printandmail.utah.edu to ensure your items arrive in time for Employee Appreciation Day which takes place on Thursday, Sept. 29.
University Print & Mail is your ongoing resource for customized promotional items any time of year. Contact Print & Mail for a custom quote at 801-581-6171, uprint@utah.edu or order online at printandmail@utah.edu.[/bs_col][/bs_row]
---
REGISTER NOW FOR THE SUSAN SANDOVAL MEMORIAL 5K FOR OVARIAN CANCER AWARENESS: A WELLU OPTION
Saturday, Sept. 10, 2016 | 8-10 a.m.
Sugar House Park, Big Field Pavillion[bs_row class="row"][bs_col class="col-sm-4″]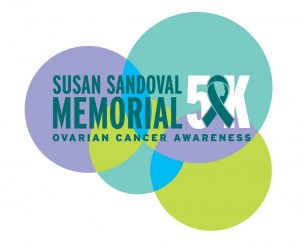 [/bs_col]
[bs_col class="col-sm-8″]Come join us for the 10th annual Susan Sandoval Memorial 5K for Ovarian Cancer Awareness! The event is held annually at Sugar House Park, and this year will be held on Saturday, Sept. 10 from 8 a.m.-10 a.m. The event began in 2007 in memory of Susan Sandoval, a nurse at LDS and Primary Children's hospitals, who battled ovarian cancer. Many event participants have been touched by ovarian cancer in some way, whether they come to honor the memory of a lost loved one, support survivors, and/or come out to support the cause. Participation in the race not only honors Susan Sandoval's memory, but also the struggles of all who have been touched by gynecologic cancer.
The event is sponsored by the University of Utah Department of Obstetrics and Gynecology and the funds go to the Ovarian Cancer Research, Awareness, and Education Fund.
Register now at Sandoval5K.UofUMedicine.org or contact Natalie Moore for more information.[/bs_col][/bs_row]
---
U5K NOW WELLU OPTION[bs_row class="row"][bs_col class="col-sm-4″]
[/bs_col]
[bs_col class="col-sm-8″]For the first time, the annual Homecoming Scholarship 5K (U5K) will be a WellU option. Sign up by Sept. 2 for a discounted rate on the already discounted staff/faculty pricing. This race is a great start to Homecoming Saturday and there will be lots of food and prizes.
Hope to see you there.
Date: Saturday, Oct. 8, 2016
Time: 8:30 a.m.
Location: 332 S. 1400 East (Old Law School building)[/bs_col][/bs_row]