JUMP TO:
U5K now a WellU option
Pokémon Go University of Utah tour
New student welcome
Register for the annual Teaching Symposium
U staff scholarships: apply today

---
U5K NOW WELLU OPTION[bs_row class="row"][bs_col class="col-sm-4″]
[/bs_col]
[bs_col class="col-sm-8″]For the first time, the annual Homecoming Scholarship 5K (U5K) will be a WellU option. Sign up by Sept. 2 for a discounted rate on the already discounted staff/faculty pricing. This race is a great start to Homecoming Saturday and there will be lots of food and prizes.
Hope to see you there.
Date: Saturday, Oct. 8, 2016
Time: 8:30 a.m.
Location: 332 S. 1400 East (Old Law School building)[/bs_col][/bs_row]
---
POKÉMON GO UNIVERSITY OF UTAH TOUR[bs_row class="row"][bs_col class="col-sm-4″]

[/bs_col]
[bs_col class="col-sm-8″]Prospective students invited to special campus tour designed to showcase campus while catching Pokémon
The Office of Admissions at the University of Utah is excited to announce an all-new campus tour experience for prospective students: The Pokémon Go Campus Tour at the University of Utah.
Pokémon Go has changed the way people interact with technology and has helped people discover new places and meet new people, and the University of Utah has become a popular area in Utah to "catch 'em all."
"We're excited to find an opportunity to connect prospective students to campus and take the general, everyday campus tour and offer something incredibly unique," said Scott Kirkessner, assistant director of Admissions at the U, who oversees campus experience. "So far, we're among the first few universities to offer this as a visit option, and we think a lot more will follow suit."
Prospective students are invited to participate in a Pokémon Go campus tour on Aug. 4 and 11 at 5 p.m. Participants will tour campus and hunt the Pokémon that roam the University of Utah. The events are free, but space is limited. Register today to reserve a spot. Click below to register.
Aug. 4, 2016 – 5 p.m.
Aug. 11, 2016 – 5 p.m.[/bs_col][/bs_row]
---
YOU'RE INVITED: JOIN PRESIDENT PERSHING FOR THE NEW STUDENT WELCOME
Saturday, Aug. 20, 2016 | 10:30 a.m.
Kingsbury Hall[bs_row class="row"][bs_col class="col-sm-4″]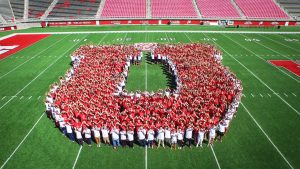 [/bs_col]
[bs_col class="col-sm-8″]Faculty and staff,
The Center for New Student & Family Programs invites you to join speakers President David W. Pershing and Dr. Sandi Pershing as the university welcomes first-year students and their families to the campus community. The fifth annual New Student Welcome ceremony will take place Saturday, Aug. 20, at 10:30 a.m. in Kingsbury Hall. This energetic event will feature student leaders Liz Morales and Daniel Rueckert as they share their Utah signature experiences, and Dr. Martha Bradley-Evans, senior associate vice president of Academic Affairs and dean of Undergraduate Studies, as she gives a faculty lecture.
A picnic will follow on Presidents Circle, so please dress comfortably for the weather as you informally meet members of the incoming class of 2019. More than 1,000 new students and their families joined us last year, so be sure to wear a university nametag if you have one. Shuttles will run continuously from the Rice-Eccles Stadium parking lot, where attendees can park for free. For more information about the New Student Welcome and other Welcome Week events, download the New to the University of Utah app or contact the Center for New Student & Family Programs at orientation@sa.utah.edu or 801-581-7069.
I look forward to seeing you there,
Kathryn Kay Coquemont
Director, Center for New Student & Family Programs[/bs_col][/bs_row]
---
REGISTER FOR THE ANNUAL TEACHING SYMPOSIUM[bs_row class="row"][bs_col class="col-sm-4″]
[/bs_col]
[bs_col class="col-sm-8″]Annual Teaching Symposium
Monday, Aug. 15, 2016 | 8:30 a.m.-3:45 p.m.
J. Willard Marriott Library
Are you ready for the new academic year? Join over 200 participants from across campus, including Faculty and Graduate Students, for a day of learning about practical skills and special topics on teaching in higher education. Registration is free, click here to complete your registration and for more information.[/bs_col][/bs_row]
---
U STAFF SCHOLARSHIPS: APPLY TODAY[bs_row class="row"][bs_col class="col-sm-4″]
[/bs_col]
[bs_col class="col-sm-8″]Applications are now being accepted for staff development scholarships for the fall 2016 semester.
Each scholarship is worth up to $500 and can be used towards the employee's tuition bill. Scholarships can be used towards professional trainings, symposiums, conferences or workshops and their associated expenses.
The committee will process the scholarship applications in the most fair and judicious manner to benefit the employee, according to the procedures directed by the University of Utah policy. UUSC is an equal opportunity provider.
Qualified applicants must meet the following criteria:
Currently working at 75 percent or above Full Time Equivalency (FTE) position (30-40 hours per week).
Maintained 75 percent or greater Full Time Equivalency (FTE) in a benefits eligible position for two consecutive years as of Feb. 29, 2016.
Have not received a Staff Council Scholarship within the past two years.
Current Staff Council members are not eligible.
CLICK HERE TO APPLY and applications are due by 5 p.m. (MST) on Aug. 1, 2016.

Incomplete applications will not be considered.[/bs_col][/bs_row]
---