U STAFF SCHOLARSHIP APPLICATIONS ANNOUNCEMENT


The University of Utah Staff Council is pleased to announce that applications are now being accepted for staff development scholarships for the Spring Semester 2016.
Each scholarship is worth up to $500 and can be used towards the employee's tuition bill.  Scholarships can be used towards professional trainings, symposiums, conferences or workshops and their associated expenses.
The committee will process the scholarship applications based on the University of Utah Staff Council evaluation criteria.
Qualified applicants must meet the following criteria:
Currently working and have maintained at a 75 percent or greater Full-Time Equivalency (FTE, 30-40 hours per week) in a benefits eligible position.
Maintained 75 percent or greater Full Time Equivalency (FTE) in a benefits eligible position for two consecutive years as of Nov. 9, 2015.
Have not received a Staff Council Scholarship within the past two years.
Current Staff Council Members are not eligible.
CLICK HERE TO APPLY.
APPLICATIONS ARE DUE BY 5 P.M. (MST) ON MONDAY, NOV. 23.

**Incomplete applications will not be considered.
---
INTRODUCING SCHEDULE BUILDER


The Office of the Registrar has introduced a new tool that students can use to help plan their Spring 2016 schedules. They can add courses, breaks and generate all conflict-free schedules. Once they find the perfect schedule, they can send it to their shopping cart and register in seconds.
The new Schedule Builder tool can be found within the Campus Information Services (CIS) registration portal.
Learn more about Schedule Builder
---
READ THE U'S 2015 'INNOVATE' REPORT


Get the inside scoop on the most innovative faculty and students in the U's latest "Innovate" report. This year's theme is cross-disciplinary collaborations. Read it. Get inspired. Then get involved.
Read the full report here.
---
INFLATABLES, GAMES AND AMUSEMENTS


Are you planning an event that will be using inflatables, games and amusements?  If so, plan ahead for special requirements, hazards, approvals, accommodations, liability waivers, equipment needs, transportation requirements and emergencies.
Inflatables, Games and Amusements guidelines can be accessed at the Risk and Insurance Management website.
---
UMFA AWARDED MAJOR GRANT FOR METALS CONSERVATION PROJECT


The Utah Museum of Fine Arts has been awarded a major grant from the Institute of Museum and Library Services in support of a two-year project to evaluate and rehabilitate objects in the museum's diverse metals collection.
The nearly $100,000 grant will allow museum staff to ensure the longevity of 798 of the metal objects in its Asian and African collections, some of which are in critical need of remediation.
"This project is an important development in the UMFA's continuing effort to raise standards of care for and stewardship of our significant collection of artworks from diverse historical periods and media," says Gretchen Dietrich, UMFA executive director. "Remediation and documentation will make it possible to share the objects more widely with the viewing public, through gallery exhibition and online accessibility, and ensure their long-term health."
Read more about it here.
---
EARLY CAREER TEACHING AWARD
Deadline: Dec. 4
The Early Career Teaching Award recognizes up to four outstanding faculty at an early stage in their careers at the University of Utah. To be eligible, a faculty member must have completed at least three full years but fewer than eight years of service at the university and must be tenure-line or career-line faculty.
Each recipient will also receive $2,500. These awards will be announced in March 2016.
---
THE CALVIN S. AND JENEAL N. HATCH PRIZE IN TEACHING
Deadline: Dec. 4
The Hatch Prize recognizes an outstanding and longstanding service by a teacher from Tenure-line faculty ranks. The recipient of the Hatch Prize will receive $5,000. The award will be announced in March 2016.
---
WHAT'S YOUR STORY?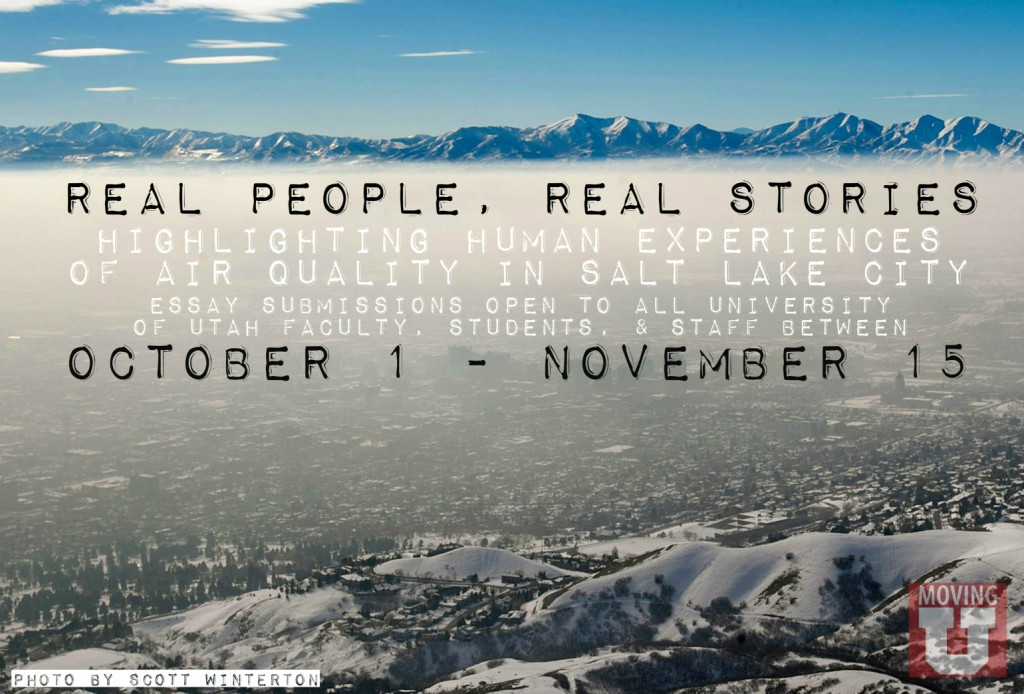 The MovingU: Toward Cleaner Air campaign is currently soliciting real stories about how air quality impacts real people who live in Utah. A selection of winning essays, judged by a panel of well-known air quality activists including Brian Moench and Rep. Patrice Arent, will then be read aloud by authors at The Global Change & Sustainability Center Annual Research Symposium in February 2016.
Winning submissions from authors will also be published through various university and local publications, both online and in print.
To apply, submit your story here or for more information, contact the project coordinator, Kailey Luzbetak at kaileyluzbetak@gmail.com.
---
4TH ANNUAL BEACONS OF EXCELLENCE AWARDS
The fourth annual Beacons of Excellence Awards ceremony was held last Friday, Oct. 30, to recognize three individuals and three programs/organizations that provide transformative experiences to undergraduate students. The recipients included Tony Butterfield, assistant professor in chemical engineering; Craig Bryan, assistant professor of psychology and executive director of the National Center for Veterans Studies; Sharon Aiken-Wisniewski, assistant vice president for Undergraduate Studies, associate dean for University College and adjunct professor in the Department of Educational Leadership and Policy; ArtsForce, a program run by and for undergraduate students in the College of Fine Arts to help them discover the value of their degree; the Women's Resource Center, which works on issues that impact women on campus and in the state and aims to end racism, sexism, homophobia and all other biases; and the Larry H. and Gail Miller Enrichment Scholarship Program, which provides education opportunities for students from underrepresented populations or who are first-generation college students.
---
REORGANIZATION OF EHS/EM
Environmental Health and Safety and Emergency Management are reorganizing reporting lines to allow for successful and improved execution of each organization's programs and responsibilities. This change represents an improved alignment for the critical role these units fulfill on campus. Effective immediately, Environmental Health and Safety (EHS) will report through Facilities Management while Emergency Management will report through Public Safety.
As managing director of EHS, Martha Shaub will now report to Michael Perez, associate vice president, Facilities Management. Stuart Moffatt will serve as the interim director of Emergency Management and will now report to Dale Brophy, chief of police.
A transition plan is underway for the units involved. Further details will be forthcoming in an @theU article at a later date. All are dedicated to continuing to serve the university. Should you have any questions, please feel free to reach out to any of us directly.
For EHS issues, please contact 801-581-6590 or visit ehs.utah.edu.
For emergency management issues, please contact 801-581-6429 or visit em.utah.edu.
---
WILDLIFE SAFETY

Utah is wildlife country, home to bats, black bears, cougars, coyote, moose, mule deer, snakes and more. Be wild aware by learning how to prevent conflicts with wildlife found near the University. Since the campus extends into the northeastern foothills, pay attention when walking the grounds at dawn and dusk when wildlife is most active.
This fall, mule deer have begun to travel down from their high mountain habitats to winter feeding grounds in the valleys. Watch for wildlife crossing the roads and parking lots. If you enjoy hiking in the foothills around the campus you may be lucky enough to spot a coyote on the hunt or see a herd of mule deer grazing.
Cougars, also known as mountain lions, are found throughout Utah and mainly prey on mule deer. Cougars will follow deer along their migration routes into the valleys. It is not uncommon to spot a cougar near campus. Always observe wildlife from a safe distance. For more wildlife safety information, visit wildawareutah.org. To schedule a presentation on wildlife awareness for your employees or students, send an email to info@wildawareutah.org.
---