JUMP TO:
Next Academic Senate meeting
Duo 2FA phone call, text options will be discontinued July 17, 2018
Hwang recognized on prestigious list of "Top 10 Best Corporate and Securities Articles"
Plan ahead for field trips
Nominate a veteran
Campus Store textbook buyback
Join the Wasatch Experience
---
NEXT ACADEMIC SENATE MEETING[bs_row class="row"][bs_col class="col-sm-4″]
[/bs_col][bs_col class="col-sm-8″]The next meeting of the Academic Senate is Monday, April 30 from 3-5 p.m. The following items will be discussed, among others:
New undergraduate certificate in quantitative research analytics
New track in earth resource management in the Professional Master's in Science and Technology degree
New graduate certificate in emergency health
New graduate certificate in international affairs and global enterprise
The meeting will be in the Moot Courtroom (6th floor) of the College of Law. Meetings are open to the public. The agenda will be posted approximately one week before a utah.instructure.com/courses/51590/modules.[/bs_col][/bs_row]
---
Duo 2FA phone call, text options will be discontinued July 17, 2018[bs_row class="row"][bs_col class="col-sm-4″]
[/bs_col][bs_col class="col-sm-8″]On July 17, 2018, Duo phone call and text message options for two-factor authentication (2FA) will be discontinued. Users need to select another method for Duo 2FA to log in to the majority of university applications after July 17.
The Strategic Information Technology Committee approved this decision for a number of reasons – most importantly, recent industry guidance and practice has indicated that phone calls and text messages are vulnerable and not considered secure methods of authentication. There is also a significant cost associated with providing these authentication methods. The phone call option was intended to be a backup or emergency method for using Duo, yet for many it has become their primary method. The new backup option for Duo authentication will now be completed through the central university help desks (contact information below).
You may choose one of the following options for 2FA, which are used by the majority of campus and U Health users:
Duo mobile app:
Easiest and fastest method
Install on a smartphone or tablet (includes Apple, Android, and Windows mobile devices)
Two options to authenticate:

Mobile push notification (select "approve" or "deny" from your device's home screen or Duo notification page – no need to type in a code)
Type in a passcode (network connectivity is not required for this option)
Duo hardware token:
Visit the 2FA webpage, Duo 2FA overview article, and Duo tutorial video found in Pulse (U Health) or Bridge (campus) for more information. If you have questions, contact the UIT Help Desk (801-581-4000, option 1) or ITS Service Desk (801-587-6000) for assistance.[/bs_col][/bs_row]
---
Hwang recognized on prestigious list of "Top 10 Best Corporate and Securities Articles"[bs_row class="row"][bs_col class="col-sm-4″]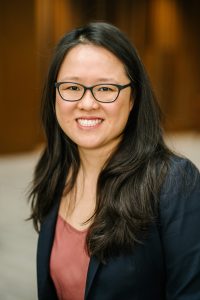 [/bs_col][bs_col class="col-sm-8″]Research by Cathy Hwang, an associate professor at the University of Utah's S.J. Quinney College of Law, has been named among the "Top 10 Best Corporate and Securities Articles" by The Corporate Practice Commentator at Georgetown University.
Hwang is highlighted for her paper, Unbundled Bargains: Multi-agreement Dealmaking in Complex Mergers and Acquisitions, published in the University of Pennsylvania Law Review.
Her placement on the prestigious Georgetown listing for 2017 puts her among strong academic company — less than 2 percent of articles in the corporate and securities field earn the Georgetown designation. The list is compiled based on a peer vote and is one of the only peer-approved designations of quality in corporate law — and reflects the choices of law professors teaching in this area from 560 articles.
Also notable is that Hwang is one of only two other pre-tenure professors on the list. Other pre-tenure professors on the list are from Stanford and Michigan.
The latest accolade is among a string of impressive accomplishments by Hwang since she joined the S.J. Quinney College of Law in 2016. In May 2017, she was selected to participate in the Stanford/Yale/Harvard Junior Faculty Forum at Stanford Law School to discuss her paper her paper, Deal Momentum, published in the UCLA Law Review,  which explores the role of non-binding agreements in sophisticated, high-value business deals.  Papers are selected for the Stanford/Yale/Harvard Junior Faculty Forum through a highly competitive blind review process. During the forum, accomplished senior scholars comment on the merits and methodology of papers to give junior faculty experience in the pursuit of scholarship and the nature of scholarly exchange.
Hwang has quickly established herself as an excellent scholar since arriving at the S.J. Quinney College of Law, said Amelia Rinehart, associate dean of faculty and research development.
"She's clearly an asset to the College of Law in many ways and we are extremely proud of her early career success," said Rinehart.
Hwang received her J.D. from the University of Chicago Law School. Prior to joining the faculty at Utah, she was the academic fellow at Stanford University's Rock Center for Corporate Governance, where she remains affiliated as a non-resident fellow.
Her other publications are available to download here.[/bs_col][/bs_row]
---
PLAN AHEAD FOR FIELD TRIPS[bs_row class="row"][bs_col class="col-sm-4″]
[/bs_col][bs_col class="col-sm-8″]Are you planning field trips, activities, or events with your class or group?  If so, plan ahead for special requirements, hazards, approvals, accommodations, liability waivers, equipment needs, transportation requirements and emergencies.  A field trip guideline checklist and approved liability waiver form can be accessed at Risk & Insurance Services[/bs_col][/bs_row]
---
Nominate a Veteran[bs_row class="row"][bs_col class="col-sm-4″]
[/bs_col][bs_col class="col-sm-8″]The University of Utah Veterans Day Committee honors veterans each year based on their honor, courage, commitment and sacrifice during their military service to our nation. Nominations for this year's ceremony are due by July 31, 2018.
For more information or to nominate a veteran to be honored, go to veteransday.utah.edu or call 801-587-7722.[/bs_col][/bs_row]
---
Campus Store Textbook Buyback[bs_row class="row"][bs_col class="col-sm-4″]
[/bs_col][bs_col class="col-sm-8″]Congrats students, you're almost there. Just a few weeks to go until the end of the semester, which means it's time to start planning when you're going to sell back your books. Textbook buyback at the Campus Store is designed to be as convenient and simple as possible for you, while also bringing you the best value we can offer for your books. Come sell your books at any Campus Store location anytime between April 26–May 5. If you follow us on Facebook (@University of Utah Campus Store), swing by a day early to avoid the lines.
Along with getting cash for your books, every student receives a candy bar and a chance to enter-to-win a $500 scholarship to use at the Campus Store. Mark your calendars and we'll see you there.[/bs_col][/bs_row]
---
Join the Wasatch Experience
Apply by May 4 at tinyurl.com/wasatchexp[bs_row class="row"][bs_col class="col-sm-4″]
[/bs_col][bs_col class="col-sm-8″]Join University of Utah faculty in a quest to make sustainability teaching more exciting and relevant through the Wasatch Experience. The program engages educators in a two-day, team-based workshop in August, followed by regular small-group meetings during the school year. Participants design and implement an action plan to integrate the big ideas of sustainability into their courses. Upon program completion, participants are awarded $500 and receive the Sustainability Teaching Scholar designation.
The Wasatch Experience will be Aug. 8-9, 2018. Apply now.[/bs_col][/bs_row]
---