JUMP TO:
Accessing UMail: "www" is a must
Please update your phone info in CIS
UCrew volunteers needed
Utah Red Fridays
Keith Diaz Moore to serve as interim chief sustainability officer
Ute gymnasts place eighth nationally in GPA
"Hooked on Books" donations needed
Call for volunteers: Be Well Utah 2018
Buy a Mac or iPad Pro, UTech will supply the Beats
New American Indian undergraduate student scholarships
Register for the Utah Heart and Stroke Walk
Volunteers needed for The Donate Life Transplant Games
---
Accessing UMail: "www" is a must[bs_row class="row"][bs_col class="col-sm-4″]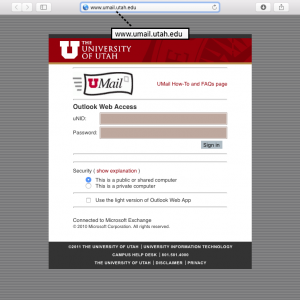 [/bs_col][bs_col class="col-sm-8″]Many people in the University of Utah community have been using the shortcut URL umail.utah.edu to access UMail via a web browser. Going forward, that shortcut URL will no longer redirect users to the correct URL, www.umail.utah.edu.
Users who wish to access UMail via a web browser now need to use the full, correct URL (if they are not already doing so): www.umail.utah.edu.
Please note the difference: umail.utah.edu (no longer provides UMail access) vs. www.umail.utah.edu. Users may wish to bookmark the correct URL.
As always, users can access UMail using one of the following methods:
Please refer to the UIT Knowledge Base article "UMail Outlook Web Access (OWA)" for general information.
Removing the redirect from umail.utah.edu was necessary to prepare for an upcoming project that will integrate UMail, Active Directory (AD) and Office 365.
If you have questions, your local IT support staff may be able to assist, or please contact the UIT Help Desk (801-581-4000, option 1) or ITS Service Desk (801-587-6000).[/bs_col][/bs_row]
---
PLEASE UPDATE YOUR PHONE INFORMATION IN CIS[bs_row class="row"][bs_col class="col-sm-4″]
[/bs_col][bs_col class="col-sm-8″]The next time you login to CIS, a window will prompt you to update your phone information.
Beginning Monday, Aug 6, 2018, the Department of Public Safety will be conducting an update of student, staff and faculty mobile phone numbers in the campus alert system.
In an emergency, the fastest and most effective way for the university to reach you is via text message to your cell phone. Campus Alerts are sent for critical life safety information or for immediate timely emergency information to help you take proactive actions.
You may have up to three mobile SMS numbers (partner, spouse, family member, etc) who will also receive Campus Alerts when you do. Please ensure your phone numbers are correct to limit Campus Alerts being sent to the wrong numbers. These fields are for mobile phones only—please no landline numbers.[/bs_col][/bs_row]
---
UCREW VOLUNTEERS NEEDED[bs_row class="row"][bs_col class="col-sm-4″]
[/bs_col][bs_col class="col-sm-8″]Housing & Residential Education (HRE) is preparing to welcome home over 3,700 students this August. Move In Day is an important day for all students living on campus at the University of Utah and a memorable one at that.
HRE is currently seeking support from university students, staff and faculty to serve on UCrew, our group of volunteers who help students move into their rooms. Move-in is Thursday, Aug. 16, 2018, and UCrew shifts are from 8 a.m.-12 p.m. or 12-4 p.m. Signup is easy—just head to our UCrew page. Are you a leader or member of a club or organization?
If you get 75 percent participation from your members, you'll receive a free event room rental at the Peter Heritage Center. Not only is this a great opportunity to connect with students, but you'll also receive a free meal, free shirt and maybe even get to hang out with Swoop.[/bs_col][/bs_row]
---
WEAR YOUR RED ON FRIDAYS[bs_row class="row"][bs_col class="col-sm-4″]
[/bs_col][bs_col class="col-sm-8″]Wear your red on Fridays and share your photos flashing the U and don't forget to use #RedFridayU.[/bs_col][/bs_row]
---
KEITH DIAZ MOORE TO SERVE AS INTERIM CHIEF SUSTAINABILITY OFFICER[bs_row class="row"][bs_col class="col-sm-4″]
[/bs_col][bs_col class="col-sm-8″]Keith Diaz Moore, Dean of the College of Architecture + Planning, has agreed to serve as the U's interim chief sustainability officer, in addition to his current duties. Diaz is an outstanding choice to lead the university's sustainability efforts, bringing insights and expertise from many domains, as well as a deep commitment to the interplay of person and place.
As the fall semester approaches, it is worth remembering that as with all great endeavors, sustainability begins with thoughtful and sustained action by each of us—as educators, as scholars and as citizens.[/bs_col][/bs_row]
---
Ute Gymnasts Place Eighth Nationally in GPA[bs_row class="row"][bs_col class="col-sm-4″]
[/bs_col][bs_col class="col-sm-8″]The Women's Collegiate Gymnastics Association (WCGA) has announced the gymnastics academic team standings and Scholastic All-America awards and Utah placed eighth in the nation with a 3.6629 combined grade point average. The Utes, who finished fifth at the 2018 NCAA Championships, had the best team GPA of the teams that qualified to nationals.
Utah's eighth-place finish marks a return to the gymnastics academic top 10 for the Utes, who finished in the top five from 2012-16, including a first-place finish in 2014. It is the second national academic citation for the Utes this summer. Utah was also a recipient of the NCAA Public Recognition Award for placing in the top 10 percent of all gymnastics teams in the latest Academic Progress Rate report.
"We take a great deal of pride in achieving at the highest level, not only on the competitive floor but in the classroom," said Ute co-head coach Tom Farden. "Finishing eighth in the academic national standings shows the exceptional commitment our gymnasts make to being well-rounded student-athletes."
Eight members of Utah's 2018 NCAA Super Six team earned WCGA Scholastic All-America awards: Alexia Burch, Erika Muhaw, Kim Tessen, Maddy Stover, Missy Reinstadtler, MyKayla Skinner, Shannon Mcnatt and Sydney Soloski. The WCGA was previously known as the National Association of Collegiate Gymnastics Coaches/Women).[/bs_col][/bs_row]
---
"Hooked on Books" Donations Needed[bs_row class="row"][bs_col class="col-sm-4″]
[/bs_col][bs_col class="col-sm-8″]As part of the Employee Appreciation Day on Sept. 27, 2018, the Marriott Library organizes the "Hooked on Books" book and media giveaway. However, in order to accomplish this, we need donations of materials to give.
We are soliciting donations of books, DVDs, CDs, Blu-ray, video games, board games or any other type of physical media. Please use this as an opportunity to declutter your collections, and pass these items on to other staff members who will enjoy them. Donation bins are located in seven places across campus and downtown. The last collection date will be Sept. 21. Please consider donating; it's an excellent way to de-clutter your home and office.
Donation locations:
Marriott Library West Entrance
Eccles Health Science Library
S.J. Quinney Law Library
Physics Building
Human Resources Downtown Office
Human Resources Annex Office
Health Sciences[/bs_col][/bs_row]
---
CALL FOR VOLUNTEERS: BE WELL UTAH 2018[bs_row class="row"][bs_col class="col-sm-4″]
[/bs_col][bs_col class="col-sm-8″]The 10th anniversary of Be Well Utah is right around the corner from Aug. 20-25, 2018.
If you've enjoyed the event in the past and would like to get more involved, consider volunteering this year and complete this form.
For any questions regarding volunteering, please contact Lisa Folkman at Lisa.Folkman@hsc.utah.edu or visit healthcare.utah.edu/bewellutah for more information.[/bs_col][/bs_row]
---
Buy a Mac or iPad Pro, UTech will Supply the Beats[bs_row class="row"][bs_col class="col-sm-4″]
[/bs_col][bs_col class="col-sm-8″]UTech, the Campus Store's technology department, is offering a free pair of Beats headphones when purchasing a Mac or iPad Pro.
This is an amazing offer, perfect for students gearing up for the busy fall season. Whether you are an incoming student buying a computer for classes or a faculty or staff member needing a tech update, this is a deal not to be missed.
All products are available at UTech in the main Campus Store, as well as the Campus Store Health. Be sure to stop by and grab the products you need to jumpstart your fall semester.
This offer ends Sept. 25, 2018.[/bs_col][/bs_row]
---
NEW AMERICAN INDIAN UNDERGRADUATE STUDENT SCHOLARSHIPS[bs_row class="row"][bs_col class="col-sm-4″]
[/bs_col][bs_col class="col-sm-8″]Two $5,000 scholarships awards are available to American Indian undergraduate students who are enrolled members of a federally recognized American Indian Tribe, with a preference for students who are enrolled members of or have at least one parent or grandparent who is an enrolled member of one of Utah's Tribes: the Ute Tribe (Northern Utes), the Southern Ute and White Mesa Tribe, the Confederated Bands of the Goshute, the Skull Valley Band of Goshute, the Southern Paiute Tribe out of Cedar City, the Northwest Band of Shoshone Nation, the San Juan Southern Paiute Tribe and the Navajo Nation. The Zumbro family scholarships will be awarded based on the following additional criteria:
Freshmen or transfer student
A minimum 2.5 GPA
Full-time student (12 credit hours or more) and making good academic progress
Financial need
Demonstrate a desire or commitment to serving or working with the student's tribal community post-graduation (based on the student's personal statement as part of the scholarship application process)
Students who wish to apply for the scholarship must submit a one-page, typed personal statement addressing the question: How do you plan to apply your education post-graduation?
For more information and how to apply for the scholarship, go here.
Applications are due by midnight, Friday, Aug. 10, 2018[/bs_col][/bs_row]
---
UTAH HEART AND STROKE WALK[bs_row class="row"][bs_col class="col-sm-4″]
[/bs_col][bs_col class="col-sm-8″]With your help, a fun-filled, three-mile stroll through Sugar House Park on Saturday, Sept. 15 can positively affect the lives of those facing cardiovascular and stroke issues. Register for the walk, donate $25 to the American Heart Association and receive a University of Utah Health T-shirt for free. Men's, women's and youth sizes available.
Register at heartwalkutah.org.
Questions? Contact the Heart & Stroke Walk Steering Committee at heartstrokewalk@hsc.utah.edu.[/bs_col][/bs_row]
---