[bs_row class="row"]
[bs_col class="col-sm-8″] INCREASING ACTIVITY FOR NEW MOMS
2015 was an interesting year for PEAK Health and Fitness with five of its staff members expecting a new baby. As you can imagine, the conversations revolved around hunger and cravings, belly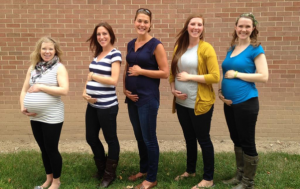 size and how to stay active. We now share the joy and struggle of being working moms, discussing teething, crawling and drooling toddlers with exhausted adoration.
Another topic of discussion is time and where to find it for exercising.
Here are some tips from the newest time management experts in PEAK:
Plan – Spontaneous exercising is not a guarantee with time at a premium. Making a plan, communicating it and stick to that plan are essential for holding yourself accountable and setting the expectations of those around you.
Calendar – Writing your activities down on a calendar may motivate you to be more consistent with your exercise and you may find that you start to create goals based on previous weeks' activity.
Be prepared and pack – ALWAYS be prepared. Maybe being spontaneous can work for you, but if an appointment cancels, a co-worker influences you to eat lunch, go on a walk or you HAVE TO go for a quick jog after work in the sunshine, you want to be ready to go. Pack shoes, socks, athletic clothes and baby wipes.
Apps – There are fun workout and fitness tracking apps available to help motivate. Let's say you have 10 minutes and that's it. Well, there an app for that. The U App Bar is a great place to learn about the latest and greatest applications out there.
Find excuses to walk – Especially with parking on campus, it is often more time sensitive to walk or bike to meetings.
Double dip– Take family walks, bike rides and dinner picnics. If you can incorporate exercise into your family life you won't have to come up with additional time out of thin air.
Lastly, prioritize. Exercise is so important for our health and is essential for well-being. If exercising improves your mood and makes you a more mindful person the rest of the day it is worth making it happen. You may have to be OK with spending less time elsewhere, but coming to the conclusion that exercise is an essential part of your life is the perfect place to start.[/bs_col][bs_col class="col-sm-4″]
[bs_well size="lg" ]

AVOID COMPUTER VISION SYNDROME

Chances are you spend at least part of your day looking at a computer screen. In fact, you may spend most of your day in front of one. This could lead to Computer Vision Syndrome, a groups of various eye problems linked to prolonged screen use. Some patients say they experience problems like headaches, eye strain or neck and shoulder pain.
Read more here.
YOU NEED AN ADVANCE DIRECTIVE

Advance directives inform medical personnel of your wishes in the event that you are unable. Every person over the age of 18 should have one. There are thousands of reasons why, but we have boiled it down to the top 10.
Full the top 10 reasons here.
For more expert health news and information, visit healthcare.utah.edu/healthfeed.[/bs_well]
[/bs_col]
[/bs_row]