By Jana Cunningham
Six University of Utah students have received highly competitive Fulbright awards for 2015. The prestigious awards will allow the undergraduate students to teach English in Romania, Argentina and Mexico for one academic year, while the graduate students will lead research projects in Chile, Switzerland and Uruguay.
"This is a banner year for the university and a significant development in our international fellowship program," said Howard Lehman, director of the Fulbright program and a professor of political science. "Our success demonstrates that our undergraduate and graduate students are competitive for this award and our collective efforts with the Office of Global Engagement and the Graduate School indeed pay off."
The U.S. Fulbright program was established in 1946 to create mutual understanding and support friendly and peaceful relations between people in the U.S. and other countries. The program provides grants for international exchange for students and scholars to study, teach and conduct research.
"Our office provides focused attention to individual students and their applications. A successful Fulbright application needs to reflect the underlying philosophical principles of the program and an understanding the program's expectations," added Lehman.
Leah Campbell, doctorate in atmospheric science: research grant, Chile
"My study will investigate the effects of the Andes Mountains on precipitation structure and distribution during winter storms in south-central Chile. This is critical to improve forecast skill of winter storms in the region. The study involves field research, analysis of observational datasets and numerical modeling."
Precious Cantu, doctorate in electrical engineering: research grant, Switzerland
"My project will focus on extending a novel single-photon lithographic technique to 3-dimensional scaffolds for use in tissue engineering. To do this I plan to work closely with one of the inventors of this idea, in order to characterize more strenuously the organic photochromic molecules used in this novel optical technique."
Adam Giannelli, doctorate in literature & creative writing: research grant, Uruguay
Lindsey Appell, master's in British and U.S. literature: English teaching assistant, Romania
"I am passionate about language and teaching. I have studied and traveled extensively abroad, gaining experience with and knowledge of a variety of school systems and educational models. My work as a Writing Center tutor and administrator, working with many ESL/EFL students, has prepared me to bring collaborative and adaptive learning and teaching models to the Romanian classroom."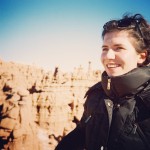 Lyuba Basin, bachelor's in English: English teaching assistant, Argentina
"While in the process of receiving my TESOL certificate I have been working as an ESL teacher locally and would now like to reach out and begin teaching abroad. Over the course of my undergrad years learning Spanish my interest in Latin America and Argentina have grown greatly. My background in English literature and teaching ESL, as well as being a L2 learner myself gives me the experience and confidence needed to teach and engage with the local community."
Jason Chen, bachelor's in Spanish and biology: English teaching assistant, Mexico
"By serving as an English teaching assistant in Mexico, I will gain a unique insight into how educational practices affect medical customs. While there, I plan to draw on my cultural experiences in Asia, Europe and America to widen my students' worldview. I have chosen Mexico in particular because as I prepare for a globally-focused medical career, a greater understanding of the culture of the largest Spanish-speaking country in the world is invaluable."
Jana Cunningham is a communications specialist at University Marketing and Communications. If you have an interesting story idea, email her at jana.cunningham@utah.edu.