As University of Utah President Taylor Randall rounds out his first year leading Utah's flagship institution of higher education, he highlighted the U's partnerships and collaborations with other state colleges and universities in an effort to redefine and rededicate to the university's unique role in Utah.
Day one
From 200 miles away in Salt Lake City, the voice and image of neurologist Dr. Stephanie Lyden came through a telehealth workstation at Beaver Valley Hospital, the first stop on the second leg of Randall's Utah Across Utah Six Commitments tour.
Lyden, assistant director of the Rural and Underserved Training Experience (RUUTE) for the University of Utah School of Medicine, and Beaver Valley Hospital Assistant Director of Nursing Amy Merrell simulated a virtual exam to show how the University of Utah Health telehealth program brings specialized care to rural patients.
"We use telestroke as well as teleICU, teleburn and other telenuerology services [all offered through the system] four to five times a month," said Merrell, who explained many of these patients would normally have to travel to Salt Lake City to see specialists. "I can't go on enough about how helpful it is to have telehealth available to our stroke and burn patients."
Dr. Wayne Samuelson, dean of medical education for the U's School of Medicine, explained that telemedicine and RUUTE are essential to the School of Medicine's MedEdMorphosis approach to exceptional learning outcomes.
"RUUTE was born out of a need to provide medical students clinical experience and help medically underserved communities like Beaver," said Samuelson. "We want to get medical students into all parts of the state. Instead of doing a six-week rotation, they work with internists, surgeons, pediatricians and obstetricians at the same time for a year. We hope this will give them the incentive to return to these communities once they are done."
From Beaver, the tour bus continued south to Chef Alfredo's Ristorante Italiano in Cedar City, where Randall and his team met with Southern Utah University President Mindy Benson, Southwest Technical College President Brennan May, members of the Chamber of Commerce and elected leaders including Utah Senate Majority Leader Evan Vickers.
"I believe it's time for higher education to deliver in a much deeper way on what it can do for a state," Randall said to the group. "Each of us [higher ed institutions] brings strengths to students and the economy of the state. If we sit down and spend a little more time together, we will find ways that we can work with each other instead of competing."
The tour provides an opportunity to have a conversation with local communities about issues they face and how the University of Utah can help with solutions. Cedar City leaders raised the issues of water and affordable housing, common themes echoed throughout the tour. These concerns are exacerbated by the fact that Washington County and St. George continue to be some of the fastest growing areas in the country, according to the U.S. Census Bureau.
Questions of growth were also raised on the next stop of the tour 50 miles south in St. George where SkyWest Airlines is headquartered. SkyWest operates a fleet of over 500 aircraft, connects passengers to 200-plus locations across the country and monitors the minute-by-minute operational control of over 2,000 flights daily. There is little question in the mind of SkyWest chairman of the board and U alum Jerry Atkin that St. George can be home to a major corporate hub.
An alumni dinner at the majestic Entrada at Snow Canyon golf club capped off the first day of the tour. Randall encouraged the audience of nearly 100 alumni to help spread his message of inspiring, innovating and impacting.
"We live in a state growing faster than any other, and our university is growing fast too. Now is the moment for us to reimagine what the U should be for the entire state," said Randall. "With your help, I know we will get there."
Day two
Randall and team began day two at the Cliffside Restaurant in St. George. As the morning sun and heat crept across the city, Randall introduced himself as a lifelong Utahn to the group of local officials, community and business leaders and Utah Tech University administrators.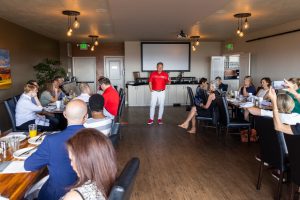 "My mother's family lived and ranched here. This is where I learned to ride a horse and play golf, neither very well," Randall said to laughs. He talked of spending days at Dixie Red Hills golf course, playing from morning until night.
After explaining the goals of the Utah Across Utah tour, he took questions from the group ranging from research collaboration opportunities to the future of college athletics.
The tour moved on to the University of Utah St. George Graduate Center, a "diamond in the rough," according to Deborah Keyek-Franssen, associate vice president and dean of University Connected Learning. "The building is leased in partnership with Utah Tech and has lots of potential. But we could be doing much more with professional education and professional enrichment."
Currently, the center offers seven different graduate programs, from special education to social work and legal studies. The goal is to provide pathways for graduate education to students with undergraduate degrees from local universities. Programming is provided both in person and virtually from Salt Lake City. Randall asked Keyek-Franssen to investigate how the graduate center could broaden services to local students and the community.
The tour shifted to the U's sustainable energy research contributions, with a stop at the Frontier Observatory for Research in Geothermal Energy (FORGE) in Milford. Known as Utah's "green corridor," the area includes a solar farm, wind turbines and hog farms that produce biogas.
FORGE is the U's largest grant-funded research project, with $218 million from the U.S. Department of Energy. Clay Jones, a geologist with Utah FORGE and the U Energy and Geosciences Institute, explained FORGE's work on engineered geothermal systems could potentially be applied across the entire United States. "Even if we could tap into 2%, it could power humanity 2,000 times over," he said.
"Let's make sure we are doing everything we can to ensure this project continues to get funded," Randall said.
Before heading back to Salt Lake, the tour stopped in Sanpete County at the Cleone Peterson Eccles Library and Peterson Dance Hall. Longtime U donors the Eccles family provided funds for the local buildings.
Randall's Utah Across Utah Six Commitments tour continues with a visit to Utah County on Aug. 2, Tooele County on Aug. 12 and eastern and southeastern Utah later in August and September. Learn more about the tour here.