JUMP TO:
Winter break hours and library closure dates
Hinckley Journal of Politics accepting submissions
Crimson Internship Program application deadline extended
Massage therapy expands hours to Saturday and Sunday
Give the gift of wellness: Campus Recreation Services gift certificates now on sale
Personal training sessions at the Student Life Center
Customized holiday gifts by University Print & Mail
Utah Red Zone Fan Cave Giveaway presented by America First Credit Union
---
WINTER BREAK HOURS AND LIBRARY CLOSURE DATES
As part of a pilot project to determine cost savings and user impact over the holidays, the J. Willard Marriott Library will be closed during the U's winter break (Dec. 23, 2016, through Jan. 2, 2017). They recently reviewed the resources required to run the library compared to patron use during that week and estimate the closure will have a low impact on the campus community while providing real savings in areas such as heating and electrical costs. Following this pilot project, the library will evaluate the results and report the findings in 2017.
To provide for those who will require assistance during the three days the library would normally be open (Dec. 27, 28 and 29), they will offer online research assistance from 8 a.m.-5 p.m.
To meet the increased demand for library services at the end of the fall semester, the library will offer extended hours Dec. 4-15. During this time, the library will be open until 3 a.m. Sunday –Thursday, and 11 p.m. Friday and Saturday. Click here for complete schedule.
The Uonline Testing Center located in the library will be closed during the break as well. Other library TLT services will continue during the break, but will be moved to Milton Bennion Hall in room 212. For questions email classhelp@utah.edu. This closure includes all groups with locations in the library, including CTLE, TLT, the Writing Center, grant development services and academic advising.
---
HINCKLEY JOURNAL OF POLITICS ACCEPTING SUBMISSIONS
The Hinckley Journal of Politics is seeking student submissions for its 2017 issue. Papers should deal with timely questions of policy and government and are welcome from students in all studies and disciplines. This is an excellent opportunity for undergraduate students to get published in an academic research journal.
The deadline is Dec. 20. Guidelines for those interested in submitting to the journal can be found here.
For more information, contact the Hinckley Institute at journal@hinckley.utah.edu.
---
CRIMSON INTERNSHIP PROGRAM APPLICATION
Application deadline extended to Dec. 9, 2016
The Crimson Internship Program helps current University of Utah students find unique internship experiences to gain the career readiness experiences needed to enter the world of work after graduation. The program connects employers with students from across campus who are seeking the hands on training needed to bridge their academic passions and future career plans. Student program applications are due November 30, 2016.
Check out the website for additional information, a list of participating employers and to submit your application.
---
MASSAGE THERAPY EXPANDS HOURS TO SATURDAY AND SUNDAY
Take a break from finals, holidays, and the impending season change with a 60-minute massage therapy session. Our massage therapist will help you relax, unwind, and re-energize. 60-minutes sessions are only $55 or $45 for students.
Beginning Dec. 3, our massage therapists will also be available on Saturdays from 11 a.m.-2:30 p.m. and on Sundays from 1:30-5 p.m.
For a list of all the hours, please visit campusrec.utah.edu. To book your session, please call 801.581.8898.
---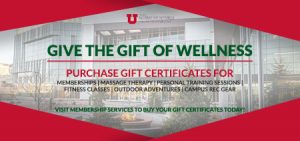 Campus Recreation Services gift certificates are now on sale at the Eccles Student Life Center Membership Services desk.
Gift certificates can be used for most things Campus Recreation Services has to offer from Fitness Classes to Outdoor Adventures rentals and trips. Stop by the Eccles Student Life Center Membership Services desk and check off some early holiday shopping.
---
PERSONAL TRAINING SESSIONS AT THE STUDENT LIFE CENTER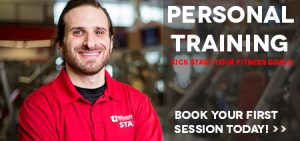 Click here
for information and registration
Get a jump on your holiday workouts with some Personal Training at the Eccles Student Life Center. Our certified trainers will work with you to develop the best fitness plan for your goals.
Check out the details and register today.
---
CUSTOMIZED HOLIDAY GIFTS BY UNIVERSITY PRINT & MAIL
Don't be alarmed, but the holidays are six weeks away.
If your organization or department is in need of holiday gifts or giveaways, let University Print & Mail help you design and customize one-of-a-kind gifts for those special people on your list this year.
From water bottles to umbrellas, blankets to tote bags—if you can think of it, Print & Mail can create it and make it personal by adding names, text or departmental logos. Most items take approximately five weeks for production and delivery, so order now to ensure your items arrive in time for the holidays. For a custom quote, please call 801- 581-6171 or visit printing.utah.edu for more information.
University Print & Mail is an official licensee of the University of Utah and is therefore legally permitted to use and reproduce university-owned trademarks and logos. By supporting official licensees like Print & Mail, you are assured to receive quality products while also supporting student scholarships, athletic programs and other university initiatives.
---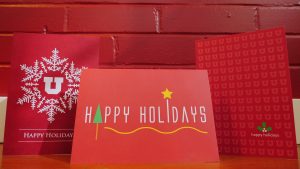 Get a head start on the holiday season by ordering your greeting cards from University Print & Mail Services. Conveniently place your order online and choose from more than 20 designs, enhanced by your own personalized message. Orders are typically completed in five business days and can be picked up or delivered to your office for free. Making this annual task even easier, Print & Mail can address your envelopes, apply postage and place your cards in the mail for you.
In addition to holiday card designs, University Print & Mail offers several other styles for fall, along with other special occasion cards such as birthday cards, thank you cards, custom-design cards and personalized stationery.
Both personal and office orders are welcome. To view designs online and place your order, visit printing.utah.edu.
---
UTAH RED ZONE FAN CAVE GIVEAWAY PRESENTED BY AMERICA FIRST CREDIT UNION
Utah Red Zone and America First Credit Union are working together to give one lucky Utah Football fan the best seat in the house with the
Utah Red Zone Fan Cave Giveaway
. Utah Red Zone will make one fan's living room have as much Utah pride as they do with a fully furnished and decorated fan cave for the perfect home and away game experience.
The Utah Red Zone Fan Cave Giveaway grand prize includes:
Samsung 65″ Class 4K Ultra HD TV
(2) Imperial University of Utah Recliners
Blakeway framed Rice-Eccles stadium panorama
Northwest Utah tapestry woven blanket
Northwest Utah plush throw blanket
Northwest Utah rug
Legacy Utah vintage game poster artwork
Legacy Utah wall-mount bottle opener
Legacy Utah serving tray
Paulson Designs Utah athletic logo canvas art
Authentic Street Signs "Man Cave" sign
Dahl large vinyl decal
and more Utah Red Zone merchandise.
Utah fans can enter to win the Utah Red Zone Fan Cave Giveaway by going to URedZone.com/FanCaveGiveaway. The lucky winner will be randomly selected at the conclusion of the Utah Football season.
For more information, call or visit Utah Red Zone or the University Campus Store.
---