JUMP TO:
Spring 2017 deadline to apply for graduation
Spring 2017 registration dates begin
Opioid research receives federal funding
New nonprofit mailing guidelines
Changes to incoming freshman scholarships
Apply now for Alternative Spring Break
Research images as art competition
Get discounts through U Community Solar and U Drive Electric
Utah Red Zone Fan Cave Giveaway presented by America First Credit Union
MathWorks MATLAB Total Academic Headcount site license for U community

---
SPRING 2017 DEADLINE TO APPLY FOR GRADUATION
Tuesday, Nov. 1, 2016
Today is the deadline to apply for Spring 2017 graduation.
Visit registrar.utah.edu for more information.
---
SPRING 2017 REGISTRATION DATES BEGIN
Thursday, Nov. 3, 2016
Registration dates begin for Spring 2017 Semester.
Visit registrar.utah.edu for more information.
---
OPIOID RESEARCH RECEIVES FEDERAL FUNDING
Eric Garland, associate dean for research at the University of Utah College of Social Work, has received two prestigious multi-million dollar grants to investigate the effectiveness of Mindfulness-Oriented Recovery Enhancement treatment for chronic pain and opioid misuse.
The grants from the National Institutes of Health and the Department of Defense will look at whether this innovative, mindfulness-based treatment modality can, as previous research has shown, reduce a person's craving for opioid painkillers and improve the ability to cope with the intense pain for which these drugs are most often prescribed.
The grants come as the nation grapples with an opioid and heroin epidemic. President Barack Obama issued a proclamation declaring Sept. 18-24, 2016, the nation's inaugural Prescription Opioid and Heroin Epidemic Awareness Week. This week—dedicated to improving awareness of what the U.S. Department of Health & Human Services has called "an unprecedented opioid epidemic"—emphasizes the importance of prevention and evidence-based treatment options such as Mindfulness-Oriented Recovery Enhancement (MORE).
To learn more, click here.
---
NEW NONPROFIT MAILING GUIDELINES
Users of the Nonprofit Standard Mail service are advised by the U.S. Postal Service to more clearly identify their nonprofit organization on all items mailed at this rate.
All mailing pieces sent from campus using nonprofit permit 1529 must have 'The University of Utah' displayed in a prominent location on the package or envelope. The USPS requires that the return address begin with, 'The University of Utah', followed by the sender's name and a campus address. To prevent confusion, delay or higher postage rates, please ensure that the university name is easily identifiable and avoid abbreviations such as 'U of U'.
Help the university keep this valuable resource by complying with USPS guidelines on nonprofit mailings. Questions regarding nonprofit permits and other mailing services may be directed to Kim Hansen at 801-581- 7212. Questions regarding the printing of mail items may be directed to 801-581-6171.
---
CHANGES TO INCOMING FRESHMAN SCHOLARSHIPS
The University Office of Scholarships and Financial Aid has announced new scholarship names for 2017-18 academic year:
Utah Flagship Scholarship
Formerly known as Honors at Entrance
Utah Academic Scholarship
Formerly known as Partial Honors at Entrance
Utah Academic Recognition Award
Formerly known as Cash at Entrance
Academic Excellence Scholarship for Non-Residents
Formerly known as Academic Full Tuition for Non-Residents
Academic Excellence Scholarship for Non-Residents
Formerly known as Academic Partial Tuition for Non-Residents
The criteria for these scholarships will remain the same for 2017-18 and the new names will be used for the 2017-18 academic year and beyond. Additionally, there will be no changes to the names for students currently on these scholarships.
If you have any questions, please contact the University Office of Scholarships and Financial Aid at 801-581-6211 or scholarship@sa.utah.edu.
---
APPLY NOW FOR ALTERNATIVE SPRING BREAK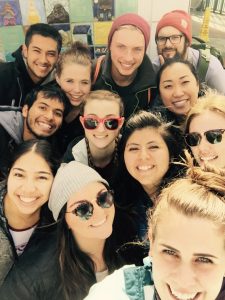 Apply now to spend spring break volunteering, learning and traveling with the Bennion Center's Alternative Break program. Eleven different trips are being offered to cities in the western United States and Canada. It's an immersive, week-long opportunity to learn first-hand about important social and environmental issues. Applications are due Monday, Nov. 28, at 11:59 p.m.
---
ANNOUNCING THE SECOND RESEARCH IMAGES AS ART COMPETITION
We are excited to accept images that represent your science research from all the different disciplines at the University of Utah. They will all be display at the Marriott Library Nov. 14, 2016, with a reception on the Nov. 18, 2016. Winning images will be used for public relations for the university so we can show our community the fantastic research happening here.
Register here by Nov. 5, 2016.
---
GET DISCOUNTS THROUGH U COMMUNITY SOLAR AND U DRIVE ELECTRIC
The Sustainability Office is running two community discount programs that support creative solutions to improve environmental impacts.
U Community Solar
offers U community members the opportunity to get rooftop solar panels and installation for their homes at a discounts.
U Drive Electric
offers discounts on several makes and models of electric and plug-in-hybrid vehicles. Both of these programs run through Oct. 31, 2016.
To learn more and to sign up, visit U Community Solar and U Drive Electric.
---
UTAH RED ZONE FAN CAVE GIVEAWAY PRESENTED BY AMERICA FIRST CREDIT UNION
Utah Red Zone and America First Credit Union are working together to give one lucky Utah Football fan the best seat in the house with the
Utah Red Zone Fan Cave Giveaway
. Utah Red Zone will make one fan's living room have as much Utah pride as they do with a fully furnished and decorated fan cave for the perfect home and away game experience.
The Utah Red Zone Fan Cave Giveaway grand prize includes:
Samsung 65″ Class 4K Ultra HD TV
(2) Imperial University of Utah Recliners
Blakeway framed Rice-Eccles stadium panorama
Northwest Utah tapestry woven blanket
Northwest Utah plush throw blanket
Northwest Utah rug
Legacy Utah vintage game poster artwork
Legacy Utah wall-mount bottle opener
Legacy Utah serving tray
Paulson Designs Utah athletic logo canvas art
Authentic Street Signs "Man Cave" sign
Dahl large vinyl decal
and more Utah Red Zone merchandise.
Utah fans can enter to win the Utah Red Zone Fan Cave Giveaway by going to URedZone.com/FanCaveGiveaway. The lucky winner will be randomly selected at the conclusion of the Utah Football season.
For more information, call or visit Utah Red Zone or the University Campus Store.
---
MATHWORKS MATLAB TOTAL ACADEMIC HEADCOUNT SITE LICENSE FOR U COMMUNITY
The University of Utah has negotiated and obtained a campus wide MathWorks MATLAB Total Academic Headcount site license for MATLAB, Simulink and 48 companion software products.
Access to the products will be available through the Office of Software License web store beginning Sept. 1, 2016, and the software is available to all students, faculty and staff for academic purposes, including academic research.
Information regarding this license, product pricing and the available products can be found here.
---