JUMP TO:
Two-factor authentication (2FA) will soon be required for CAS, some other IT services
The University Office of Scholarships and Financial Aid (UOSFA) advising sessions and open house, Oct. 18-20
Student Veteran of the Year nominations
Changes to incoming freshman scholarships
October is National Cyber Security Awareness Month
All fitness classes are now half off
New appointment for Natural History Museum of Utah's Executive Director, Sarah B. George
Apply now for Alternative Spring Break
Research images as art competition
Get discounts through U Community Solar and U Drive Electric
Utah Red Zone Fan Cave Giveaway presented by America First Credit Union
MathWorks MATLAB Total Academic Headcount site license for U community

---
TWO-FACTOR AUTHENTICATION (2FA) WILL SOON BE REQUIRED FOR CAS, SOME OTHER IT SERVICES
Due to the ever-increasing demand for higher security, starting soon the University of Utah will require all employees to use two-factor authentication (2FA) when logging in to applications that use CAS (Central Authentication Service), such as CIS, Canvas, Box and others. In addition, the following systems/services will require 2FA: access to U systems via virtual private network (VPN); access to high-risk servers; and the Citrix Netscaler Gateway.
2FA provides an extra layer of security by requiring a second authentication method—one that isn't your password—to confirm a user's identity. The second method is something a user has physical access to, like a cellphone or tablet. This ensures that even if a hacker manages to obtain a user's login credentials, the information is useless without access to the user's secondary device.
When the date for 2FA enforcement is finalized, further campus-wide communication will be forthcoming.
Further information is online at it.utah.edu/2fa.
Questions? Call the UIT Help Desk at 801-581-4000, option one. 
---
THE UNIVERSITY OFFICE OF SCHOLARSHIPS AND FINANCIAL AID (UOSFA) ADVISING SESSIONS AND OPEN HOUSE, OCT. 18-20
The University Office of Scholarships and Financial Aid will be hosting financial aid advising sessions and an open house, Oct. 18-20, 2016, on campus. Financial aid counselors will be able to help students complete the Free Application for Federal Student Aid (FAFSA). The 2017-18 FAFSA is now available at
fafsa.gov
.
Students should bring their 2015 federal income tax information and their FSA ID. Students that do not have an FSA ID can register for one at fsaid.ed.gov. The FSA ID is the student's login information for the FAFSA and other federal student aid websites.
Events:
Tuesday, Oct. 18, 10 a.m. to 12 p.m., Financial Aid Advising, Health Science Education Building (HSEB), Rm 3515B
Tuesday, Oct. 18, 2 p.m. to 4 p.m., Financial Aid Advising, Marriott Library, Rm 1009
Wednesday, Oct. 19, 5 p.m. to 7 p.m., Financial Aid Advising, Marriott Library, Rm 1009
Thursday, Oct. 20, 5 p.m. to 7 p.m., Open House, Student Services Building, Room 105
Can't come to any of the events? Visit a financial aid counselor in the UOSFA for assistance with the FAFSA or financial aid process. Walk-in appointments are available.
University Office of Scholarships and Financial Aid
Student Services Building (SSB), Room 105
Phone: 801-581-6211
Email: financialaid@sa.utah.edu
financialaid.utah.edu
---
STUDENT VETERAN OF THE YEAR NOMINATIONS
The Student Veteran of the Year award is presented annually by the Veterans Support Center to a student veteran at the University of Utah. Nominations are accepted from peers, faculty, and staff and are due Oct. 21, 2016.  A committee of peers selects theStudent Veteran of the Year based on the nominees' past and present military and civilian accomplishments in support of their nation, state, community, and/or the U, as well as academic accomplishments.  The honors consist of an engraved medallion and a $1000 cash award presented at the Veterans Day commemoration on Nov. 11, as well as the awardee's name inscribed on a plaque displayed in theVeterans Support Center.
For more information and to nominate a student veteran, click here.
---
CHANGES TO INCOMING FRESHMAN SCHOLARSHIPS
The University Office of Scholarships and Financial Aid has announced new scholarship names for 2017-18 academic year:
Utah Flagship Scholarship
Formerly known as Honors at Entrance
Utah Academic Scholarship
Formerly known as Partial Honors at Entrance
Utah Academic Recognition Award
Formerly known as Cash at Entrance
Academic Excellence Scholarship for Non-Residents
Formerly known as Academic Full Tuition for Non-Residents
Academic Excellence Scholarship for Non-Residents
Formerly known as Academic Partial Tuition for Non-Residents
The criteria for these scholarships will remain the same for 2017-18 and the new names will be used for the 2017-18 academic year and beyond. Additionally, there will be no changes to the names for students currently on these scholarships.
If you have any questions, please contact the University Office of Scholarships and Financial Aid at 801-581-6211 or scholarship@sa.utah.edu.
---
OCTOBER IS NATIONAL CYBER SECURITY AWARENESS MONTH
The internet is a huge part of life at work and at home, and no one is immune to cyber threats. That's why for the third year in a row, University Information Technology (UIT) is participating in the 
National Cyber Security Awareness Month (NCSAM)
 campaign. It's everyone's responsibility to behave safely online, and UIT wants to help you learn how to do so.
This year, UIT's message is aligned with the StaySafeOnline.org campaign. The remaining topics to be covered are:
Oct. 17-21: Creating a Culture of Cybersecurity at the U 
Oct.  24-28: What's Your Aptitude? 
UIT invites you to join us this month as we learn together about ways to stay informed, as well as best practices for how to stay safe online.
---
ALL FITNESS CLASSES ARE NOW HALF OFF
If you've been waiting for the the right time to sign up for a fitness class, it doesn't get any better than half off.
There's still plenty of time left in the semester to get in some great group exercise classes.
Register today at campusrec.utah.edu.
---
NEW APPOINTMENT FOR NATURAL HISTORY MUSEUM OF UATH'S EXECUTIVE DIRECTOR, SARAH B. GEORGE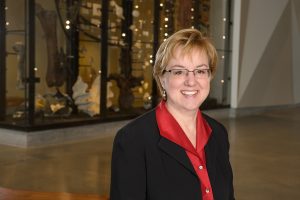 The Natural History Museum of Utah at the University of Utah is pleased to announce the election of executive director Sarah B. George to the Association of Science-Technology Centers (ASTC) Board of Directors. George brings more than 30 years of science and museum experience to ASTC and is one of three newly-elected Board members named during the 2016 ASTC Annual Conference in Tampa, Florida.
"The museum has been a member of ASTC for almost 25 years, and a governing member for about seven," said George. "With so many changes taking place in science education today, it's an exciting time to collaborate with such a diverse and innovative group of science educators and professionals."
As a new director, George will work with ASTC to create and manage global partnerships, promote informal STEM education and program support for member institutions, work with government agencies in support of science interests and more. Since its beginning in 1973, ASTC has grown from its original 20 founding members to more than 650 museum and science center members located in every U.S. state and across 50 countries.
---
APPLY NOW FOR ALTERNATIVE SPRING BREAK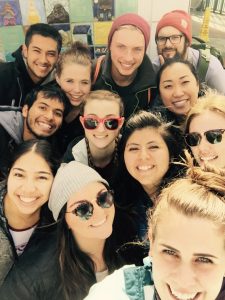 Apply now to spend spring break volunteering, learning and traveling with the Bennion Center's Alternative Break program. Eleven different trips are being offered to cities in the western United States and Canada. It's an immersive, week-long opportunity to learn first-hand about important social and environmental issues. Applications are due Monday, Nov. 28, at 11:59 p.m.
---
ANNOUNCING THE SECOND RESEARCH IMAGES AS ART COMPETITION
We are excited to accept images that represent your science research from all the different disciplines at the University of Utah. They will all be display at the Marriott Library Nov. 14, 2016, with a reception on the Nov. 18, 2016. Winning images will be used for public relations for the university so we can show our community the fantastic research happening here.
Register here by Nov. 5, 2016.
---
GET DISCOUNTS THROUGH U COMMUNITY SOLAR AND U DRIVE ELECTRIC
The Sustainability Office is running two community discount programs that support creative solutions to improve environmental impacts.
U Community Solar
offers U community members the opportunity to get rooftop solar panels and installation for their homes at a discounts.
U Drive Electric
offers discounts on several makes and models of electric and plug-in-hybrid vehicles. Both of these programs run through Oct. 31, 2016.
To learn more and to sign up, visit U Community Solar and U Drive Electric.
---
UTAH RED ZONE FAN CAVE GIVEAWAY PRESENTED BY AMERICA FIRST CREDIT UNION
Utah Red Zone and America First Credit Union are working together to give one lucky Utah Football fan the best seat in the house with the
Utah Red Zone Fan Cave Giveaway
. Utah Red Zone will make one fan's living room have as much Utah pride as they do with a fully furnished and decorated fan cave for the perfect home and away game experience.
The Utah Red Zone Fan Cave Giveaway grand prize includes:
Samsung 65″ Class 4K Ultra HD TV
(2) Imperial University of Utah Recliners
Blakeway framed Rice-Eccles stadium panorama
Northwest Utah tapestry woven blanket
Northwest Utah plush throw blanket
Northwest Utah rug
Legacy Utah vintage game poster artwork
Legacy Utah wall-mount bottle opener
Legacy Utah serving tray
Paulson Designs Utah athletic logo canvas art
Authentic Street Signs "Man Cave" sign
Dahl large vinyl decal
and more Utah Red Zone merchandise.
Utah fans can enter to win the Utah Red Zone Fan Cave Giveaway by going to URedZone.com/FanCaveGiveaway. The lucky winner will be randomly selected at the conclusion of the Utah Football season.
For more information, call or visit Utah Red Zone or the University Campus Store.
---
MATHWORKS MATLAB TOTAL ACADEMIC HEADCOUNT SITE LICENSE FOR U COMMUNITY
The University of Utah has negotiated and obtained a campus wide MathWorks MATLAB Total Academic Headcount site license for MATLAB, Simulink and 48 companion software products.
Access to the products will be available through the Office of Software License web store beginning Sept. 1, 2016, and the software is available to all students, faculty and staff for academic purposes, including academic research.
Information regarding this license, product pricing and the available products can be found here.
---