JUMP TO:
Tree removal around OSH
Union Market Place grand opening
Infrared a capella auditions
Register now for the Legacy of Lowell Day of Service
Mathematician Joe Taylor remembered
Ms. Wheelchair America Names U. Student for 2017
University Campus Store, Bed Bath and Beyond partnership
National Society of Leadership and Success

---
TREE REMOVAL AROUND OSH[bs_row class="row"][bs_col class="col-sm-4″]
[/bs_col]
[bs_col class="col-sm-8″]In preparation for construction on the building that will replace OSH, the University of Utah considered several options for managing the trees in the vicinity, including adjusting the building location and consulting with expert arborists. Ultimately, several trees were removed last week. While 14 trees were able to be transplanted to other locations around campus, not all were viable candidates. Two of the trees will be used to create stepping blocks and a play structure for the playground at the Child and Family Development Center at the Alfred Emery Building. Some of the trees will be used to make signage and furniture that will go in the new building, and others were removed because they were diseased.
The University of Utah is currently developing a landscape master plan that aims to introduce more species diversity into the tree population on campus. This is beneficial because trees are less likely to spread disease to different species. The University of Utah has been a state arboretum for 55 years. In 2015, it received Tree Campus USA recognition by the Arbor Day Foundation after, among other things, forming a tree advisory committee, maintaining a campus tree-care plan and dedicating annual expenditures for the campus tree program.[/bs_col][/bs_row]
---
UNION MARKET PLACE GRAND OPENING[bs_row class="row"][bs_col class="col-sm-4″]
[/bs_col]
[bs_col class="col-sm-8″]This week, the University Campus Store's new Union Market Place convenience store will host a grand opening celebration featuring prizes, giveaways, free popcorn and samples for students and members of the university community.
The Union Market Place is located on the second floor of the Union Building, next to the Union Help Desk. While grabbing a soda, hot dog, chips or snack, patrons can enter to win prizes from the University Campus Store throughout the week. On Monday, free Coca-Cola sunglasses will be given out from noon to 2 p.m. while supplies last.
The Union Market Place is open weekdays from 9 a.m. to 5 p.m. and welcomes students, faculty and staff to stop in for a quick drink, snack or for those last-minute essentials that help get you though the day.[/bs_col][/bs_row]
---
INFRARED AUDITIONS[bs_row class="row"][bs_col class="col-sm-4″]

[/bs_col]
[bs_col class="col-sm-8″]Do you like to sing or beatbox? Have you heard about the new class being offered in the school of music? University of Utah Infrared auditions are on Tuesday, Aug. 23, at the School of Music (DGH) from 2-6 p.m. We are auditioning all voice types for the 2016-17 academic year.
Our campus pop a cappella group "Infrared" has been promoted and will now be offered as a class within the choral department. Come make U history and share your talents with us as we gig in and outside the Salt Lake Valley, compete in the International Competition of Collegiate a cappella, and make the U's first pop a cappella music videos.
Infrared auditionees should prepare excerpts from two contrasting songs in the genre of popular music or musical theater. You may accompany yourself at the piano or with a guitar, but a cappella singing is preferable. You may be asked to sing scales and/or simple sight reading exercises. For more information, please email us at infraredacappella@gmail.com. See you at auditions.[/bs_col][/bs_row]
---
REGISTER NOW FOR LEGACY OF LOWELL DAY OF SERVICE
Saturday, Sept. 17 | 8:30 a.m.-12 p.m.
Glendale Community Center[bs_row class="row"][bs_col class="col-sm-4″]
[/bs_col]
[bs_col class="col-sm-8″]Be part of a U classic! Register now for the annual Legacy of Lowell Day of Service, Saturday, Sept. 17 from 8:30 a.m. to 12 p.m. at the Glendale Community Center. Sponsored by the Lowell Bennion Community Service Center, volunteers can choose from almost two dozen different service projects that help community partners throughout the Salt Lake Valley. Every year hundreds of U students, staff, faculty and community members combine for a great morning of service that improves neighborhoods and lives. Sign up now at bennioncenter.org.[/bs_col][/bs_row]
---
MATHEMATICIAN JOE TAYLOR REMEMBERED[bs_row class="row"][bs_col class="col-sm-4″]
[/bs_col]
[bs_col class="col-sm-8″]Emeritus mathematics professor Joseph Taylor passed away on July 28, 2016, at the age of 75. Colleagues, family and friends gathered to commemorate his life at a memorial service on Aug. 3 in the Cowles building loft. Taylor, who also served as mathematics department chair, dean of the College of Science and senior vice president for academic affairs was remembered as a brilliant mathematician, an insightful leader and a loyal friend.
Taylor was born in 1941 and grew up in Salt Lake City, graduating from Olympus High School in 1959. He enrolled in his first math classes at the U in the fall of 1960, but decided to leave Salt Lake the following summer. Recognizing Taylor's talent, U math professor Don Tucker helped him enroll at Louisiana State University at the graduate level in the fall of 1961. By the next year, Taylor had been offered a junior faculty position at Harvard University based on a well-received thesis. To fulfill Harvard's hiring requirements, Taylor finished his bachelor's degree in December 1963 and was awarded his doctorate the following spring. After a year at Harvard, Taylor returned to the University of Utah.
Read the full article here.[/bs_col][/bs_row]
---
MS. WHEELCHAIR AMERICA NAMES U STUDENT FOR 2017[bs_row class="row"][bs_col class="col-sm-4″]
[/bs_col]
[bs_col class="col-sm-8″]Eliza McIntosh, a junior in psychology and political science, has just been crowned Ms. Wheelchair America 2017. She won with the platform, "Where there is a wheel, there is a way – identify your passion, invite people to join you, and ignite your community behind you." Over the next year, McIntosh will travel the country as a spokeswoman for the disability community, visit with advocacy groups, make public appearances and participate in parades.
Ms. Wheelchair America took place in Grand Rapids, MI. over the course of seven days. McIntosh competed against 25 other contestants from different states. Although the contestants are showcased in pageant format, physical beauty in not a consideration. Of the experience McIntosh said, "I am excited and honored to be Ms. Wheelchair America 2017! I hope to use this opportunity to exhibit just how much you can do BECAUSE of a wheelchair, not despite it."
If you would like to get involved or donate, please contact Eliza McIntosh at 2017mwa@gmail.com or she can be reached at 801-792-7126.[/bs_col][/bs_row]
---
UNIVERSITY CAMPUS STORE, BED BATH AND BEYOND PARTNERSHIP[bs_row class="row"][bs_col class="col-sm-4″]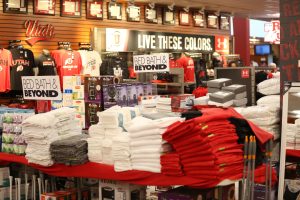 [/bs_col]
[bs_col class="col-sm-8″]As part of its mission to provide comprehensive support to students, the University Campus Store is teaming up with Bed Bath and Beyond to make back-to-school shopping easier, faster and more convenient this fall.
Through Aug. 29, Bed Bath and Beyond will operate a temporary store inside the University Campus Store. There, students will be able to purchase bedding, small appliances, cookware and other household items alongside textbooks and other school supplies, helping to consolidate shopping trips in the busy days leading up to fall semester.
This marks the first time that students will have the opportunity to purchase everything they need for both school and home in one place. It's also the first time that the University Campus Store will house household items to help students organize their kitchen, bedroom and bath spaces in concert with their academic and study spaces in a complete, convenient package.
As a special service to on-campus residents, the University Campus Store and Bed Bath and Beyond will be on site at the Heritage Center's move-in weekend on Aug. 18-19. A slightly smaller version of the University Campus Store collection, the Bed Bath and Beyond table will feature dorm room essentials to help students make their new spaces feel just like home.
For more information, please visit the University Campus Store or call 801-581-6326.[/bs_col][/bs_row]
---
NATIONAL SOCIETY OF LEADERSHIP AND SUCCESS[bs_row class="row"][bs_col class="col-sm-4″]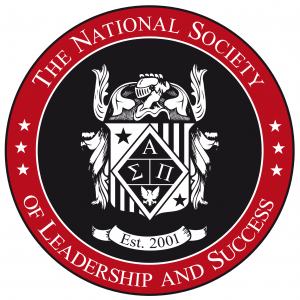 [/bs_col]
[bs_col class="col-sm-8″]The University of Utah chapter of Sigma Alpha Pi, or The National Society of Leadership and Success, recently sent out membership invitations for fall 2016. Students with questions about The National Society of Leadership and Success are welcome to contact the Office of Student Leadership & Involvement by stopping by Union 270, calling 801-581-7526, or emailing leadership@utah.edu.
The National Society of Leadership and Success is the largest collegiate leadership honor society in the United States, with more than 500 chapters and more than half a million members nationwide. Since the University of Utah chapter's founding in 2008, it has had a total of 3,554 members join.
Sigma Alpha Pi is available to a limited number of students, and you have earned this honor because of your academic accomplishment and leadership potential. Your candidacy is a nationally recognized achievement of honorable distinction.
In addition to honoring excellence, Sigma Alpha Pi distinguishes itself by providing members with access to a five-step leadership program on campus. During this process, you will develop skills that will drive your success beyond the classroom and into the next phase of your life as a professional or graduate student. The program will provide you with access to education from some of America's top leaders, including Huffington Post founder Arianna Huffington; Former U.S. Secretary of Defense Robert Gates; "The Today Show" host Al Roker; Inc. Magazine's No. 1 Leadership Expert John C. Maxwell and many others.[/bs_col]
[/bs_row]
---