JUMP TO:
Summer 2016 Registration by date begins Monday, March 21
Mortar Board Senior Honors Society Calling juniors with 3.5 GPA or higher – due by March 25
Summer 2016 graduation application deadline extended
Graduation announcements
Video contest – U Student startups need your votes to beat BYU
Interdisciplinary internship opportunity — Center for Renewable Energy
Distinguished Teaching Award recipients
Deputy Chief Global Officer receives Timothy J. Rutenber Award
NHMU Fossil and insect of the month
New UIT information email service
UMFA educator wins state and national awards
The Summit climbing clinic series
Fairchild reelected to Fair Labor Association Board
Beacons of Excellence Awards: Call for nominations
Campus Recreation hiring personal trainers

---
SUMMER 2016 REGISTRATION BY DATE BEGINS MONDAY, MARCH 21[bs_row class="row"][bs_col class="col-sm-4″]
[/bs_col]
[bs_col class="col-sm-8″]If you have any questions regarding registration by date, please contact the Office of the Registrar at registrar@utah.edu or 801-581-5808.[/bs_col]
[/bs_row]
---
MORTAR BOARD SENIOR HONORS SOCIETY — CALLING JUNIORS WITH 3.5 GPA AND HIGHER[bs_row class="row"][bs_col class="col-sm-4″]

[/bs_col]
[bs_col class="col-sm-8″]All students of junior standing with a 3.5 GPA or higher and with demonstrable commitment to scholarship, leadership and service are invited to apply for membership in the Mortar Board Senior Honors Society.
Mortar Board is one of the nation (and university's) oldest and most selective honors societies and is one of a select few that is listed on members' transcripts. If selected, members perform service, sponsor university events and have access to a number of professional development tools.
The application is due Friday, March 25, 2016, and can be accessed here.[/bs_col]
[/bs_row]
---
ONLINE GRADUATION APPLICATIONS AND DEADLINE FOR SUMMER 2016 CANDIDATES EXTENDED
New deadline: April 1, 2016[bs_row class="row"][bs_col class="col-sm-4″]
[/bs_col]
[bs_col class="col-sm-8″]The Registrar's Office is pleased to announce that undergraduate students applying to graduate can now do so online if they apply by the deadline.  The deadline for summer 2016 candidates has been extended from March 1 to April 1.
For more information see: Registrar.utah.edu/graduation/.[/bs_col]
[/bs_row]
---
GRADUATION ANNOUNCEMENTS[bs_row class="row"][bs_col class="col-sm-4″]
[/bs_col]
[bs_col class="col-sm-8″]Graduates, order your customized Utah-themed graduation announcements from University Print & Mail Services and pick them up five days after your order date. To view designs online and get started, visit printandmail.utah.edu/gradcards.
Announcement photos will be taken for free at the Campus Store Grad Fair, which runs March 31 though April 2, 2016.[/bs_col]
[/bs_row]
---
INTERDISCIPLINARY INTERNSHIP OPPORTUNITY — CENTER FOR RENEWABLE ENERGY [bs_row class="row"][bs_col class="col-sm-4″]
[/bs_col]
[bs_col class="col-sm-8″]Applications for an eight-week summer paid internship for students majoring in communication, or related academic programs, are now being accepted by the Department of Metallurgical Engineering. The position is full time and pays $12/hour.
By working with department staff members and scientists at the Roger and Dawn Crus Center for Renewable Energy, the student will have the opportunity to gain practical experience related to their college major.
Responsibilities will include:
Building and updating the center's website that focuses on educational opportunities and real-world applications of research being conducted at the center.
Interviewing faculty members, graduate and undergraduate students in the center to produce wide-ranging editorial content about the center's achievements.
Writing and submitting press releases and feature articles to various media outlets to draw attention to, and promote the value of, specific research projects currently underway at the center. For example, improving air and water quality, development of inexpensive materials for point-of-use applications, novel methods of recycling scrap metal, etc.
Coordinating community-education events to attract students of all ages, and Utah residents in general, to visit the center.
Application deadline is April 13, although earlier submissions will receive special consideration. Please send your résumé (two-page limit) to Krista Carlson (krista.carlson@utah.edu), along with a short essay (no more than two double-spaced pages using 12-point type and one inch margins) explaining why you wish to be considered for position.  Please send an email to Carlson if you have any questions.[/bs_col]
[/bs_row]
---
VIDEO CONTEST – U STUDENT STARTUPS NEED YOUR VOTES TO BEAT BYU[bs_row class="row"][bs_col class="col-sm-4″]

[/bs_col]
[bs_col class="col-sm-8″]We need your vote in the People's Choice video competition for the 2016 Utah Entrepreneur Challenge. Help U student startups beat all the other schools in the state and win the $2,500 prize, and watch their videos to learn more about their amazing inventions.
The public may vote from March 14 to April 8. The team with the most votes will win.
The winning team will be announced at the UEC Public Showcase and Awards Ceremony on April 9 the University of Utah. All are welcome to attend the showcase event! It's a great opportunity to meet the best student entrepreneurs in the state and see who wins the $100,000 in cash and prizes, including the $40,000 grand prize. The program is managed by the Lassonde Entrepreneur Institute at the U and sponsored by Zions Bank.
Vote and learn more here: lassonde.utah.edu/vote2016.[/bs_col]
[/bs_row]
---
DISTINGUISHED TEACHING AWARD RECIPIENTS
[bs_row class="row"][bs_col class="col-sm-4″]
[/bs_col]
[bs_col class="col-sm-8″]The University Distinguished Teaching Award honors significant contributions to the teaching mission of the University of Utah. Nominees for the Distinguished Teaching Award must maintain a consistent record of outstanding teaching performance and implement effective and innovative teaching methods which demonstrate exceptional abilities to motivate student learning. Nominees must show a concern for students and their wider education as well as their career preparation and must also contribute to the educational process outside of the classroom.
The recipients for the 2015-16 Distinguished Teaching Award are Karen Gunning, professor (clinical), pharmacotherapy; Heather Melton, associate professor, sociology; Leslie Sieburth, professor, biology; and Timothy Smith, distinguished professor, psychology. [/bs_col]
[/bs_row]
---
DEPUTY CHIEF GLOBAL OFFICER RECEIVES TIMOTHY J. RUTENBER AWARD[bs_row class="row"][bs_col class="col-sm-4″]

[/bs_col]
[bs_col class="col-sm-8″]Dr. Sabine Klahr, deputy chief global officer, Office for Global Engagement, was honored with the Timothy J. Rutenber Award in Recognition of Her Outstanding and Dedicated Service over many years to the Association of International Education Administrators (AIEA) at the recent AIEA annual conference in Montreal, Canada. AIEA is the leading association in the world focused on professional development, advocacy, information-sharing and networking for leaders in the field of international higher education.
Dr. Darla Deardorff, executive director of AIEA, stated that "Dr. Sabine Klahr is most deserving of the Rutenber Award, given her leadership within AIEA and her extraordinary commitment of service to the organization and to colleagues."
Klahr's contributions to AIEA and the profession are many and varied, including the presidency of the organization in the presidential stream from 2012 – 2015. Klahr's vision and voice continue to guide the profession at the highest levels. This award recognizes Klahr's long-term service and outstanding contribution to the Association of International Education Administrators.[/bs_col]
[/bs_row]
---
NEW UIT INFORMATION EMAIL SERVICE[bs_row class="row"][bs_col class="col-sm-4″]
[/bs_col]
[bs_col class="col-sm-8″]University Information Technology (UIT) has launched a new information email service open to all faculty, staff and students. You can subscribe by entering your email address in an online form and opt out at any time.
Subscribers receive monthly Node 4 newsletter emails as well as occasional UIT announcements, including planned service downtime notices. Those who are interested in the U's most critical common IT resources may wish to subscribe. Services covered include the campus network; the Campus Information Services (CIS) portal; UMail, telephone and online collaboration services; information security; software licensing; research computing; teaching/learning technologies; and a range of other IT systems and applications.
The new email list provides non-urgent UIT information only. Staff and faculty who wish to receive active incident/outage information may subscribe to receive NotifyIT alerts via SMS/email; anyone, including students, can find active incident information on the UIT website and via Twitter.[/bs_col]
[/bs_row]
---
NHMU FOSSIL AND INSECT OF THE MONTH[bs_row class="row"][bs_col class="col-sm-4″]
[/bs_col]
[bs_col class="col-sm-8″]Fossil of the month: Salad forks, not carving knives
These are manal, or hand, claws from the dinosaur Nothronychus graffami. Its claws can be nearly a foot long. Nothronychus is a theropod dinosaur, the group containing all the famous predators like Tyrannosaurus rex. Unlike its ferocious, meat-eating relatives, however, Nothronychus consumed plants. Paleontologists think it used its huge claws for either intimidation or grasping vegetation. You can see a full skeletal reconstruction of Nothronychus in the Natural History Museum of Utah's Past Worlds Gallery on Level 2.[/bs_col]
[/bs_row][bs_row class="row"][bs_col class="col-sm-4″]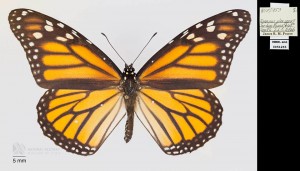 [/bs_col]
[bs_col class="col-sm-8″]Insect of the month
Monarch butterflies (Danaus plexippus) have one of the most amazing migration stories on earth. Each individual butterfly only completes a portion of the journey but over generations they cover thousands of miles.
This particular specimen from our collection was collected in 1953 right here in Salt Lake City. We have thousands of butterflies and moths in our entomology collection and the data about when and where they were found provides valuable historical information to researchers.[/bs_col]
[/bs_row]
---
THE SUMMIT CLIMBING CLINIC SERIES
Eccles Student Life Center[bs_row class="row"][bs_col class="col-sm-4″]
[/bs_col]
[bs_col class="col-sm-8″]Gear up for the outdoor climbing season with any of our classes or clinics at The Summit. "Learn to Belay" or "Learn to Lead Belay and Lead Climb" are just a couple of the classes
and clinics we offer.
Check out campusrec.utah.edu for a full list.
Dates and registration fees vary.[/bs_col]
[/bs_row]
---
UMFA EDUCATOR WINS STATE AND NATIONAL AWARDS[bs_row class="row"][bs_col class="col-sm-4″]
[/bs_col]
[bs_col class="col-sm-8″]A Utah Museum of Fine Arts educator is being recognized for her dedication, creativity, and resourcefulness in bringing meaningful art experiences to students and teachers across the state.
Annie Burbidge Ream, assistant curator of education and public school programs at the Utah Museum of Fine Arts , was named 2016 Utah Museum Educator of the Year by the Utah Art Education Association in February. This month she was awarded the 2016 Pacific Region Museum Education Art Educator Award from the National Art Education Association.
For more information, click here.[/bs_col]
[/bs_row]
---
FAIRCHILD REELECTED TO FAIR LABOR ASSOCIATION BOARD[bs_row class="row"][bs_col class="col-sm-4″]

[/bs_col]
[bs_col class="col-sm-8″]Associate Director of Trademarks and Licensing Richard Fairchild has been reelected to the Fair Labor Association board and now begins his fourth year of service to the organization.
Initially elected in 2013, Fairchild will begin his second term as a Fair Labor Association, or FLA, board member in June and serve though May 2019. He is one of six university representatives from higher education institutions throughout the United States to sit on the board.
The FLA is a collaborative group of universities, civil society organizations and socially responsible companies dedicated to protecting workers' rights around the world.
The University of Utah is a member of the FLA and requires all of its licensees to also be members.
The FLA board is composed of 19 members and includes six universities, six brands, six civil societies and one chair. Board members are tasked with making important decisions that impact employment practices, policies and standards throughout the world.
Read the full article here.[/bs_col]
[/bs_row]
---
'BEACONS OF EXCELLENCE' AWARDS: CALL FOR NOMINATIONS
Deadline: Thursday, April 14, 2016[bs_row class="row"][bs_col class="col-sm-4″]
[/bs_col]
[bs_col class="col-sm-8″]Each year, the University of Utah's Office of Undergraduate Studies and the Office of Student Affairs recognizes people, programs and projects committed to creating a transformative, undergraduate educational experience.
Beacons of Excellence awards celebrate "best practices" found across campus, including labs, student clubs, individuals, centers and more. Since the award was created in 2012, hundreds of nominations have been submitted by students, faculty, staff and community members.
Nominations are currently being accepted and are due by Thursday, April 14 at 5 p.m.
Recipients of the 2016 awards will be honored throughout the year in print and other media outlets on campus and in the community.
More information about the award and past honorees is available online. [/bs_col]
[/bs_row]
---
CAMPUS RECREATION SERVICES IS HIRING PERSONAL TRAINERS[bs_row class="row"][bs_col class="col-sm-4″]

[/bs_col]
[bs_col class="col-sm-8″]Campus Recreation Services is hiring Personal Trainers to meet the demands of our patrons.
If you are interested in working with us in the Eccles Student Life Center, please send your resume to Cflatley@crs.utah.edu.
Qualifications:  must be a current student, have PT Certification and have prior experience.[/bs_col]
[/bs_row]
---