CAMPUS RECREATION SERVICES IS HIRING


Campus Recreation Services is currently hiring motivated students that would like to work in a fun, active environment.  If you are looking to stay active, work flexible hours, get paid training and the opportunity for scholarships, Campus Recreation Services is your place.  Check out our recruitment schedule at campusrec.utah.edu.
---
STUDENT TICKETS AVAILABLE FOR CONGRESSMAN JOHN LEWIS' ADDRESS

Free tickets available to students Wednesday, Oct. 21, in person at the Kingsbury Hall ticket office (tickets open to the general public on Oct. 28).
Tickets to attend U.S. Rep. John Lewis' campus presentation will be available to students at 10 a.m. on Wednesday, Oct. 21, 2015, at the Kingsbury Hall ticket office. Each student may get one free ticket by appearing in person and presenting a valid UCard. Lewis is being hosted by the University of Utah MUSE Project, and he will speak at Libby Gardner Hall at 11 a.m. on Tuesday, Nov. 10. Lewis will be joined for the presentation and book signing by Andrew Aydin and Nate Powell, the co-author and illustrator of his graphic novel "March," which tells the story of his early life and his involvement in the civil rights movement. Any tickets not secured by students will become available to the general public on Wednesday, Oct. 28.
---
DISTINGUISHED PROFESSOR NOMINATIONS NOW BEING ACCEPTED
Nominations from all parts of campus are being solicited for the rank of distinguished professor. Nomination forms and curriculum vitae must be submitted no later than Friday, Oct. 30, 2015.
The rank of distinguished professor is reserved for selected individuals whose achievements exemplify the highest goals of scholarship as demonstrated by recognition accorded to them from peers with national and international stature, and whose record includes evidence of a high dedication to teaching as demonstrated by recognition accorded to them by students and/or colleagues.
Nominees should have completed at least eight years of service at the U prior to nomination. Since the nomination and selection of distinguished professors occurs annually and the process is non-prejudicial for those not selected in any year, repeat nominations are permissible up to three years. After three years, the nominee must wait two years before being eligible for re-nomination. Nominators and/or other professors are encouraged to add any additional information to update the file that they deem important for this year's consideration.
For questions, please contact Kataleeya Kumsooktawonge at 801-581-8661 or kataleeya.k@utah.edu.
---
OSH SURVEY — WE NEED YOUR FEEDBACK

Facilities Management and ASUU need your input on changes to OSH. Take our short survey at OSHstudy.com and help us understand what's most important to you in the new OSH. Complete the survey by Oct. 31 and get a 20 percent off coupon for the Campus Store.
Facilities and ASUU will also hold a town hall meeting in December to gather additional input and ideas from faculty, staff and students. Followed by another town hall in the spring to share the design as it develops. This isn't the only time we'll be seeking your input, you'll be able to find updates as the project develops at facilities.utah.edu/osh.
---
CALL FOR DESIGN AND COLLABORATION
The Linda B. and Robert B. Wiggins Wellness and Integrative Health Center is partnering with the
University of Utah College of Architecture + Planning
as well as
Architectural Nexus
to beautify the patient patio terrace.Anyone from the HCI community—patients, loved ones, care providers and others affected by cancer — are invited to collaborate by submitting design ideas and inspiration for a new labyrinth, pergola and wind feature.
Design ideas are due by Dec. 31, 2015.
Submissions will be reviewed by a committee and final selections made in April 2016.
The HCI design contest submission form can be found

here

.
Huntsman Cancer Institute (HCI) offers an outdoor patio terrace for patients and their loved ones on the fourth floor of our Cancer Hospital. Nestled against the foothill of the mountain, the patio provides comfortable furniture, beautiful views and a calm atmosphere.
Go here for more details and click here to watch the promo video.
---
WILDLIFE SAFETY

Utah is wildlife country, home to bats, black bears, cougars, coyote, moose, mule deer, snakes and more. Be wild aware by learning how to prevent conflicts with wildlife found near the University. Since the campus extends into the northeastern foothills, pay attention when walking the grounds at dawn and dusk when wildlife is most active.
This fall, mule deer have begun to travel down from their high mountain habitats to winter feeding grounds in the valleys. Watch for wildlife crossing the roads and parking lots. If you enjoy hiking in the foothills around the campus you may be lucky enough to spot a coyote on the hunt or see a herd of mule deer grazing.
Cougars, also known as mountain lions, are found throughout Utah and mainly prey on mule deer. Cougars will follow deer along their migration routes into the valleys. It is not uncommon to spot a cougar near campus. Always observe wildlife from a safe distance. For more wildlife safety information, visit wildawareutah.org. To schedule a presentation on wildlife awareness for your employees or students, send an email to info@wildawareutah.org.
---
UMFA WINS STATE AWARD FOR SPIRAL JETTY OUTREACH
The Utah Museum of Fine Arts (UMFA) at the University of Utah has been awarded the Utah Museums Association's 2015 Award for Excellence in Programming. The UMFA won the award for its efforts to raise awareness and appreciation of Spiral Jetty, the internationally acclaimed work of Land art by Robert Smithson located on Great Salt Lake.
The UMFA has done "remarkable work as local stewards (and collaborative partners)," to encourage public engagement with and appreciation of this important work of art, according to a UMA statement. The UMFA and Great Salt Lake Institute at Westminster College collaborate with New York-based Dia Art Foundation — the official steward of Spiral Jetty — to preserve, maintain and advocate for the work.
UMFA staff have produced and distributed interpretive and educational materials designed to deepen visitors' experiences, including printable guides and a family backpack visitors can check out for free at the Museum and take to Spiral Jetty for hands-on engagement. Museum staff have also hosted free public programming, presented Land art-related works by Smithson and other artists in its galleries, and developed online resources that serve visitors locally and worldwide.
Read the full article here.
---
ECCLES SCHOOL EXECUTIVE MBA RANKED 22 IN U.S. BY FINANCIAL TIMES

The Executive MBA program at the University of Utah's David Eccles School of Business is ranked one of the best in the world, according to a new survey by the Financial Times. The program ranked No. 22 nationally and No. 83 globally, moving up eight and 12 spots respectively. The Eccles School's program also ranked No. 4 in the West.
"The new Financial Times ranking is a testament to our program's continuing innovative education, student success and outstanding faculty," said Taylor Randall, dean of the David Eccles School of Business. "An Eccles MBA provides students with an excellent return on their educational investment and a competitive advantage in the workplace."
Eccles School Executive MBA graduates were successful in increasing their salaries three years after graduation by 41 percent, translating to an average salary of $142,754, according to the survey.
"This ranking is particularly impressive given the increasing competition among Executive MBA programs worldwide," said Brad Vierig, associate dean of Executive Education at the Eccles School. "Our graduates go on to do amazing things, in part because of their experience here at the Eccles School."
Read the full article here.
---
RED & WHITE FRIDAY CONTEST
Congratulations to Bryan Duncan, winner of this week's Red & White Friday prize pack. Duncan won a Ute Proud themed prize pack. To enter, just post a photo to Facebook, Instagram or Twitter with the hashtag #RedWhiteFriday.  For details and contest rules click here.
Be sure to enter#redwhitefriday this Friday, Oct. 30.
---
RED DRESS GALA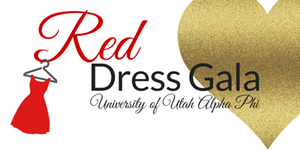 Alpha Phi's 3rd Annual Red Dress Gala
Nov. 6 at 7 p.m.
University Park Marriott Hotel
Heart disease is the number one killer of women in America. Join the ladies of Alpha Phi as they raise money to help combat this fatal disease with their third annual Red Dress Gala. Red Dress Gala is a night of fun, with a silent and live auction, formal dinner, opportunity drawing and much more! Purchase your tickets today and help as the women of Alpha Phi raise money for cardiac research and rehabilitation.
Purchase tickets here.
---
GARTNER RESEARCH RESOURCES AVAILABLE AT NO COST
If you're a University of Utah faculty member, staff member, or student doing research on IT-related topics, Gartner Research resources are available for you to use at no charge. Gartner, Inc. is the world's leading information technology research and advisory company. Additionally, faculty and staff may request complimentary meetings with Gartner consultants on IT-related topics. Log into the Gartner site using your uNID and CIS password.