U.S. NEWS & WORLD REPORT RANKINGS OF NATIONAL UNIVERSITIES
The University of Utah moved up 14 spots to 115th in the latest U.S. News & World Report America's Best Colleges overall rankings of national universities. Freshmen retention and overall graduation rates, among the metrics in determining the rankings, were up for the university from last year.
The undergraduate engineering program ranked 56th and the business program ranked 50th.  The U also ranked 55th among public schools and 94th best for veterans.
---
VETERANS SUPPORT CENTER HAS MOVED
Please be aware that the Veterans Support Center has now moved from Union 162 to Union 418, and Veterans Services has moved from Window 10 of the Student Services Building to Union 418 within the Veterans Support Center for the convenience of our student veterans. Please update any directories, and distribute this change to your faculty and staff so they can point student veterans to the right location in order to access their veteran-related benefits, or handle any veteran-related issues they may have.
We appreciate your support as these veterans transition back in to both civilian, and student life.
---
APPLY TO BE AN ORIENTATION LEADER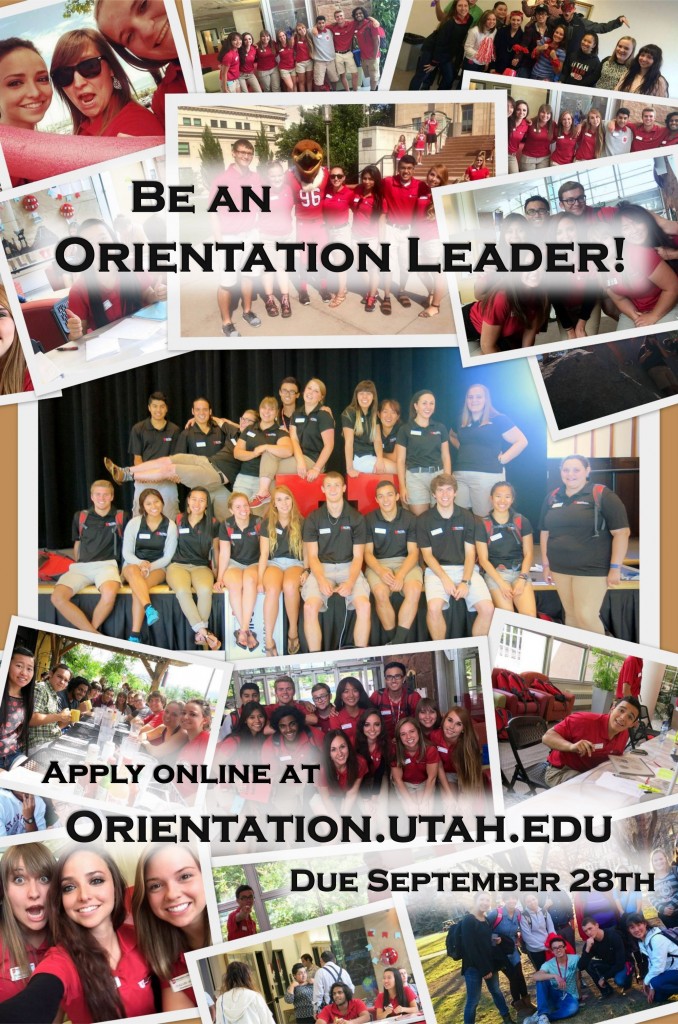 Assist in the facilitation of the annual Orientation program at the University of Utah.  Serve as a mentor and resource for all incoming students and help ease the difficult transition from high school to college. Position is full-time over the summer and requires a three-credit hour leadership training class in the spring.
Benefits: Includes a $2,500 stipend, free summer housing, and networking within the university.
To Apply: Go to orientation.utah.edu and click on "Apply to be an Orientation Leader" in the bottom left box on the home screen.
Applications are due by Sept. 28.
---
TEDXSALTLAKECITY TICKETS AVAILABLE FOR STUDENTS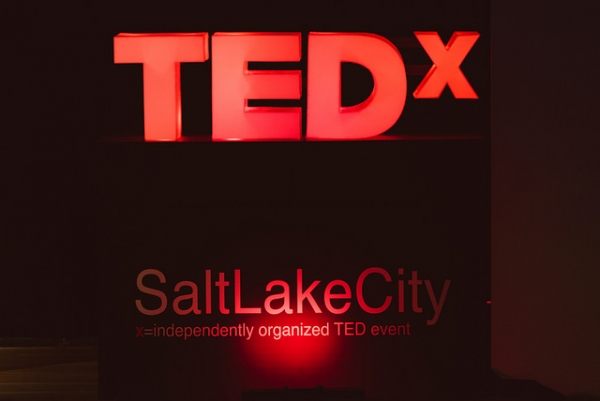 UtahPresents is hosting TEDxSaltLakeCity here at Kingsbury Hall on Sat, Sept. 19. The general public tickets are sold out, but there are 300 tickets reserved for U students for just $5 per ticket (does not include lunch).
Some of these tickets have sold, but there are still quite a lot left. Students must be full-time and have to buy tickets in person with their UCard. UCard is also required with ticket for entrance to the event.
For more information, click here.
---
U-MATCH


U-Match is connecting the university community to seek, provide and trade one-on-one child care needs. New for this fall is a simplified electronic application that can be accessed via the home page at childcare.utah.edu. Those interested can register using their uNID as "looking for a babysitter or nanny" and/or "willing to babysit or nanny." Once logged in, users can search the growing registry of babysitters and nannies.
"We're starting to see traffic increase as more students, faculty and staff understand the benefit of this service — especially for parents needing irregular care hours or in-home care," says Virginia DeSpain, project coordinator for the U's Child Care and Family Resources office.
---
UNIVERSITY TEACHING COMMITTEE AWARDS AND NOMINATIONS
The University Teaching Committee encourages the efforts of faculty members, departments and colleges to improve individual teaching skills, devise effective teaching techniques, recognize and reward superior achievements in teaching.
Nominations for the Distinguished Teaching Award are due by Sept. 23. These awards honor faculty who have made significant contributions to the teaching mission of the University of Utah.
The first round of University Teaching Grants applications are due by Sept. 25. Grant awards are made to faculty to undertake projects that will enhance their teaching or the curriculum in which they teach.
---
LAUNCH OF KEM C. GARDNER POLICY INSTITUTE


The University of Utah officially launched the Kem C. Gardner Policy Institute on Sept. 2.
An initiative of the David Eccles School of Business, the new institute aims to support informed decision-making by developing and sharing economic, demographic and public policy research. In addition, the institute serves as a prestigious gathering place for thought leadership.
Named in honor of businessman, philanthropist and University of Utah alum Kem C. Gardner, the institute builds upon his legacy of hard work and his great love for Utah. Gardner currently serves as chairman of The Gardner Company, a private commercial real estate company. During his 38 years in business, Gardner and his partners have been involved in developing more than 33 million square feet of commercial real estate. Not satisfied with business alone, Gardner devotes a significant amount of time toward the betterment of Utah.
Read the full news release here.
---
DRIVE ON U BUSINESS?


The U's auto liability insurer, State Risk Management, has a NEW online driver training video and test as of July 1, 2015. This training is mandated for all persons who drive personal, rental or university-owned vehicles on U business.
All employees, students or volunteers who operate any vehicle on U business, both as an essential part of their job function or on an occasional basis, must watch this new interactive video and take a short test prior to the first time driving, every two years thereafter and following any preventable accident.
Please refer to University Risk & Insurance Management website for additional information, training programs and instruction.
---
PARTICIPANTS NEEDED FOR TEEN LISTENING STUDY
Looking for teenagers, their friends and their mothers to participate in a study and receive $150.
The Social Development Lab at the University of Utah is looking for teenagers in seventh or eighth grade to come to the lab with their mothers and a same gender friend (who is also in seventh or eighth grade) to participate in a study. The study is being conducted to better understand how teenagers talk to different people about their experiences.
Teens, their mothers and their friend will attend one, two and a half hour-long session at the University of Utah. Mother, child and friend will each receive $50 upon completion of the study. The total compensation per triad is $150.
For more information and to schedule your appointment, we ask that mothers send an email to teenlisteningstudy@gmail.com.
In the email please include:
1. Your child's age and gender
2. Your child's friend's age and gender
3. A phone number where we can reach you.
You will be contacted a few days after receiving your email.