EARN THREE OR FOUR GENERAL EDUCATION CREDITS IN AN INTENSIVE WEEK OF CLASS
If you like the sound of earning three or four general education credits in a week, you might be interested in one of the fall break courses that run Oct. 12-16 at the Murray campus. Additional course work is required outside of class time.
Registration for the following classes requires a permission code, which can be found here.
–          Scientific Foundations of Human Nutrition and Health, applied science (AS), three credits
–          World Religions, international requirement and humanities exploration (IR and HF), three credits
–          Introduction to Sociology, social/behavioral science exploration (BF), four credits
---
CALL FOR PARTICIPATION


The J. Willard Marriott Library has received a small grant to support the use of open textbooks and seeks qualified reviewers. The textbooks to be reviewed are available from the Open Textbook Library.
Subject areas that need reviews include General Chemistry, Human Anatomy and Physiology, Principles of Biology, Survey of Accounting and Microeconomics. Guidelines for writing reviews are available here.
Interested reviewers can contact associate librarian Allyson Mower, allyson.mower@utah.edu; 801-585-5458, for more information. Reviews will be due on Friday, Sept. 11 and reviewers will receive compensation.
---
GREEN DAY'S AMERICAN IDIOT TICKETS ON SALE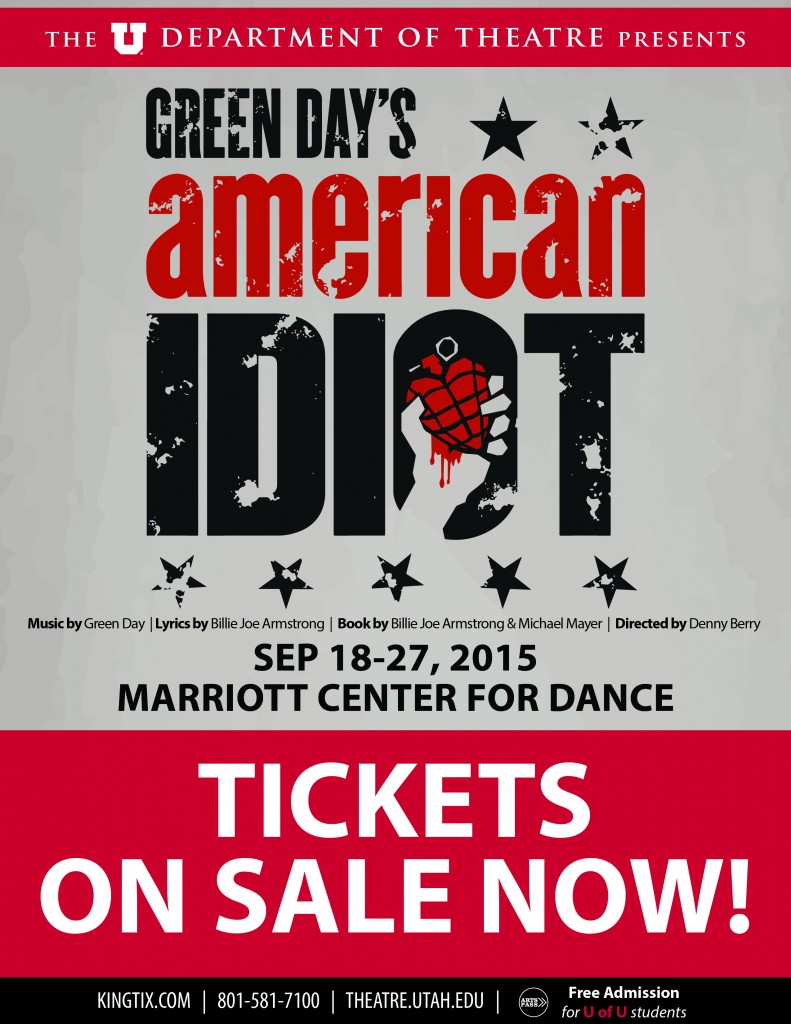 Buy your tickets today.
The story of three friends' experience when their dreams collide with reality. Based on Green Day's GRAMMY® Award-winning multi-platinum album and featuring the hits "Boulevard of Broken Dreams," "21 Guns," "Wake Me Up When September Ends" and "Holiday."
Music by Green Day
Lyrics by Billie Joe Armstrong
Book by Billie Joe Armstrong and Michael Mayer
Directed by Denny Berry
---
REFINING RETIREMENT
Kiplinger recently named Salt Lake City among the top 10 places to retire in 2015. While Kiplinger lauded Salt Lake's low cost of living, stunning scenery, vibrant city life and light-rail system, there is yet another reason Salt Lake is an excellent place for those 50 and over: The University of Utah's Osher Lifelong Learning Institute, which ensures that education is a lifelong pursuit by providing opportunities for affordable, noncredit learning and meaningful social engagement.
The Bernard Osher Foundation recently gave the U's Osher Lifelong Learning Institute a $1 million endowment, which will enhance the depth and breadth of the institute's programs.
Read the full story here.
---
U GRADUATE STRING QUARTET STUDIES IN SAARBURG, GERMANY


The University of Utah School of Music Graduate String Quartet is in residence in the Saarburg Festival in Germany from July 27- Aug. 7. Giving the U's Chamber Music Program great exposure in Germany, The Graduate Quartet, along with three other string students, gave a beautiful performance at the opening reception for the festival on Monday, July 27, 2015.
The Saarburger Serenaden, an international music festival and school geared for high school, college and young professionals, is set in the romantic city of Saarburg, embedded into vineyards and forests, with the picturesque Old Town full of multi-colored houses of the fishers and mariners. Its bell foundry, where the traditional handcraft of bell casting was practiced until 2002, highlights Saarburg's rich musical history. The music festival promotes better understanding between various peoples of the world through music-making, and its mission statement hopes that it "should stimulate musical and human exchange, provide a podium for the talented young musicians and music lovers, create a peaceful non-competitive environment, in which a desire to express oneself through the music would happily unfold."
Read more here.
---