TEDX SALT LAKE CITY TICKETS GO ON SALE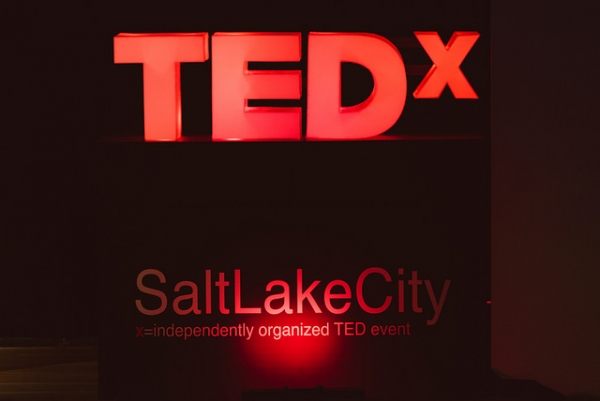 Tickets go on sale Monday, July 20 for the third annual TEDxSaltLakeCity. The event, which takes place on Sept. 19 at Kingsbury Hall, features 15 live speakers interspersed with performance pieces and several of TED's most-watched videos.
This year's theme – Upcycled Thinking – asks speakers to consider how a concept or product can be repurposed, reused or revitalized in a way that transforms its value or quality into something even greater than the original. Among the lineup of speakers is a high-school aged peer educator who counsels fellow students about reproductive health, a Paralympian with a "fembot" perspective on one of Utah's favorite winter pastimes and a crowdsourcing journalist challenging the misconceptions about truth in the mainstream media.
The full list of speakers and bios can be found at tedxsaltlakecity.com.
---
THE U'S POLICY INSTITUTE
The U's Policy Institute, an institution created to provide independent economic, demographic and public policy decision support across Utah. Housed within the David Eccles School of Business, the new institute will bring together the Bureau of Economic and Business Research and the Center for Public Policy & Administration.
The institute's mission will be to support informed decision-making that will strengthen the Utah economy. In support of this mission, the Eccles School is naming the following leadership team for The Policy Institute.
Click here to read the full story.
---
ACCOUNTING PROFESSOR MELISSA LEWIS-WESTERN WINS BEST PAPER AWARD


Melissa Lewis-Western, assistant professor of accounting at the Eccles School, recently returned from the Western Region Meeting of the American Accounting Association. There, she was honored with a best paper award.
Her paper, "Competing reporting objectives and financial reporting quality" that she co-wrote with Adrienna Huffman, beat out more than 80 papers to win the top honor.
Read the full story here.
---
LAW LIBRARY CLOSURE AND MOVE

The law school and law library are moving to a new building this summer. The move will begin the week of July 13-17. The library will remain open that week; however, services will be extremely limited. Patrons will be able to use public computers or check out materials only. There will be no reference assistance and no ability to make copies or scans (our equipment will be moving that week).
The actual library move (books) will take place towards the end of July and into August. To that end, we will be closing the library starting Monday, July 20 (to all patrons except recent graduates studying for the July bar exam). No date set for the reopen of the new facility yet, but we are anticipating four weeks for the move. It could be more or less. The library will be open for business as soon as possible.
Thanks for your patience and please contact the library if you have any questions. More details will be provided as the schedule progresses.
---
2015 CAMPOUTS REGISTRATION FOR AUG. 15 OPEN

Bring your tent, camping gear and a picnic dinner for an unbelievable night in Red Butte Garden Friday, Aug. 14, 5:30 p.m.–Saturday, Aug. 15, 8:30 a.m. This overnight campout will include games, s'mores and a late night movie. We'll also provide a scrumptious catered breakfast Saturday morning for all participants.
Gates open at 5:30 p.m., programming begins at 7 p.m. This is an event for all ages. Registration began June 1 and space is limited to 120 participants. Registration not required for children under the age of 3.
Click here to register.
---
U CHAMPIONSHIP PRO-AM GOLF TOURNAMENT


The University of Utah Alumni Association invites alumni and community members to participate in the inaugural U Championship Pro-Am golf tournament presented by University Credit Union on Monday, Aug. 10, at Willow Creek Country Club, 8505 Willow Creek Drive. PGA Champions Tour golfers scheduled to play include Bruce Summerhays, Jay Don Blake, Tom Pernice Jr. (2014 Charles Schwab Cup Champion) and Keith Clearwater. Local celebrities such as Michael Doleac, Josh Grant, Britton Johnsen and Luther Ellis are also set to play.
Amateur foursomes are $2,000; U Pro-Am foursomes (three amateurs plus one PGA or U player) are $3,500. Proceeds from the event will support the programs, services and scholarships of the U Alumni Association. Online registration closes on Thursday, Aug. 6.
---
DISTINGUISHED INNOVATION AND IMPACT AWARD
Nominations open now, due Dec. 4
The Distinguished Innovation and Impact Award recognizes outstanding faculty innovators for contributions that improved the lives of people. The DIIA recognizes contributions by faculty from all academic disciplines, including health care, energy, environment, business, law, communications, technology or the arts. Awards are given each year to one or two outstanding faculty members who distinguished themselves and the university through entrepreneurial activities that resulted in innovations with a measurable societal impact. Faculty on career, clinical or tenure tracks are eligible. The recipient receives public recognition plus a $10,000 cash award to be used at his or her discretion.
Nominations for this award are accepted throughout the year on behalf of eligible faculty with at least five years of service at the University of Utah. Faculty, administrators and alumni are welcome to submit nominations for this prestigious university award. Past awardees are profiled at the Entrepreneurial Faculty Scholars page.
Letters of nomination containing a short statement outlining the qualifications of the nominee and curriculum vitae for this award are now being solicited. Nominations should be submitted electronically using a nomination form found here. This success of our nomination campaign depends, to a large extent, on the initiative of departments, administrative offices and campus organizations.
The deadline for submission of the nominations is Dec. 4 at 5 p.m.
For more information, call Kataleeya Kumsooktawonge at 801-581-8661 or email kataleeya.k@utah.edu.
Essential documents
---