JUMP TO:
Bennion Center honored by lawmakers
U professors honored by Ecological Society of America
Chemistry chair honored with American Chemical Society award
Beacons of Excellence Award call for nominations
Inclusive access to textbooks: Save students up to 80 percent
Fitness classes now half off
Intramural sports second session registration now open
Articulation agreement
---
BENNION CENTER HONORED BY LAWMAKERS[bs_row class="row"][bs_col class="col-sm-4″]
[/bs_col][bs_col class="col-sm-8″]The Utah State House of Representatives and the Salt Lake City Council both set aside time in February to honor the Bennion Center's 30th anniversary with special citations. During a speech on the House floor, Rep. Brian King noted thousands of University of Utah students have worked through the Bennion Center to serve the community. In a citation signed jointly by Rep. King and House Speaker Greg Hughes, the Bennion Center was recognized as a leader in promoting inclusion and civic engagement. The Salt Lake City Council honored the Center two weeks later. Councilman Charlie Luke noted that besides serving other groups, Bennion Center volunteers have worked with the elderly, people struggling with homelessness and children in need. In addition to community service, the Bennion Center serves as a resource for faculty doing community-based research and teaching community-engaged learning courses.[/bs_col][/bs_row]
---
U professors honored by Ecological Society of America[bs_row class="row"][bs_col class="col-sm-4″]
[/bs_col][bs_col class="col-sm-8″]Three University of Utah biology professors have been honored for their contributions to ecology. Frederick Adler and Phyllis Coley were elected fellows of the Ecological Society of America (ESA), and William Anderegg was named an Early Career Fellow.
Fellows are members of ESA who have made outstanding contributions to a wide range of fields served by the society. They are elected for life. Early Career Fellows are members within 8 years of completing their doctoral training who have advanced ecological knowledge and show promise of continuing to make outstanding contributions. They are elected for five years.
Adler is elected for his theoretical contributions to the areas of physiological, disease, evolutionary, population, community, behavioral and most recently urban ecology. Coley is elected for advancing fundamental knowledge of plant-animal
interactions and of tropical ecology, and for her lifetime commitment to training generations of students from Central and South America. Anderegg is elected for advancing fundamental knowledge of how trees respond to drought and how the interactions of water stress and climate change may impact our nation's forests.[/bs_col][/bs_row]
---
Chemistry chair honored with American Chemical Society award[bs_row class="row"][bs_col class="col-sm-4″]
[/bs_col][bs_col class="col-sm-8″]Cynthia Burrows, distinguished professor and chair of the University of Utah department of chemistry, has been awarded the James Flack Norris Award in Physical Organic Chemistry from the American Chemical Society. The award is given for "seminal studies to elucidate the mechanistic pathways of oxidation of guanine and its derivatives to further our understanding of DNA damage and repair." Guanine is one of four building blocks of DNA and is the most readily oxidized, or damaged. Damage to guanine can lead to mutations and disease, so Burrows' work to determine the chemical process involved in guanine oxidation can aid understanding in how to repair damaged DNA.[/bs_col][/bs_row]
---
INTERIM SVP FOR ACADEMIC AFFAIRS NAMED[bs_row class="row"][bs_col class="col-sm-4″]
[/bs_col][bs_col class="col-sm-8″]Dean Keith Diaz Moore has accepted to serve as interim senior vice president for academic affairs (SVPAA), effective April 2, 2018. Keith has provided exceptional leadership to the College of Architecture + Planning since he joined the University of Utah in 2014, and is highly regarded for his collaborative approach. He is currently serving as co-chair of the Anti-Racism Task Force and is a trusted and respected member of the Council of Academic Deans and campus leadership community.
In addition to Moore's role as interim SVPAA, Associate Vice President Amy Wildermuth will serve, as she did during the last transition, as the designee of the senior vice president on matters pertaining to retention, promotion and tenure, and on faculty and student code issues that may arise.
Read more here.[/bs_col][/bs_row]
---
BEACONS OF EXCELLENCE AWARD CALL FOR NOMINATIONS[bs_row class="row"][bs_col class="col-sm-4″]
[/bs_col][bs_col class="col-sm-8″]Consider nominating a person, program or project to recognize contributions to an exceptional undergraduate educational experience at the University of Utah.
Nominations are due by 5 p.m. on April 6, 2018. Nominate someone here. 
The University of Utah fosters a transformational experience for all students. We value and recognize a respect for knowledge that empowers students to become actively engaged on campus. We accomplish this through recognizing people, programs and projects committed to excellence.[/bs_col][/bs_row]
---
INCLUSIVE ACCESS TEXTBOOKS: SAVE STUDENTS UP TO 80 PERCENT [bs_row class="row"][bs_col class="col-sm-4″]
[/bs_col][bs_col class="col-sm-8″]As part of its ongoing effort to support students and faculty in meaningful ways, the University Campus Store now offers an Inclusive Access Textbook program that helps students save up to 80 percent on course materials — a welcome alternative to the high cost of textbooks with the added convenience of accessing materials online the first day of class.
Inclusive Access puts your textbooks and related study materials online, making them available anytime, anywhere, and on the first day of class. Any course is eligible for Inclusive Access and the fee is paid along with class registration, eliminating the need to search for and purchase textbooks independently.
Last semester, 2,500 students utilized Inclusive Access and each saved an average of 60 percent on their course materials. Students can conveniently view their textbooks online, track their progress from assignment to assignment and communicate with other students in their class. Professors can also communicate with students, as well as provide updates and announcements and monitor the access and progress of each student.
Join the 21 courses already using Inclusive Access by contacting Shane Girton, senior associate director of the Campus Store, at sgirton@campusstore.utah.edu or 801-581-8296. Informational luncheons will be held in March to orient faculty on how the program works and answer any questions you may have. If you are interested in attending, please contact Girton who will provide you with the details.
Hit the ground running on day one next semester and help your students save money through Inclusive Access.[/bs_col][/bs_row]
---
FITNESS CLASSES ARE NOW HALF OFF[bs_row class="row"][bs_col class="col-sm-4″]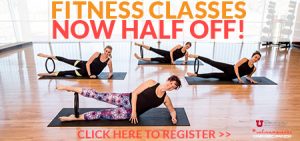 [/bs_col][bs_col class="col-sm-8″]With plenty of time left in the semester and classes now half-off, there's no better time to get started on your fitness and wellness goals.
Check out the full list of classes at campusrec.utah.edu and register today.[/bs_col][/bs_row]
---
INTRAMURAL SPORTS SECOND SESSION REGISTRATION NOW OPEN[bs_row class="row"][bs_col class="col-sm-4″]
[/bs_col][bs_col class="col-sm-8″]Winter may have just arrived, but spring is around the corner and so is our second session of intramural sports.
If you missed out on the first season or you're just ready for more action, check out the full list of sports at campusrec.utah.edu and register today.
No team?  No problem, register as an individual and we'll help get you on a team.[/bs_col][/bs_row]
---
ARTICULATION AGREEMENT[bs_row class="row"][bs_col class="col-sm-4″]
[/bs_col][bs_col class="col-sm-8″]A new articulation agreement will allow students who complete certain associate degrees at Salt Lake Community College to apply those credits to the family, community and human development major and financial planning certificate program offered by the Department of Family and Consumer Studies.
The agreement creates a pathway for students to pursue the degree or certificate program upon transfer to the U.
Financial planners help clients meet financial goals, prepare for retirement and make comprehensive financial plans. The program can boost options for graduates interested in careers in banking, trust companies, brokerage firms, insurance businesses and as private financial planners and counselors. Financial counselors may help clients with such money matters as developing a personal budget, building good credit, getting out of debt, repaying loans and preparing for home ownership.
According to the Bureau of Labor Statistics, the 10-year job outlook for personal financial advisors is much stronger than the average for all professions — a finding that reflects the wave of retirements anticipated as Baby Boomers leave the job market.[/bs_col][/bs_row]