JUMP TO:
Feed U Pantry: Combating campus food insecurity
Crimson Lagoon at Eccles Student Life Center closed Dec. 18-Jan. 1
Metallurgy professor awarded China's Foreign Experts Friendship Medal
Research by U professor cited in U.S. Supreme Court arguments
Junior League of Salt Lake hosts a Women Helping Women clothing project
U holiday cards
Customized holiday gifts by University Print & Mail
---
FEED U PANTRY: COMBATING CAMPUS FOOD INSECURITY[bs_row class="row"][bs_col class="col-sm-4″]

[/bs_col][bs_col class="col-sm-8″]For almost three years, the Feed U Student Pantry has helped the University of Utah campus and community battle against hunger. Since 2014, the Feed U Pantry has provided more than 14,000 pounds of food to those who suffer from food insecurity at the U.
Food insecurity is a barrier that influences students' daily lives and their academic journey. The Feed U Pantry is devoted to providing reliable access to food so that all students can focus on their classes, assignments and ultimately graduation day.
The Feed U Pantry is powered by student volunteers, private charitable gifts, and community and campus partners. This program is crucial to the overall student body success at the U by providing vital access to food for those in need.
Members of the U community can make a difference in lives of students suffering from food insecurity by making a gift, donating non-perishable items or volunteering.
Monetary gifts of all sizes make an impact.  To help support the Feed U Pantry with a gift please visit the Feed U giving page. For more information about the Feed U Pantry, donating non-perishable items or volunteering visit their website at feedu.utah.edu.[/bs_col][/bs_row]
---
CRIMSON LAGOON AT ECCLES STUDENT LIFE CENTER WILL CLOSE DEC. 18-JAN. 1
[bs_row class="row"][bs_col class="col-sm-4″]
[/bs_col][bs_col class="col-sm-8″]The Crimson Lagoon at the Eccles Student Life Center will close for maintenance beginning Dec. 18. The pool will reopen on Jan. 2.
We apologize for the inconvenience.[/bs_col][/bs_row]
---
Metallurgy professor awarded China's Foreign Experts Friendship Medal[bs_row class="row"][bs_col class="col-sm-4″]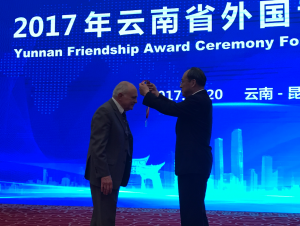 [/bs_col][bs_col class="col-sm-8″]Jan D. Miller, distinguished professor and Ivor D. Thomas endowed chair in the Department of Metallurgical Engineering, received the Foreign Experts Friendship Award from Governor Ruan Chengfa of the Yunnan Provincial government, People's Republic of China, at a special ceremony on Nov. 20, 2017 in Kunming City, the capital of Yunnan.
Miller, a member of the metallurgical engineering faculty at the University of Utah for the past 50 years, was first invited to China in 1983 to lecture on advances in mineral processing and hydrometallurgy. The Foreign Experts Friendship Medal was awarded based on Miller's technical contributions to Yunnan's sustainable metallurgical industry development, and his dedication to the education of Yunnan students who have come to the U for graduate study in the College of Mines and Earth Sciences. Many of these students from Yunnan have made significant research contributions such as Xuming Wang, who completed his studies in 2004 and has returned to the U for further contributions as a research professor. In addition to collaborations in Yunnan during past decades, Miller has collaborated and visited with many Chinese universities and institutes, including those in Beijing, Qinghai, Shanxi, Hunan, Chongqing, Guizhou, and Jiangsu.[/bs_col][/bs_row]
---
Research by U law professor cited in U.S. Supreme Court arguments[bs_row class="row"][bs_col class="col-sm-4″]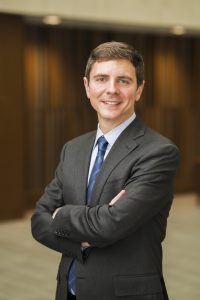 [/bs_col][bs_col class="col-sm-8″]When the U.S. Supreme Court heard the high stakes arguments of Carpenter v. United States in the nation's capital on Wednesday, a familiar name popped up as justices considered legal issues in the case.
Justice Sonia Sotomayor cited research by University of Utah S.J. Quinney College of Law Professor Matthew Tokson during discussion of the case, which legal scholars anticipate may transform privacy law in the digital age.
Sotomayor referenced a Northwestern University Law Review article by Tokson, "Knowledge and Fourth Amendment Privacy", which explores issues related to cell phone location tracking and how courts have failed to apply the Fourth Amendment to such tracking, based on erroneous conclusions about what people know about their privacy. The article had previously been referenced by Nathan Wessler, an attorney representing Timothy Carpenter — one of the robbery suspects whose cell phone  records revealed 12,898 separate points of location data.
At issue in Carpenter v. United States is whether the government violates the Fourth Amendment to the United States Constitution by accessing an individual's historical cell phone locations records without a warrant.  The case stems from a string of robberies at several Detroit Radio Shacks in 2010 in which the defendants were prosecuted with evidence gathered through extensive cellphone searches that tracked their movements and locations.
The high court is expected to rule on the case by June, with some legal scholars calling the case the 21st century's most important electronic privacy case.
Read the full story here.[/bs_col][/bs_row]
---
JUNIOR LEAGUE OF SALT LAKE HOSTS A WOMEN HELPING WOMEN CLOTHING PROJECT[bs_row class="row"][bs_col class="col-sm-4″]
[/bs_col][bs_col class="col-sm-8″]The Junior League of Salt Lake hosts a Women Helping Women clothing project to assist women entering the workforce with appropriate clothing. WHW currently needs women's coats and winter boots. Also needed are large, extra-large and plus sized clothing, purses and new bras, underwear and nylons. All work appropriate items in good, clean condition are also gladly accepted. For more information, visit jlslc.org.
Bring donations to:
Rebecca Dowdell
University Student Apartments, Main Office
1945 E Sunnyside Avenue
Donations accepted M-F from 8 a.m.-4 p.m.[/bs_col][/bs_row]
---
U HOLIDAY CARDS[bs_row class="row"][bs_col class="col-sm-4″]
[/bs_col][bs_col class="col-sm-8″]Get a head start on the holiday season by ordering your greeting cards from University Print & Mail Services. Conveniently place your order online and choose from more than 30 designs, enhanced by your own personalized message. Orders are typically completed in five business days and can be picked up or delivered to your office for free. Making this annual task even easier, Print & Mail can address your envelopes, apply postage and place your cards in the mail for you.
In addition to holiday card designs, University Print & Mail offers several other styles for fall, along with other special occasion cards such as birthday cards, thank you cards, custom-design cards and personalized stationery.
Both personal and office orders are welcome. To view designs online and place your order, visit printing.utah.edu.[/bs_col][/bs_row]
---
Customized Holiday Gifts by University Print & Mail[bs_row class="row"][bs_col class="col-sm-4″]
[/bs_col][bs_col class="col-sm-8″]In need of holiday gifts or giveaways for those special people on your list this year? Let University Print & Mail help you design and customize one-of-a-kind gifts for your department or personal use.
From water bottles to umbrellas, blankets to tote bags, if you can think of it, Print & Mail can create it and make it personal by adding text, logos or specific designs. Most items take approximately five weeks for production and delivery, so order now to ensure your items arrive in time for the holidays. For more information or a custom quote, please contact Roger King at 801-581-3947 or roger.king@utah.edu.
University Print & Mail is an official licensee of the University of Utah and is therefore legally permitted to use and reproduce university-owned trademarks and logos. By supporting official licensees like Print & Mail, you are assured to receive quality products while also supporting student scholarships, athletic programs and other university initiatives.[/bs_col][/bs_row]
---