JUMP TO:
Fall Break intensive course
Lassonde Institute releases annual report for 2016-17
Three U scholars win top honors from the National Communication Association
Interdisciplinary team wins award
Tickets on sale for Red Butte Garden's 'Garden After Dark'
Presidential Search Committee has selected a search firm
Dreamer Support Fund
Tickets available for "A Conversation: Michael Chabon and Zadie Smith"
Climbing clinics, events and competitions


---
FALL BREAK INTENSIVE COURSES AVAILABLE[bs_row class="row"][bs_col class="col-sm-4″]
[/bs_col][bs_col class="col-sm-8″]Stay on track to graduate with a Fall Break Intensive Course (Oct. 9-13). Classes are offered Monday through Friday 8 a.m.-5 p.m. with a one-hour lunch. Intensives are offered on campus as well as at the U's Sandy Center location. Intensive classes will be as rigorous as a semester-long class and requires attendance at each class session. In addition to time spent in the classroom, students will be required to complete pre and post work.
Explore options at flexibleoptions.utah.edu.
Questions? Call 801-585-9963.[/bs_col][/bs_row]
---
LASSONDE INSTITUTE RELEASES ANNUAL REPORT FOR 2016-17[bs_row class="row"][bs_col class="col-sm-4″]
[/bs_col][bs_col class="col-sm-8″]The Lassonde Entrepreneur Institute, an interdisciplinary division of the David Eccles School of Business at the University of Utah, released its annual report for 2016-17. It shows significant growth and achievements after opening the much anticipated Lassonde Studios building, a $45-million, 160,000-square-feet student innovation center where all students are welcome to "live, create and launch."
Highlights for the year include top rankings for entrepreneurship education, praise from international news sources, 329 student startup teams formed, 7,800 college students participating, $663,000 in scholarships awarded, $369,000 in cash prizes awarded, 236 students trained on prototyping equipment and 32,000 feet of 3-D printer filament used.
Read the full report for more information.[/bs_col][/bs_row]
---
Three U scholars win top honors from the National Communication Association[bs_row class="row"][bs_col class="col-sm-4″]
[/bs_col][bs_col class="col-sm-8″]Robin Jensen, professor of communication, was awarded the 2017 Winans-Wichelns Memorial Award for Distinguished Scholarship in Rhetoric and Public Address for her book, "Infertility: Tracing the History of a Transformative Term."
Julia Moore, assistant professor of communication, won two dissertation awards this year; the Interpersonal Communication Division's Outstanding Dissertation Award and the Gerald R. Miller Outstanding Doctoral Dissertation Award. Her dissertation is titled, "From Childless by Choice to Mother: Performative and Subversive Negotiations of Face in Relational Communication about (Never) Having Children."
Doctoral student Stacy Overholt was awarded the prestigious Donald P. Cushman Memorial Award for her essay "Health Becomes You: (Re)Presenting Data Collection via Health Surveillance Technologies in the Era of Big Data."
Read more here.[/bs_col][/bs_row]
---
INTERDISCIPLINARY TEAM WINS AWARD[bs_row class="row"][bs_col class="col-sm-4″]
[/bs_col][bs_col class="col-sm-8″]An interdisciplinary team of researchers from the University of Utah were one of nine recipients awarded funds from a $13 million National Science Foundation initiative directed at studying how humans interact with their environment. The team, led by Brian Codding, associate professor of anthropology in the College of Social and Behavioral Science, and Bill Anderegg, assistant professor of biology in the College of Science, received $1,470,534 to examine the effects of environmental change and firewood harvesting on woodland ecosystems in southern Utah to determine the conditions that promote healthy forests capable of sustaining wood fuel use into the future. The findings will help inform land management strategies aimed at improving the sustainability of woodland health and human livelihoods.
Other team members include co-principle investigators Phillip Dennison, professor of geography in the College of Social and Behavioral Science, and Courtenay Strong, associate professor of atmospheric sciences in the College of Mines and Earth Sciences, and senior personnel Shane Macfarlan, assistant professor of anthropology, and Simon Brewer, assistant professor of geography.[/bs_col][/bs_row]
---
Tickets on sale for Red Butte Garden's 'Garden After Dark'[bs_row class="row"][bs_col class="col-sm-4″]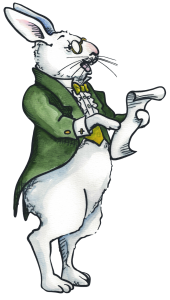 [/bs_col][bs_col class="col-sm-8″]Don't be late for a very important date!
Join us for an enchanted evening as we journey down the rabbit hole to the whimsical, wonderful world of Wonderland. With the help of the White Rabbit, Mad Hatter, Cheshire Cat, Caterpillar and others, we'll discover the large role that the natural world plays in making Wonderland a magical place.
With crafts, activities, light displays and more, join us for Garden After Dark, an indoor/outdoor, costume and kid-friendly experience in the Garden to celebrate Halloween!
$6 Garden Members / $12 General Public / Children age 2 and under free. Click here to purchase tickets.[/bs_col][/bs_row]
---
DREAMER SUPPORT FUND: [bs_row class="row"][bs_col class="col-sm-4″]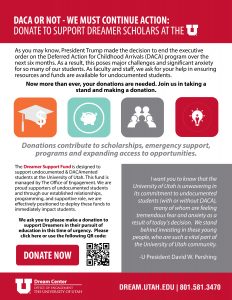 [/bs_col][bs_col class="col-sm-8″]Dear Faculty and Staff:
For years, DACA students have deeply enriched our campus community. In their pursuit of education, we all continue to be inspired. Therefore, we would like strongly to echo President Pershing's statement saying that a diverse community is a core value of the University of Utah. Our message to DACA students is plain and simple: We stand with you and you are welcome here.
Several programs, which we seek to expand, have been created to provide financial assistance to undocumented students. Now more than ever, your support is needed. We ask you to please consider donating to support Dreamers in their pursuit of education in this time of urgency. The Dreamer Support Fund is designed to support undocumented and DACA students at the U. Donations contribute to scholarships, emergency support, programs and expanded access to opportunities (please see document below for additional information).
If you know of anyone who would like to donate to the Dreamer Support Fund, please direct them here.
Additionally, if you have questions or know of students who need support, please do not hesitate to contact the Dream Center at dream@utah.edu or 801-581-3470.
Thank you,
Barb Snyder
Vice President for Student Affairs
Kathryn Bond Stockton
Associate Vice President for Equity and Diversity
Sandi Pershing
Assistant Vice President, Engagement[/bs_col][/bs_row]
---
PRESIDENTIAL SEARCH COMMITTEE HAS SELECTED A SEARCH FIRM[bs_row class="row"][bs_col class="col-sm-4″]
[/bs_col][bs_col class="col-sm-8″]R. William Funk & Associates is a premier search firm specializing only in higher education search consulting. They are recognized for their unparalleled record in recruiting many of the nation's most esteemed college and university leaders. Some recent successful presidential searches include the University of Arizona, the University of Southern California, Ohio State University, the University of Minnesota, the University of North Carolina and St. Johns University, among many others. The firm's founder, Bill Funk, is renowned for his vast network of higher education leaders, and he will personally handle the U's search. The search committee is confident that Funk's experience and track record will be a major asset to its efforts.
The next public announcement from the University of Utah Presidential Search Committee will be when it announces the selection of three to five finalists, which it will forward to the Board of Regents for consideration. That is anticipated to take place in spring 2018.[/bs_col][/bs_row]
---
TICKETS AVAILABLE FOR 'A CONVERSATION: MICHAEL CHABON AND ZADIE SMITH'
Monday, Sept. 11, 2017 | 10 a.m.[bs_row class="row"][bs_col class="col-sm-4″]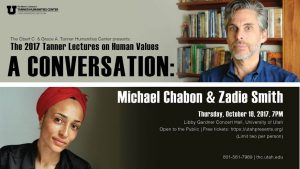 [/bs_col][bs_col class="col-sm-8″]Free tickets for the 2017 Tanner Lecture on Human Values "A Conversation: Michael Chabon & Zadie Smith" will be available here or by calling the box office at 801-581-7100. Limited to two per person.
Award-winning novelists Michael Chabon ("The Amazing Adventures of Kavalier and Klay") and Zadie Smith ("White Teeth") will participate in an unscripted, on-stage dialogue as part of the Tanner Lectures on Human Values, Thursday, Oct. 19 at 7 p.m. in Libby Gardner Hall. They will interview each other about the cultural significance of the arts and the humanities, the value of engaging with contemporary literature and the impact of current events on their writing.[/bs_col][/bs_row]
---
Climbing Clinics, Events and Competitions
[bs_row class="row"][bs_col class="col-sm-4″]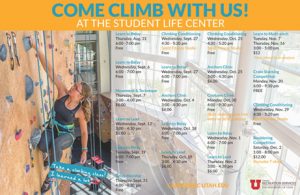 [/bs_col][bs_col class="col-sm-8″]We have a packed schedule at The Summit Climbing Wall in the Eccles Student Life Center. From Belay Clinics and Climbing Conditioning classes, to Belay-tionships and Costume Climbing, we have a great line-up of events.
Check out the full schedule and register at
campusrec.utah.edu
. Entry fees vary.[/bs_col][/bs_row]
---