JUMP TO:
New U Chief Information Security Officer named
Celebrate National Bike Month
Study Abroad survey
This week's Red & White Friday winner
J. Willard Marriott Library receives grant to foster creation of digital newspaper platforms
Order your thesis or dissertation
Landscape Master Plan survey
Support national parks by using Zimride

---
NEW U CHIEF INFORMATION SECURITY OFFICER NAMED[bs_row class="row"][bs_col class="col-sm-4″]

[/bs_col][bs_col class="col-sm-8″]The University of Utah has hired Randall (Randy) J. Arvay, chief information security officer (CISO) at Mississippi Medical Center, as the school's new CISO, effective May 22, 2017.
Prior to his role at the University of Mississippi, he was chief of the cybersecurity and quality assurance in the Joint Spectrum Center for the Defense Information Systems Agency (DISA). With a $30 million budget and a team of 200 defense and contract employees, he was accountable for all cyber operations in all technical and non-technical aspects of cyberspace and overall information assurance, risk management and regulatory compliance.
"Dr. Arvay comes to the university with a wealth of IT experience in cybersecurity and many accomplishments in computing," said Stephen Hess, chief information officer for the U. "He understands the issues, policy, technology and risks and has the ability to explain them in simple terms. He will be a good addition to lead our already excellent information security team and will reach out to the campus community to raise our level of IT security.
During his career, Arvay has been a U.S. Army lieutenant colonel, with an exemplary educational background in computer science, information systems and software engineering. He also has significant experience serving as an assistant professor at the United States Naval Academy and as an adjunct instructor at the University of Miami.
"With his unique professional background, which includes information security leadership for a medical center, in addition to technical and faculty experience, we're extremely pleased that Dr. Arvay will assume the role of CISO for University Health and the main campus," said James Turnbull, chief information officer, University Health.
Arvay is a certified information systems security professional, project management professional and has top-secret Department of Defense clearance.
"I'm excited for the opportunity to join the UIT leadership team and work with the well-established group of professionals on the security staff as we refine the enterprise security strategy and continue to support operational security for the University of Utah and University Health," Arvay said.
Corey Roach has been serving as interim CISO since September 2016 and will return to his role as manager for enterprise security.[/bs_col][/bs_row]
---
CELEBRATE NATIONAL BIKE MONTH[bs_row class="row"][bs_col class="col-sm-4″]

[/bs_col][bs_col class="col-sm-8″]May is National Bike Month, sponsored by the League of American Bicyclists and celebrated in communities from coast to coast. Established in 1956, National Bike Month is a chance to discover the many benefits of bicycling.
The University of Utah is a Bicycle Friendly University, recognized by the League of American Bicyclists for promoting and providing a more bikeable campus for students, staff, and visitors. Those who bike to campus save money on fuel, spend less time in traffic congestion, and integrate physical activity into their daily routine. Biking also helps alleviate personal stress, reduce rush-hour congestion, vehicle emissions and fuel consumption and lessens the amount of parking needed.[/bs_col][/bs_row]
---
STUDY ABROAD SURVEY[bs_row class="row"][bs_col class="col-sm-4″]

[/bs_col][bs_col class="col-sm-8″]The University of Utah is part of IIE's Generation Study Abroad, an initiative launched in 2014 with the goal of doubling the number of U.S. students studying abroad by the end of the decade.
IIE is conducting a national survey of study abroad alumni. The survey aims to collect information about the role study abroad plays in developing competencies for the job market. The findings will be shared widely with universities and policy makers.
Eligibility: Participants must have studied abroad during or after the 1999/00 academic year, while seeking an undergraduate or graduate degree from a U.S. higher education institution.
We encourage all eligible students, faculty or staff to complete the survey.
The online study abroad survey will be open until May 10, 2017.  Take the 6-minute survey and share.
For more information about global opportunities at the U, contact the Office for Global Engagement at 801.587.8888 or visit global.utah.edu.[/bs_col][/bs_row]
---
J. WILLARD MARRIOTT LIBRARY RECEIVES GRANT TO FOSTER CREATION OF DIGITAL NEWSPAPER PLATFORMS[bs_row class="row"][bs_col class="col-sm-4″]

[/bs_col][bs_col class="col-sm-8″]The J. Willard Marriott Library at The University of Utah has been awarded, along with the Boston Public Library, a grant from the Institute of Museum and Library Services (IMLS) to develop open source software that will allow organizations worldwide to more easily make their historic newspaper collections digitally accessible.
The Marriott Library and the Boston Public Library will work collaboratively, with input from peers across the nation, to develop newspaper specific functionality within the open source framework, Hydra. Originally developed by Stanford University, the University of Virginia, and the University of Hull (UK), the Hydra framework is highly scalable and sustainable, which is important for libraries and cultural heritage organizations that are just starting to build their digital collections platforms.
Read the full story here.[/bs_col][/bs_row]
---
ORDER YOUR THESIS OR DISSERTATION[bs_row class="row"][bs_col class="col-sm-4″]
[/bs_col][bs_col class="col-sm-8″]For a limited time, special discounts are available to graduating students who print their Thesis or Dissertation on the Espresso Book Machine. Print unlimited copies in soft cover for just $15 each. With no set up fees or hidden charges, these bookstore quality prints are a great thank you gift to parents, friends, or professors.
Orders are typically filled in two business days; same-day pickup is available with an appointment.
Contact the Reserve Desk to schedule an appointment or visit our website to start your order.
For more information, click here.[/bs_col][/bs_row]
---
LANDSCAPE MASTER PLAN SURVEY[bs_row class="row"][bs_col class="col-sm-4″]
[/bs_col][bs_col class="col-sm-8″]
Please take a few minutes to help inform our Landscape Master Plan by providing your feedback on the outdoor spaces at the University of Utah.
Please provide your input by Friday, April 28.
Click here to take the survey.[/bs_col][/bs_row]
---
SUPPORT NATIONAL PARKS BY USING ZIMRIDE[bs_row class="row"][bs_col class="col-sm-4″]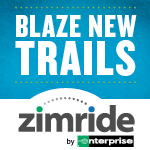 [/bs_col][bs_col class="col-sm-8″]
The web-based ridesharing service Zimride, which is available at the University of Utah, will donate $1 to the National Park Foundation for every new member or new ride posted in April up to $10,000.
In addition, Enterprise Holdings Inc., which owns Zimride, will match Zimride's contributions dollar for dollar.
Sign up and post a ride here.[/bs_col][/bs_row]
---