Graduating seniors, we want to hear from you. University Marketing & Communications is hosting a focus group on Friday, May 1, to learn more about you and your experience as a U student. As you finish your finals and tie up things for graduation, take a break with free lunch and a chance to tell us how you feel.
All seniors graduating in 2015 are invited to participate. There are sessions available at noon and 1 p.m. in Parlor B at the Student Union. Each focus group will last one hour and all participants will receive free lunch.
Graduation Seniors Focus Group
When: Friday, May 1, 2015
Time: 12 p.m. and 1 p.m.
Where:
Student Union, Parlor B
200 Central Campus Drive
Salt Lake City, UT 84112
If you are interested in participating, please contact tiffany.swenson@utah.edu by Thursday, April 30 to reserve a spot in your desired session.
---
Student Media offers $300,000 in scholarship positions each year and is currently still seeking applicants to fill the roles on our broadcast, digital, marketing, news and video team. Students from across campus are invited to apply.
More information can be found at www.dailyutahchronicle.com/work-with-us.
---
U STUDENT INNOVATORS RAKE IN BIG BUCKS AT RICE UNIVERSITY BUSINESS COMPETITION

A medical innovation company founded by a team of University of Utah students won big — to the tune of $153,000 — at the prestigious Rice University Business Plan Competition held April 16-18 in Houston.
Launched by a team of bioengineering and medical students at the University of Utah's 2012 Bench-2-Bedside competition, Veritas Medical created and is continuing to develop its LIGHT LINE Catheter, which eliminates infection-causing bacteria using high-intensity light. Catheter-related infections are common in hospitals in the U.S. and throughout the world, and the students sought to find a way to eliminate the problem.
"When we first started, we had big plans to change the world," said Nate Rhodes, a recent bioengineering graduate and CEO of Veritas Medical. "It started out as a learning activity, and we ended up loving the process. We knew we had a really great idea, but we had never done anything like this before, and we weren't sure how far we would actually get."
At this point? Pretty darn far.
Veritas Medical took home a competition-best eight awards and finished in fourth place overall at the Rice University contest, which featured teams from many of the world's top universities including Johns Hopkins, Harvard and Stanford. After repeated trips to the stage to collect prizes, the crowd took notice of the group from Salt Lake City.
Read more about this story, here.
---
U PISTOL TEAM WINS FOUR EVENTS AT NATIONAL COLLEGE CHAMPIONSHIPS
University of Utah students won two individual events, two team events and placed fourth overall at this year's National Inter-Collegiate Pistol Championships at Fort Benning, Georgia, the best in the 20-year history of the university's team.


Wyatt Brown, a sophomore majoring in film and theater studies, won the open air pistol and free pistol competitions. He also brought home all-American honors in all three open events and took second place in the aggregate of those events.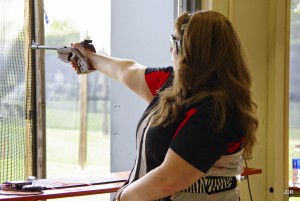 Lexi Lagan, a junior majoring in physics and pre-law, won the women¹s aggregate competition and took the silver medal in women¹s sport pistol and the bronze in women¹s air pistol. She also brought home three all-American awards. Lagan went on to compete for a slot on the USA Shooting team, which represents the United States internationally and is sponsored by the U.S. Olympic Committee. She placed fourth in the sport pistol category at the USA Shooting Rifle/Pistol Spring Selection.
The national championships were held at Fort Benning on March 22-27. The NRA-sponsored competition determines the national collegiate individual and team champions in free pistol, standard pistol, open air pistol, women's air pistol, women's sport pistol and national collegiate team and individual champions in ROTC standard pistol. Competitors must qualify for an invitation to the national championships with exemplary scores fired in sectional competitions throughout the U.S. in January and February.
Click here to read more.