This piece originally appeared in Utah Magazine.
It's been one of four finalists for ESPN and Taco Bell's "Live Más" Student Section of the Year. The NCAA placed it among the top five student sections in college football—and so did College GameDay co-host Kirk Herbstreit. It's no wonder "no rival band of college fans dare meet us in the muss."
One of the most remarkable accomplishments of the Mighty Utah Student Section (MUSS) is its rapid growth over the last two decades, says Avery Abelhouzen, current MUSS president. "Coach Whittingham famously said, 'When I came to Utah as an assistant in 1994, the student section consisted of four students and a dog, and the dog was a stray,' " says Abelhouzen. When The Utah Football Fan Club [the original name of the MUSS] was created, it attracted about 500 students each game. Since then, the MUSS has grown exponentially. "This year we are planning on having 7,000 students for each football game," notes Abelhouzen.
As the MUSS turns 20, here are some of the defining moments in the words of those who were there.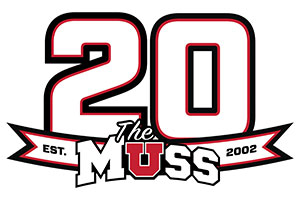 1. Naming of the MUSS, 2003 "An opinion piece ran in The Daily Utah Chronicle titled 'I'd like to meet our lame fight song in a muss.' It struck me that we could name the area of the stadium where the new Utah Football Fan Club sat 'The Muss.' I didn't intend for it to take over as the name of the group, but it just kind of stuck. 'Mighty Utah Student Section' was conceived later [by Scott Hammer BA'04], but it was the perfect acronym."  Erik Finn Larson BS'04
2. Inaugural MUSS bus voyage, 2003 "The bus ride to Memphis for the Liberty Bowl was the longest 28 hours of my life. The next longest 28 hours of my life was coming back. But we beat Southern Miss 17-0, visited some cool sites, and had great BBQ on Beale Street, so it was worth it." Jake Olson BA'05
3. Storming the field, 2004 "The 2004 football season may never be matched. The U, led by future first overall NFL draft pick Alex Smith [BS'04], marched through the schedule undefeated. And we were poised to be invited to a BCS bowl game. The air was electric at the final game of the season as we demolished BYU 52-21. We stormed the field and tore down the goalposts. What a season! What a year!" Jeff Gatzmeier PHARMD'06, MUSS President 2004-05
4. Start of the third down jump, 2007 "My roommate Kyle Larson [HBS'09] and I started it unofficially at a 2006 BYU game. It became official the next year in a game against UCLA. We worked with the Alumni Association's John Fackler BS'89 BS'94 MprA'95, who saw the potential for this to take off. The noise from the students screaming and jumping on the aluminum bleachers caused several false starts, and we beat the No. 11 Bruins 44-6. UCLA's coach later said they weren't prepared for the noise." Philip Malugade BS'09, MUSS President 2008-09
5. PAC-12 invite, 2011 "I stepped up in front of cameras and made up a speech on the fly, 'On behalf of The MUSS, I want to tell you how excited we are to be the newest, loudest, and most exciting student section in the conference.' Later, the lead photo on espn.com was Larry Scott holding up a MUSS shirt. From there the popularity and visibility nationally just seemed to grow." TJ McMullin BA'11 MPA'14, MUSS President 2010-11