The Women's Resource Center (WRC) launched a new discussion series, Coffee & Conversations (C&Cs) in 2022, in which students, staff and faculty engaged in a casual, yet critical group discussions about issues that impact our community. In fall of 2022, the chosen issue was reproductive justice.
Raquel Cetz, program manager for the Dream Center, served as a panelist for one discussion titled "Estamos Aquí, Estamos Poderos@s: Undocumented People in the Struggle for Reproductive Justice" and said, "Coffee & Conversations are a safe space that help elevate visibility and acknowledgment and open up the ability for students to learn more about the conversation being centered."
The first discussion, "Reproductive Justice 101: Where we've been, where we are now and where we need to be," was an introduction to reproductive justice, both as a movement with notable history and leaders and as a framework with specific tenets. These tenets, defined by SisterSong, are the rights to the following:
Maintain one's personal bodily autonomy
Have children or not have children
Parent the children we have in safe and sustainable communities
Ezra Ray, a student attendee, shared that the conversation helped them expand their view of reproductive justice: "Reproductive justice was way broader than I thought before. It was amazing to see perspectives not only from campus but other places in the Salt Lake community as well."
Alex Smith, another student attendee, shared a similar experience: "[Reproductive justice] encompasses so much more than just advocating for abortion rights—although that's an important piece!"
C&Cs included a wide range of panelists and attendees of various perspectives and backgrounds. As a student attendee, Smith was affected by the panelists' varied experiences related to reproductive justice, which differed from her own. "It was […] impactful to hear about folks' struggles in their own words. That really drove home that there are barriers throughout our society, especially in places that I take for granted as being accessible for myself."
Hailee Roberts, program coordinator for the American Indian Resource Center and a panelist at a discussion titled "Resistance in Existence: Indigenous Peoples in the Struggle for Reproductive Justice," shared how she was able to relate to those from backgrounds different from her own: "Hearing about [Dr. Maile Arvin]'s perception [of reproductive justice] within her [Hawaiian] community, her society, was really great… it was similar to [mine and TeMerae Blackwater's culture as members of the Navajo Nation]. I'm glad we heard diverse viewpoints."
Dr. Annie Fukushima, a faculty member (and wearer of various hats on campus), was also a C&C panelist. She spoke about how reproductive justice is an issue that affects everyone, regardless of gender:
"Whenever we talk about reproductive justice, health and care, I think people oftentimes think of it as a women's issue. What I appreciated in the conversation that we all had is that there were participants in the audience that were not women-identifying. So, I think that it's important for our communities to know that regardless of our gender identities, we should all care about people's bodily autonomy. We should care about our community's ability to not just make decisions but to have access to services and resources…it's not just a women's issue, it's a people issue."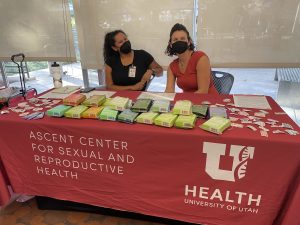 As much as the C&C series is educational, it is also a space for creating connections and community. Ray commented that they "loved feeling a sense of community and having a chance to connect with like-minded people." Similarly, Smith said she "left feeling hopeful about the future of reproductive justice and inspired by the sense of community we were able to create in just a short time."
Being in a community with others that are passionate about reproductive justice was an inspiring experience for students. Smith said, "I definitely am inspired to talk more with my friends and family about Reproductive Justice, especially those I might not agree with. We had a really great conversation in one of the sessions about sharing your ideas over time and coming at it from a place of trying to find common ground. It helped me reconsider these hard conversations as an opportunity to create understanding on both sides rather than with the singular goal of changing someone's mind."
Ray, too, shared this sentiment: "I've been inspired by learning about different ways to speak up and it's nice to see I'm not alone."
C&Cs helped students such as Smith feel "supported by the different resources on and off campus." For students not able to attend, C&C panelists want you to know that community support and resources are available. Fukushima commented, "There's a wider community that is invested in ensuring access to resources […] in that [C&C] space there were tons of resources […] I would hope that even if you were not able to attend the event that you would get a sense of the wider community that's committed to supporting folks."
WRC continues Coffee & Conversations this spring—in collaboration with the Sustainability Office—with the intention that they will continue to be a space for education, community building and inspiration, this time in service of climate justice.
Students can register for upcoming C&Cs—as well as our other community-building events—by filling out this form.
Upcoming Coffee & Conversations
C&C 1 | Climate Justice 101
Thursday, Jan. 26 | 5-6:30 p.m.
C&C 2 | Centering Frontline Communities in the Struggle for Climate Justice
Thursday, Feb. 23 | 5-6:30 p.m.
C&C 3 | Coping with Climate Anxiety
Thursday, April 13 | 5-6:30 p.m.