JUMP TO:
Survey about digital signature tool needs at the U
Is downtown Salt Lake City overbuilt with rental units?
Utah Museum of Fine Arts Café is open
Follow the Lassonde Entrepreneur Institute
U holiday cards
New nonprofit mailing guidelines
National Center for Faculty Development & Diversity: New membership announcement
University Teaching Committee awards
Utah Red Zone Fan Cave Giveaway presented by America First Credit Union
---
SURVEY ABOUT DIGITAL SIGNATURE TOOL NEEDS AT THE U[bs_row class="row"][bs_col class="col-sm-4″]
[/bs_col]
[bs_col class="col-sm-8″]The University of Utah would like your help to assess the campus-wide need for an online document-signing/e-signature tool. Your response will help us determine whether or not to investigate site licensing for such a tool in the near future.
Please coordinate with your organization to provide one survey response per ORGID, if possible.
Online document-signing/e-signature tools allow people to electronically and securely sign official documents anywhere, using any device (smart phone, tablet, computer, etc.). Costs associated with document printing, faxing, scanning, and overnight delivery are reduced. Workflow becomes faster and more efficient. Having access to this type of tool could bring many benefits to the University of Utah and its employees.
This survey will close on Friday, Nov. 18 at 5 p.m.
If you have questions, please contact UIT's Office of Software Licensing software@utah.edu.[/bs_col][/bs_row]
---
IS DOWNTOWN SALT LAKE CITY OVERBUILT WITH RENTAL UNITS?[bs_row class="row"][bs_col class="col-sm-4″]
[/bs_col]
[bs_col class="col-sm-8″]Downtown Salt Lake City is seeing an unprecedented boom in apartment development, according to a new study released by the Kem C. Gardner Policy Institute.
In 2010, after 100 years of development, the number of downtown rental units in Salt Lake City totaled 5,200. By 2020, that number is expected to double to 10,000 units and the downtown population will grow to an estimated 20,000, about the same size as the population of Payson or Brigham City. For the purpose of the study, downtown includes the area from approximately 700 East to 700 West and from 400 South to North Temple, or roughly 1.65 square miles.
Read more by clicking here.[/bs_col][/bs_row]
---
UTAH MUSEUM OF FINE ARTS CAFE IS OPEN[bs_row class="row"][bs_col class="col-sm-4″]
[/bs_col]
[bs_col class="col-sm-8″]Enjoy your favorite sandwiches, salads, soups and drinks in the UMFA's newly remodeled Museum Café. The café is open 8:30 a.m. to 4:30 p.m., Monday through Friday, with food service 10:30 a.m. to 3 p.m. Updates include new seating for dine-alone customers, with plenty of outlets.[/bs_col][/bs_row]
---
WELCOME TO LASSONDE[bs_row class="row"][bs_col class="col-sm-4″]
[/bs_col]
[bs_col class="col-sm-8″]Join the U's community of student entrepreneurs and innovators by subscribing to the Lassonde Entrepreneur Institute email newsletter.
Click here to subscribe.[/bs_col][/bs_row]
---
U HOLIDAY CARDS[bs_row class="row"][bs_col class="col-sm-4″]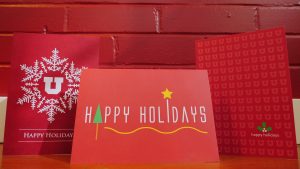 [/bs_col]
[bs_col class="col-sm-8″]Get a head start on the holiday season by ordering your greeting cards from University Print & Mail Services. Conveniently place your order online and choose from more than 20 designs, enhanced by your own personalized message. Orders are typically completed in five business days and can be picked up or delivered to your office for free. Making this annual task even easier, Print & Mail can address your envelopes, apply postage and place your cards in the mail for you.
In addition to holiday card designs, University Print & Mail offers several other styles for fall, along with other special occasion cards such as birthday cards, thank you cards, custom-design cards and personalized stationery.
Both personal and office orders are welcome. To view designs online and place your order, visit printing.utah.edu.[/bs_col][/bs_row]
---
NEW NONPROFIT MAILING GUIDELINES[bs_row class="row"][bs_col class="col-sm-4″]
[/bs_col]
[bs_col class="col-sm-8″]Users of the Nonprofit Standard Mail service are advised by the U.S. Postal Service to more clearly identify their nonprofit organization on all items mailed at this rate.
All mailing pieces sent from campus using nonprofit permit 1529 must have 'The University of Utah' displayed in a prominent location on the package or envelope. The USPS requires that the return address begin with, 'The University of Utah', followed by the sender's name and a campus address. To prevent confusion, delay or higher postage rates, please ensure that the university name is easily identifiable and avoid abbreviations such as 'U of U'.
Help the university keep this valuable resource by complying with USPS guidelines on nonprofit mailings. Questions regarding nonprofit permits and other mailing services may be directed to Kim Hansen at 801-581- 7212. Questions regarding the printing of mail items may be directed to 801-581-6171.[/bs_col][/bs_row]
---
NATIONAL CENTER FOR FACULTY DEVELOPMENT AND DIVERSITY: NEW MEMBERSHIP ANNOUNCEMENT[bs_row class="row"][bs_col class="col-sm-4″]
[/bs_col]
[bs_col class="col-sm-8″]The College of Education is pleased to announce that the University of Utah has now obtained an Institutional Membership for the National Center for Faculty Development & Diversity (NCFDD). The NCFDD is a nationally-recognized, independent organization that provides online career development and mentoring resources for faculty, graduate students and post-doctoral students. Because the U is now an institutional member, our graduate students, post-doctoral students and faculty now have access to a large variety of programs, services and resources at no cost (the normal cost for individual memberships would be $240/year for graduate and post-doctoral scholars, and $480/year for faculty).
NCFDD membership resources includes:
• Weekly Monday Motivator
• Monthly core curriculum webinars
• Monthly guest expert webinars
• Access to multi-week courses
• Video recordings of all webinars so members can learn at their convenience
• Private discussion forum for peer-mentoring and problem solving
• Monthly accountability buddy matches
• Moderated monthly writing challenges
• Access to the Career Center where members can post and search job listings
• Access to the member library that includes past webinar materials, referrals and readings
To register for your University of Utah NCFDD membership, please complete the following steps:
1. Visit facultydiversity.org/Utah
2. Under "Registration information," enter your University of Utah email address as a username.
Also enter your first name, last name, validation code (provided by the website) and click
continue.
3. Enter the required registration information and click "submit."
4. Members will receive a welcome email within one to two business days confirming that the account is approved and active.
If you have any questions about the membership, please contact Nadia Granados in the College of Education at nadia.granados@utah.edu. We encourage your participation in the Institutional Membership and we will be reaching out to solicit feedback on these resources over the coming months.[/bs_col][/bs_row]
---
UNIVERSITY TEACHING COMMITTEE AWARDS[bs_row class="row"][bs_col class="col-sm-4″]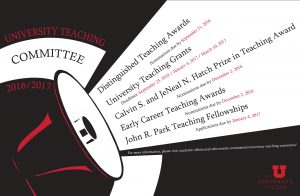 [/bs_col]
[bs_col class="col-sm-8″]The University Teaching Committee encourages the efforts of faculty members, departments and colleges to improve individual teaching skills, devise effective teaching techniques and recognize and reward superior achievements in teaching. A variety of awards are now seeking nominations.
To see criteria and deadlines, click here.[/bs_col][/bs_row]
---
UTAH RED ZONE FAN CAVE GIVEAWAY PRESENTED BY AMERICA FIRST CREDIT UNION[bs_row class="row"][bs_col class="col-sm-4″]
[/bs_col]
[bs_col class="col-sm-8″]Utah Red Zone and America First Credit Union are working together to give one lucky Utah Football fan the best seat in the house with the Utah Red Zone Fan Cave Giveaway. Utah Red Zone will make one fan's living room have as much Utah pride as they do with a fully furnished and decorated fan cave for the perfect home and away game experience.
The Utah Red Zone Fan Cave Giveaway grand prize includes:
Samsung 65″ Class 4K Ultra HD TV
(2) Imperial University of Utah Recliners
Blakeway framed Rice-Eccles Stadium panorama
Northwest Utah tapestry woven blanket
Northwest Utah plush throw blanket
Northwest Utah rug
Legacy Utah vintage game poster artwork
Legacy Utah wall-mount bottle opener
Legacy Utah serving tray
Paulson Designs Utah athletic logo canvas art
Authentic Street Signs "Man Cave" sign
Dahl large vinyl decal
and more Utah Red Zone merchandise.
Utah fans can enter to win the Utah Red Zone Fan Cave Giveaway by going to URedZone.com/FanCaveGiveaway. The lucky winner will be randomly selected at the conclusion of the Utah Football season.
For more information, call or visit Utah Red Zone or the University Campus Store.[/bs_col][/bs_row]