JUMP TO:
U Holiday Cards
Cerling named AGU Fellow
Opioid research receives federal funding
New nonprofit mailing guidelines
National Center for Faculty Development & Diversity: New membership announcement
Research images as art competition
New director of financial aid
Get discounts through U Community Solar and U Drive Electric
University Teaching Committee awards
Utah Red Zone Fan Cave Giveaway presented by America First Credit Union
MathWorks MATLAB Total Academic Headcount site license for U community
---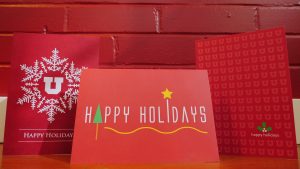 Get a head start on the holiday season by ordering your greeting cards from University Print & Mail Services. Conveniently place your order online and choose from more than 20 designs, enhanced by your own personalized message. Orders are typically completed in five business days and can be picked up or delivered to your office for free. Making this annual task even easier, Print & Mail can address your envelopes, apply postage and place your cards in the mail for you.
In addition to holiday card designs, University Print & Mail offers several other styles for fall, along with other special occasion cards such as birthday cards, thank you cards, custom-design cards and personalized stationery.
Both personal and office orders are welcome. To view designs online and place your order, visit printing.utah.edu.
---
Thure Cerling, distinguished professor and chair of the department of geology and geophysics, was named a fellow of the American Geophysical Union in October. Cerling joins 59 other geoscientists named as fellows in 2016 and will be honored at the AGU's Fall Meeting in December.
Cerling is honored "for developing and applying novel geochemical methods to understand the coevolution of climate, landscapes, and mammalian evolution." His work has used geochemical clues to understand geomorphology, hominid origins, and forensic cases.
Since 1962, AGU has honored its most prominent and accomplished members as Fellows, inducting only 0.1 percent of the Union's 60,000 members each year. AGU is an earth science organization headquartered in Washington, D.C.
---
NEW NONPROFIT MAILING GUIDELINES
Users of the Nonprofit Standard Mail service are advised by the U.S. Postal Service to more clearly identify their nonprofit organization on all items mailed at this rate.
All mailing pieces sent from campus using nonprofit permit 1529 must have 'The University of Utah' displayed in a prominent location on the package or envelope. The USPS requires that the return address begin with, 'The University of Utah', followed by the sender's name and a campus address. To prevent confusion, delay or higher postage rates, please ensure that the university name is easily identifiable and avoid abbreviations such as 'U of U'.
Help the university keep this valuable resource by complying with USPS guidelines on nonprofit mailings. Questions regarding nonprofit permits and other mailing services may be directed to Kim Hansen at 801-581- 7212. Questions regarding the printing of mail items may be directed to 801-581-6171.
---
OPIOID RESEARCH RECEIVES FEDERAL FUNDING
Eric Garland, associate dean for research at the University of Utah College of Social Work, has received two prestigious multi-million dollar grants to investigate the effectiveness of Mindfulness-Oriented Recovery Enhancement treatment for chronic pain and opioid misuse.
The grants from the National Institutes of Health and the Department of Defense will look at whether this innovative, mindfulness-based treatment modality can, as previous research has shown, reduce a person's craving for opioid painkillers and improve the ability to cope with the intense pain for which these drugs are most often prescribed.
The grants come as the nation grapples with an opioid and heroin epidemic. President Barack Obama issued a proclamation declaring Sept. 18-24, 2016, the nation's inaugural Prescription Opioid and Heroin Epidemic Awareness Week. This week—dedicated to improving awareness of what the U.S. Department of Health & Human Services has called "an unprecedented opioid epidemic"—emphasizes the importance of prevention and evidence-based treatment options such as Mindfulness-Oriented Recovery Enhancement (MORE).
To learn more, click here.
---
ANNOUNCING THE SECOND RESEARCH IMAGES AS ART COMPETITION
We are excited to accept images that represent your science research from all the different disciplines at the University of Utah. They will all be display at the Marriott Library Nov. 14, 2016, with a reception on the Nov. 18, 2016. Winning images will be used for public relations for the university so we can show our community the fantastic research happening here.
Register here by Nov. 5, 2016.
---
NEW DIRECTOR OF FINANCIAL AID

Karen Henriquez has accepted the Director of Financial Aid position within the University Office of Scholarships and Financial Aid at the University of Utah. Henriquez brings almost 22 years worth of knowledge and experience in financial aid to this position. One of her primary responsibilities will be to oversee the day-to-day operations within the office.
---
NATIONAL CENTER FOR FACULTY DEVELOPMENT AND DIVERSITY: NEW MEMBERSHIP ANNOUNCEMENT
The College of Education is pleased to announce that the University of Utah has now obtained an Institutional Membership for the National Center for Faculty Development & Diversity (NCFDD). The NCFDD is a nationally-recognized, independent organization that provides online career development and mentoring resources for faculty, graduate students and post-doctoral students. Because the U is now an institutional member, our graduate students, post-doctoral students and faculty now have access to a large variety of programs, services and resources at no cost (the normal cost for individual memberships would be $240/year for graduate and post-doctoral scholars, and $480/year for faculty).
NCFDD membership resources includes:
• Weekly Monday Motivator
• Monthly core curriculum webinars
• Monthly guest expert webinars
• Access to multi-week courses
• Video recordings of all webinars so members can learn at their convenience
• Private discussion forum for peer-mentoring and problem solving
• Monthly accountability buddy matches
• Moderated monthly writing challenges
• Access to the Career Center where members can post and search job listings
• Access to the member library that includes past webinar materials, referrals and readings
To register for your University of Utah NCFDD membership, please complete the following steps:
1. Visit facultydiversity.org/Utah
2. Under "Registration information," enter your University of Utah email address as a username.
Also enter your first name, last name, validation code (provided by the website) and click
continue.
3. Enter the required registration information and click "submit."
4. Members will receive a welcome email within one to two business days confirming that the account is approved and active.
If you have any questions about the membership, please contact Nadia Granados in the College of Education at nadia.granados@utah.edu. We encourage your participation in the Institutional Membership and we will be reaching out to solicit feedback on these resources over the coming months.
---
GET DISCOUNTS THROUGH U COMMUNITY SOLAR AND U DRIVE ELECTRIC
The Sustainability Office is running two community discount programs that support creative solutions to improve environmental impacts.
U Community Solar
offers U community members the opportunity to get rooftop solar panels and installation for their homes at a discounts.
U Drive Electric
offers discounts on several makes and models of electric and plug-in-hybrid vehicles. Both of these programs run through Oct. 31, 2016.
To learn more and to sign up, visit U Community Solar and U Drive Electric.
---
UNIVERSITY TEACHING COMMITTEE AWARDS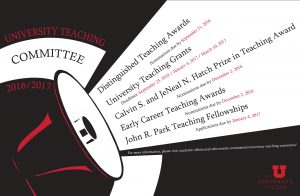 The University Teaching Committee encourages the efforts of faculty members, departments and colleges to improve individual teaching skills, devise effective teaching techniques and recognize and reward superior achievements in teaching. A variety of awards are now seeking nominations.
To see criteria and deadlines, click here.
---
UTAH RED ZONE FAN CAVE GIVEAWAY PRESENTED BY AMERICA FIRST CREDIT UNION
Utah Red Zone and America First Credit Union are working together to give one lucky Utah Football fan the best seat in the house with the
Utah Red Zone Fan Cave Giveaway
. Utah Red Zone will make one fan's living room have as much Utah pride as they do with a fully furnished and decorated fan cave for the perfect home and away game experience.
The Utah Red Zone Fan Cave Giveaway grand prize includes:
Samsung 65″ Class 4K Ultra HD TV
(2) Imperial University of Utah Recliners
Blakeway framed Rice-Eccles Stadium panorama
Northwest Utah tapestry woven blanket
Northwest Utah plush throw blanket
Northwest Utah rug
Legacy Utah vintage game poster artwork
Legacy Utah wall-mount bottle opener
Legacy Utah serving tray
Paulson Designs Utah athletic logo canvas art
Authentic Street Signs "Man Cave" sign
Dahl large vinyl decal
and more Utah Red Zone merchandise.
Utah fans can enter to win the Utah Red Zone Fan Cave Giveaway by going to URedZone.com/FanCaveGiveaway. The lucky winner will be randomly selected at the conclusion of the Utah Football season.
For more information, call or visit Utah Red Zone or the University Campus Store.
---
MATHWORKS MATLAB TOTAL ACADEMIC HEADCOUNT SITE LICENSE FOR U COMMUNITY
The University of Utah has negotiated and obtained a campus wide MathWorks MATLAB Total Academic Headcount site license for MATLAB, Simulink and 48 companion software products.
Access to the products are available now through the Office of Software License web store and the software is available to all students, faculty and staff for academic purposes, including academic research.
Information regarding this license, product pricing and the available products can be found here.