2015-16 UNIVERSITY COMMITTEES SELECTIONS
The Personnel and Elections Committee prepares a list of nominations annually for university committees that are elected by the Academic Senate or appointed by the president.
You are invited to use this questionnaire to inform the Personnel and Elections Committee of your interest in being appointed to serve on any university standing committee for the 2015-2016 academic year. The term for most university standing committees is three years with the possibility of reappointment.
The questionnaire should be completed by March 6, 2015.
You may access the questionnaire by clicking here.
For brief descriptions of the committees, you can access the roster of University Committees by clicking here or contact Shawnee Worsley, secretary of the faculty, at 801-581-5203 or shawnee.worsley@utah.edu if you have any questions.
---
CAUSE AN EFFECT FUNDRAISER
Make dinner a selfless act by joining a fundraiser to support Naval Reserve Officer Training Corps.
Come to the 2100 S. 1011 East Chipotle on Thursday, March 5 from 5-8 p.m. Bring in this flyer, show it on your smartphone or tell the cashier you're supporting the cause to make sure that 50 percent of the proceeds will be donated to Naval Reserve Officer Training Corps.
---
U CHEMIST WINS COTTRELL SCHOLAR AWARD


Jennifer Heemstra, an assistant professor of chemistry, has won a Cottrell Scholar Award of $75,000 – a prize aimed at early career, physical sciences faculty who are committed to excellence in research and undergraduate teaching.
"In addition to funding for my research program, I'm very excited that this award provides the opportunity to become a long-term member of the Cottrell Scholar community, which is dedicated to pursuing innovation and change in science education," Heemstra says.
Heemstra is among 15 new Cottrell Scholars. To win the award, she submitted research and education proposals.
Read the full press release here.
---
NOMINATE A COLLEAGUE FOR A $2,500 ALTA SUSTAINABILITY LEADERSHIP AWARD

University of Utah students, faculty and staff now have the opportunity to win one of four $2,500 awards for their efforts in sustainability, thanks to a generous gift from Alta Ski Area.
The award categories include "Campus as a Living Lab," "Sustainability Community Partnership," "Sustainability Integration" and "Sustainability Research."
The Sustainability Leadership Team will select the honorees, and ecological literacy scholar David Orr will present the awards on March 6 during his campus visit. Winners will be contacted prior to the event.
To submit a nomination, visit the Alta Sustainability Leadership Awards webpage and complete the nomination form. Email the completed form to karren.nichols@utah.edu by 11:59 p.m. on Thursday, Feb. 19.
---
TIME FOR THREE WITH THE UTAH SYMPHONY
Tickets on sale now


Tickets on sale now for Time for Three (Tf3) with the Utah Symphony. The concert is Thursday, Aug. 13. Catch the sensational string trio Tf3 with the Utah Symphony performing this summer at Red Butte Garden as part of the Utah Symphony's 75th anniversary celebration and part of Red Butte Garden's 30th year celebration.
A formula for the perfect evening is Tf3 and the Utah Symphony with conductor Jerry Steichen together on stage and Red Butte Garden as the perfect outdoor venue.
Visit the Red Butte Garden Visitor Center Box Office, call 801-585-0556
or purchase online at redbuttegarden.org/time-for-three.
---
ELECTRONIC LABORATORY NOTEBOOKS (ELNs)


Are you interested I implementing an ELN in your research lab?
Daureen Nesdill is applying for a grant to cover the cost for a few research labs (not individual use) to implement and use LabArchives for two years. A lab with one principal investigator, two paid assistants and six grad/undergraduate students would cost about $450 per year.
If interested please contact daureen.nesdill@utah.edu before March 15.
LabArchives is a multidisciplinary ELN, an Internet2 NET+ Service Provider, compliant with US FDA 21 CFR Part 11, runs on all platforms, including Windows, Mac, Linux, iPad and Android devices and enables users to create widgets specific to their lab workflow.
For additional information on ELNs see campusguides.lib.utah.edu/ELNs or contact daureen.nesdill@utah.edu.
---
RBG SUMMER CAMP REGISTRATION BEGINS TODAY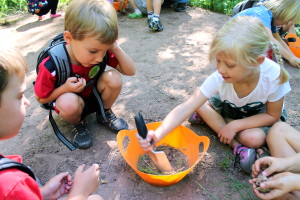 Sign up your kindergarteners-sixth graders for a week-long summer camp at Red Butte Garden. Registration opens today, March 2.
Kids will learn about nature, cooking, bugs, animals, art, dance and music. Our camp partners include: Natural History Museum of Utah, Wasatch Community Gardens, Camp Kostopulos, Clark Planetarium, Utah's Hogle Zoo, Tanner Dance and MIT.
Half and full-day camps are available. Prices vary per camp. Camps fill up fast, so register early. Call 801-581-8454 or visit the website at redbuttegarden.org/summer-camp.
---