IVORY PRIZE: CALL FOR NOMINATIONS [bs_row class="row"]
[bs_col class="col-sm-4″]

[/bs_col]
[bs_col class="col-sm-8″]Former chair of the University of Utah Board of Trustees Clark Ivory established the U's most prestigious student award, the Ivory Prize for Excellence in Student Leadership, in 2014. Nominations are now being accepted for the 2016 award.
In an effort to enhance the undergraduate experience and encourage student involvement and leadership, the prize recognizes one to two students for demonstrating a positive influence on student success and/or fostering efforts that have enabled meaningful change. It includes a $2,000 prize for the students along with a $10,000 donation to their cause.
Nominations are due by Feb. 26 and should include a completed nomination form, a nomination letter up to two pages in length and up to two letters of support. Awardees can be currently enrolled undergraduate or graduate students or those who have graduated within the past five years. [/bs_col]
[/bs_row]
---
REMINDER: DON'T GET SPAMMED![bs_row class="row"]
[bs_col class="col-sm-4″]
[/bs_col]
[bs_col class="col-sm-8″]Recently, a number of U email accounts were targeted in a spam attempt that falsely claimed classes would be canceled on a specific day. This email was confirmed to be fraudulent, and since spam and phishing attacks are on the rise, we'd like to refresh your memory on ways to spot them:
The "From" address is a non-U email address (e.g. Yahoo or Gmail)
The text has multiple grammar, punctuation, and/or spelling errors
The email references fabricated university departments
The email is signed with a name or title that doesn't match data in the online Campus Directory
For more information on spam, phishing and ways to identify and avoid these attacks, visit this page.
If you suspect you've received spam, forward the email as an attachment to spam@utah.edu.[/bs_col]
[/bs_row]
---
ALTA SUSTAINABILITY LEADERSHIP AWARDS – NOMINATIONS DUE BY FEB. 8, 2016[bs_row class="row"]
[bs_col class="col-sm-4″]

[/bs_col]
[bs_col class="col-sm-8″]The University of Utah is partnering with Alta Ski Area to recognize students, faculty and staff with the second Alta Sustainability Leadership Awards. The awards recognize four members of the university community who demonstrate leadership in sustainability education, research or campus/community initiatives.
Application deadline is Feb. 8, 2016
The awards will be presented on March 3, 2016. Each recipient also receives a $2,500 cash prize. For more information on applying, click here.[/bs_col]
[/bs_row]
---
VOLUNTEER INCOME TAX ASSISTANCE [bs_row class="row"]
[bs_col class="col-sm-4″]

[/bs_col]
[bs_col class="col-sm-8″]Are you ready for tax season? Don't worry; the Volunteer Income Tax Assistance at the University of Utah will help you out.
There will be a walk in clinic from Feb. 8-April 15, 2016 (closed for spring break). Come by the Union basement computer lab if you are a U.S. resident.
Don't stress about taxes VITA is here to help. For more info go to utahbap.com/vita.html.
Hours:
Monday: 12:30-4:30 p.m.
Tuesday: 12:30-4:30 p.m.
Wednesday: 4-8 p.m.
Thursday: 2-6 p.m.
Friday: 10 a.m.-2 p.m.
Saturday: 9 a.m.-1 p.m.[/bs_col]
[/bs_row]
---
CENTER ON AGING PILOT GRANT PROPOSAL [bs_row class="row"]
[bs_col class="col-sm-4″]

[/bs_col]
[bs_col class="col-sm-8″]The Center on Aging is pleased to announce the call for proposals for its 2016 pilot grant program. The application deadline is March 18, 2016.
The goals of the program are to promote the development of externally funded aging research, encourage new investigator development, attract established investigators to aging research, and stimulate interdisciplinary research collaborations.
The center seeks high quality applications representing the full spectrum of its disciplinary backgrounds. Applications will be reviewed in two tracks: those related to biological and health sciences and to behavioral science, social science and policy.
Additional information is available at aging.utah.edu/grants/pilot/index.php.
Please direct questions to aging@hsc.utah.edu.[/bs_col]
[/bs_row]
---
NOMINATE AN OUTSTANDING ACADEMIC ADVISOR [bs_row class="row"]
[bs_col class="col-sm-4″]

[/bs_col]
[bs_col class="col-sm-8″]Do you know an academic advisor who has made a positive impact on the lives of their students? Nominations are now being accepted from students, staff and faculty for the 2016 University Academic Advising Committee's Outstanding Advisor Awards. The deadline to nominate is Feb. 5, 2016.
The awards recognize U academic advisors who have demonstrated qualities associated with outstanding advising of students such as:
Approaches advising as teaching
Strong interpersonal skills
Available to advisees
Reaches out and supports underserved populations
Makes appropriate referrals
Uses and disseminates appropriate information sources
Caring, helpful attitude toward advisees, faculty and staff
Works with students outside of office in formal university-related activities
Monitors advisee progress toward academic and career goals
Mastery of institutional regulations, policies and procedures
Participates in and supports advisor development programs
Proactive; builds relationships with advisees and follows up
Practices developmental advising
It only takes a few moment. Complete the nomination process by clicking here.
Additional questions can be addressed to Bobbi Davis (Bobbi.Davis@utah.edu) or Shawn Adrian (Shawn.Adrian@utah.edu).
Consider recognizing an outstanding advisor at the U by submitting a nomination today.[/bs_col]
[/bs_row]
---
UNIVERSITY TEACHING GRANTS APPLICATION NEXT DEADLINE IS MARCH 11 [bs_row class="row"]
[bs_col class="col-sm-4″]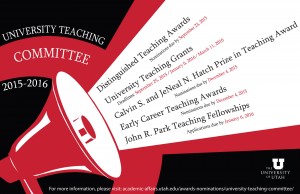 [/bs_col]
[bs_col class="col-sm-8″]Awards are made to faculty to undertake projects that will enhance their teaching or the curriculum in which they teach. Tenure-line and Career-line faculty are eligible to propose individual and group grants. Preference will be given to applicants whose primary professional affiliation is as faculty at the University of Utah.
Awards are made for amounts up to $3,500 for individuals and $7,000 for groups for items such as equipment, supplies or travel where appropriate (see website for detailed instructions).
The deadline for applications is now March 11. [/bs_col]
[/bs_row]