VOLUNTEER INCOME TAX ASSISTANCE [bs_row class="row"]
[bs_col class="col-sm-4″]

[/bs_col]
[bs_col class="col-sm-8″]Are you ready for tax season? Don't worry; the Volunteer Income Tax Assistance at the University of Utah will help you out.
There will be a walk in clinic from Feb. 8-April 15, 2016 (closed for Spring Break). Come by the Union basement computer lab if you are a U.S. resident.
Don't stress about taxes VITA is here to help. For more info go to utahbap.com/vita.html.
Hours:
Monday: 12:30-4:30 p.m.
Tuesday: 12:30-4:30 p.m.
Wednesday: 4-8 p.m.
Thursday: 2-6 p.m.
Friday: 10 a.m.-2 p.m.
Saturday: 9 a.m.-1 p.m.[/bs_col]
[/bs_row]
---
CENTER ON AGING PILOT GRANT PROPOSAL [bs_row class="row"]
[bs_col class="col-sm-4″]

[/bs_col]
[bs_col class="col-sm-8″]The Center on Aging is pleased to announce the call for proposals for its 2016 pilot grant program. The application deadline is March 18, 2016.
The goals of the program are to promote the development of externally funded aging research, encourage new investigator development, attract established investigators to aging research, and stimulate interdisciplinary research collaborations.
The center seeks high quality applications representing the full spectrum of its disciplinary backgrounds. Applications will be reviewed in two tracks: those related to Biological and Health Sciences and to Behavioral Science, Social Science and Policy.
Additional information is available at aging.utah.edu/grants/pilot/index.php.
Please direct questions to aging@hsc.utah.edu.[/bs_col]
[/bs_row]
---
BARBARA SNYDER GIVEN NATIONAL AWARD FROM NASPA [bs_row class="row"]
[bs_col class="col-sm-4″]

[/bs_col]
[bs_col class="col-sm-8″]Each year, NASPA — Student Affairs Administrators in Higher Education, recognizes members who are doing outstanding work in the student affairs profession. Barbara Snyder, vice president for student affairs at the University of Utah, was selected as the 2016 recipient of the Fred Turner Award for Outstanding Service to NASPA. Snyder has been on the Regional Executive Committee continuously from 1988-2007. She most recently served as the NASPA Foundation chair from 2010-2012. Because of her commitment to NASPA, she was named a Pillar of the Profession in 2002. Snyder and the other National Award winners will be honored in March at the 2016 NASPA Annual Conference in Indianapolis.[/bs_col]
[/bs_row]
---
JAMES LEE SORENSON'S ARTICLE ON IMPACT INVESTING APPEARS IN FORBES [bs_row class="row"]
[bs_col class="col-sm-4″]

[/bs_col]
[bs_col class="col-sm-8″]Entrepreneur James Lee Sorenson, who created the Sorenson Impact Center at the David Eccles School of Business, recently wrote in Forbes about the importance of impact investing.
Impact investing is based on leveraging private capital for social good, and the Eccles School is one of only two universities in the country that has programs for students to get hands-on experience in that financial realm. The other is Harvard.
Check out Sorenson's opinion piece here.[/bs_col]
[/bs_row]
---
U LAW PROFESSOR TO WORK ON ENVIRONMENTAL LAW ISSUES AS PART OF INTERNATIONAL COMMISSION bs_row class="row"]
[bs_col class="col-sm-4″]

[/bs_col]
[bs_col class="col-sm-8″]Robin Craig, a professor at the S.J. Quinney College of Law, has been appointed to the International Union for Conservation of Nature's  World Commission on Environmental Law.
The post will allow Craig to work with other scholars from around the world to carry out the organization's mission, which is to assure the integrity and conserve the diversity of nature through the promotion of ethical, legal and institutional concepts and instruments that advance environmental, social, cultural and economic sustainability — and to strengthen the capacity of governments, the judiciary, prosecutors and other stakeholders as they develop and implement environmental law.
At the S.J. Quinney College of Law, Craig teaches property to first-year students and environmental law, water law, ocean and coastal law, and toxic torts to upper-division students. She is also affiliated faculty to the College of Law's Stegner Center for Land, Resources and the Environment and a faculty affiliate of the U's Global Change & Sustainability Center.
Craig's research focuses on "all things water," especially the impact of climate change on freshwater resources and the oceans, the Clean Water Act, and the intersection of water and energy law. She also has written several articles and book chapters on constitutional environmental law, administrative law and statutory interpretation. She is the author or co-author of seven books and her publications include over 100 law review articles and book chapters.
Craig is currently a visiting professor at the University of Tasmania School of Law in Hobart, Australia, through March. She is teaching a course on comparative water law and research resilience and climate change adaptation issues.[/bs_col]
[/bs_row]
---
SEISMOLOGIST HONORED FOR QUAKE SAFETY [bs_row class="row"]
[bs_col class="col-sm-4″]

[/bs_col]
[bs_col class="col-sm-8″]Walter J. Arabasz, former director of the University of Utah Seismograph Stations, will be awarded the Seismological Society of America's Frank Press Public Service Award "for his extraordinary public service in modernizing, expanding and promoting seismic monitoring for public service in the United States."
The award will be presented to Arabasz when the society holds its annual meeting in April in Reno. Arabasz is a research professor emeritus of geology and geophysics who led development of the U's regional seismic monitoring network for three decades and worked tirelessly to improve earthquake safety in Utah. He directed the seismograph stations during 1985-2010.
In nominations for the award, colleagues particularly praised Arabasz's efforts after Utah's Aug. 6, 2007, Crandall Canyon mine disaster, which killed six miners and three rescuers. The mine's owner insisted an earthquake caused the collapse, but Arabasz and other seismologists demonstrated that the collapse was not caused by a separate quake, but itself was recorded as a quake.
For more details on Arabasz's award, click here.[/bs_col]
[/bs_row]
---
MATH STUDENT, PROFESSOR HONORED [bs_row class="row"]
[bs_col class="col-sm-4″]

[/bs_col]
[bs_col class="col-sm-8″]Mathematics senior Mackenzie Simper recently received the Alice T. Schafer Prize for Excellence in Mathematics by an Undergraduate Woman, sponsored by the Association for Women in Mathematics.
Simper, from Cottonwood Heights, Utah, appreciates the efforts of the Association for Women in Mathematics to increase diversity in mathematics. "The more people in math, the better," Simper says. "There's so much to do and so many aspects to explore."
Also, the Institut Henri Poincaré in Paris recently named mathematics associate professor Jon Chaika as a Poincaré Chair. Chaika will spend six months at Institut Henri Poincaré during spring semester 2017.[/bs_col]
[/bs_row]
---
CHEMISTRY GRAD AUTHORS COVER ARTICLE [bs_row class="row"]
[bs_col class="col-sm-4″]

[/bs_col]
[bs_col class="col-sm-8″]The Jan. 15 cover of the Journal of Organic Chemistry features a paper based on the undergraduate honors thesis of chemistry student Judy Zhu, who graduated with honors in May 2015 and is an alumna of the University of Utah College of Science's ACCESS program.
Zhu entered the ACCESS program in 2011 while at Olympus High School in Salt Lake City. She and a cohort of 42 women came to the U during the summer after graduation to experience the offerings of the departments within the College of Science. Zhu began working in a chemistry research lab in 2012, during her freshman year.
The featured article, of which Zhu is the first author, describes how chemical conditions can impact the consequences of DNA damage. Damaged DNA can be misread when it is copied in any of several cellular processes. The pH of the cellular process, Zhu found, can determine the chemical structure of the DNA damage site.[/bs_col]
[/bs_row]
---
NOMINATE AN OUTSTANDING ACADEMIC ADVISOR [bs_row class="row"]
[bs_col class="col-sm-4″]

[/bs_col]
[bs_col class="col-sm-8″]Do you know an academic advisor who has made a positive impact on the lives of their students?  Nominations are now being accepted from students, staff and faculty for the 2016 University Academic Advising Committee's Outstanding Advisor Awards.  The deadline to nominate is Feb. 5, 2016.
The awards recognize U academic advisors who have demonstrated qualities associated with outstanding advising of students such as:
Approaches advising as teaching
Strong interpersonal skills
Available to advisees
Reaches out and supports underserved populations
Makes appropriate referrals
Uses and disseminates appropriate information sources
Caring, helpful attitude toward advisees, faculty, and staff
Works with students outside of office in formal university-related activities
Monitors advisee progress toward academic and career goals
Mastery of institutional regulations, policies, and procedures
Participates in and supports advisor development programs
Proactive; builds relationships with advisees and follows up
Practices developmental advising
It only takes a few moments. Complete the nomination process by clicking here.
Additional questions can be addressed to Bobbi Davis (Bobbi.Davis@utah.edu) or Shawn Adrian (Shawn.Adrian@utah.edu).
Consider recognizing an outstanding advisor at the U by submitting a nomination today![/bs_col]
[/bs_row]
---
JOIN THE U'S LEGISLATIVE ADVOCACY EFFORTS [bs_row class="row"]
[bs_col class="col-sm-4″]

[/bs_col]
[bs_col class="col-sm-8″]Faculty and staff are invited to join in the U's legislative advocacy efforts, through the U for Higher Ed Program. Legislative advocates are volunteers — alumni, present and former faculty and staff members and students — who encourage their representatives and senators to support the University of Utah in particular and higher education in general.
Through the efforts of the U for Higher Ed Program, advocates are provided with information on important issues and funding priorities, so they can collectively speak in a unified and coordinated way to support the U's priorities for greater impact with the Legislature.
The 2016 Utah legislative session kicks off on Jan. 25. The U's priorities for 2016 include a request for a three percent performance-based compensation increase for faculty/staff and funding for a new Medical Education Building.
For details on the program, and to sign up, click here.[/bs_col]
[/bs_row]
---
SNOW-FREE, COVERED PARKING AVAILABLE[bs_row class="row"]
[bs_col class="col-sm-4″]
[/bs_col]
[bs_col class="col-sm-8″]Snow-free, on-campus, plentiful covered parking is now available for students, staff and faculty. Two new parking garages, completed in the fall of 2015, added more than 1,000 parking spaces that are available to all members of the campus community.
The Central Garage, located in the Business Loop, offers more than 800 parking spaces and is the first garage on campus available to students, in addition to staff and faculty.
The Northwest Garage is located east of Naval Sciences and offers parking to faculty, staff and visitors attending evening performances on the north end of campus.
These garages provide abundant, covered and convenient parking and will serve as a valuable asset to those who need to park on campus. Make this winter a little easier by purchasing a covered parking permit through your account here. For detailed information on parking permits, contact Commuter Services at 801-581-6415.[/bs_col]
[/bs_row]
---
INTRAMURAL SPORTS REGISTRATION IS WIDE OPEN[bs_row class="row"]
[bs_col class="col-sm-4″]

[/bs_col]
[bs_col class="col-sm-8″]Registration for Intramural Sports is open and the leagues are just a few days away. Spots fill up fast so get your teams registered early.
You can register as a full team or as an individual. Faculty and Staff are eligible to play as well with a CRS membership.
For a complete list of sports, registration deadlines, and league days check out campusrec.utah.edu.[/bs_col]
[/bs_row]
---
ALTA SUSTAINABILITY LEADERSHIP AWARDS – NOMINATIONS DUE BY FEB. 8, 2016[bs_row class="row"]
[bs_col class="col-sm-4″]

[/bs_col]
[bs_col class="col-sm-8″]The University of Utah is partnering with Alta Ski Area to recognize students, faculty and staff  with the second Alta Sustainability Leadership Awards. The awards recognize four members of the university community who demonstrate leadership in sustainability education, research or campus/community initiatives.
Application deadline is Feb. 8, 2016
The awards will be presented on March 3, 2016. Each recipient also receives a $2,500 cash prize. For more information on applying, click here.[/bs_col]
[/bs_row]
---
CLINIC SERVICES AT THE SCHOOL OF DENTISTRY [bs_row class="row"]
[bs_col class="col-sm-4″]

[/bs_col]
[bs_col class="col-sm-8″]The Ray and Tye Noorda Oral Health Sciences Building is home to a full-service community dental clinic featuring 62 dental operatories; an oral diagnosis suite with eight operatories and a Cone Beam CT machine for 3-D imaging; a pediatric dentistry suite with eight operatories including a private waiting room for children and an oral maxillofacial surgery suite with four private operatories.
The clinic offers a full range of services including:
Oral health screening
Periodontal treatment
Comprehensive restorative care:

Fillings
Crowns
Bridges – fixed and removable appliances
Root canals
Implants
Cosmetic dentistry and teeth whitening

Pediatric dentistry
Geriatric dentistry
Orthodontics (at our residency clinics)
Oral surgery
Special needs patients
All patient care is supervised by faculty who are licensed dentists in Utah. Service fees are as follows:
Student dentists – 50 percent discounted
Resident dentists – 30 percent discounted
Faculty dentists – Full cost
Most insurance plans are accepted.
To schedule an initial screening/consultation call -801- 58-SMILE (7-6453) and visit dentistry.utah.edu for more information. [/bs_col]
[/bs_row]
---
U DRIVE ELECTRIC DEADLINE EXTENDED UNTIL JAN. 31 [bs_row class="row"]
[bs_col class="col-sm-4″]

[/bs_col]
[bs_col class="col-sm-8″] Another excuse to buy an electric car! 
U Drive Electric deadline has been extended into Jan. 31, due to popular demand. U community members now have a longer opportunity to purchase or lease a, clean, plug-in hybrid or zero tailpipe emissions eclectic vehicle at a discounted price — 5-20 percent off MSRP. With the New Year's spirit in the air and the inversion season upon us, U Drive Electric hopes to inspire and to facilitate a new generation of electric car owners. To receive the most current information, visit udriveelectric.org. The University of Utah is regularly considering and implementing solutions to lessen its environmental impact and to improve conditions for the community and future generations. The University's Sustainability Office in partnership with Utah Clean Energy, and with a generous grant from UCAIR has joined together to offer this incentive program.[/bs_col]
[/bs_row]
---
UNIVERSITY TEACHING GRANTS APPLICATION NEXT DEADLINE IS MARCH 11 [bs_row class="row"]
[bs_col class="col-sm-4″]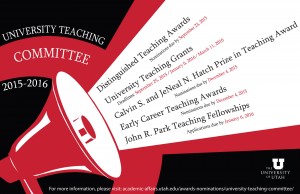 [/bs_col]
[bs_col class="col-sm-8″]Awards are made to faculty to undertake projects that will enhance their teaching or the curriculum in which they teach. Tenure-line and Career-line faculty are eligible to propose individual and group grants. Preference will be given to applicants whose primary professional affiliation is as faculty at the University of Utah.
Awards are made for amounts up to $3,500 for individuals and $7,000 for groups for items such as equipment, supplies or travel where appropriate (see website for detailed instructions).
The deadline for applications is now March 11. [/bs_col]
[/bs_row]
---