LINDA K. AMOS AWARD NOMINATIONS DEADLINE THIS FRIDAY, JAN. 15[bs_row class="row"]
[bs_col class="col-sm-4″]
[/bs_col]
[bs_col class="col-sm-8″] The 2016 Women's Week Committee, Presidential Commission on the Status of Women and Office for Equity and Diversity request nominations for the 17th annual Linda K. Amos Award for Distinguished Service to Women. This award recognizes an individual staff or faculty member who has selflessly given time and energy to improve the educational and/or working environment for women at the university.
Deadline for nominations is Friday, Jan. 15, 2016, at noon.
Please send nomination materials electronically to: amos-award@utah.edu and use the subject line "LK Amos Award Nomination."
For more information, click here.[/bs_col]
[/bs_row]
---
U YELLOWSTONE STUDY 56TH ON DISCOVER'S '100 TOP STORIES OF 2015' [bs_row class="row"]
[bs_col class="col-sm-4″]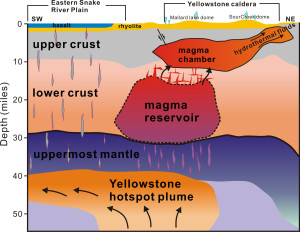 [/bs_col]
[bs_col class="col-sm-8″] University of Utah seismologists discovered and made images of a reservoir of hot, partly molten rock 12 to 28 miles beneath the Yellowstone supervolcano, and it is 4.4 times larger than the shallower, long-known magma chamber.
The U study ranked 56th on Discover's "100 top stories of 2015."
Click here to read Discover's article and go here for the U's article. [/bs_col]
[/bs_row]
---
DEADLINE EXTENDED UNTIL JAN. 20 FOR HATCH PRIZE [bs_row class="row"]
[bs_col class="col-sm-4″]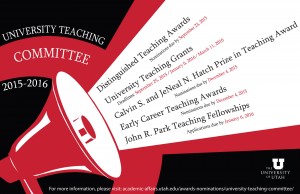 [/bs_col]
[bs_col class="col-sm-8″]The Calvin S. and JeNeal N. Hatch Prize in Teaching is provided by an endowment given to the University of Utah by Mr. and Mrs. Hatch. The purpose of the prize is to recognize an outstanding teacher at the University of Utah and to "make a contribution to teaching, the dissemination of knowledge, and to improve our ability to communicate with each other."
Eligible faculty members must be from Tenure-line faculty ranks. Previous recipients of the Hatch Prize are not eligible for nomination. Recipients of other University-wide teaching awards must wait five years prior to being eligible for consideration.
Nominations must be submitted by Jan. 20, 2016.
If you have any questions regarding the nomination process, please email the Teaching Committee at teachingcommittee@lists.utah.edu.
For more information call (801) 581-8661.[/bs_col]
[/bs_row]
---
PRESENT AND PUBLISH: SYMPOSIUM OF EMERGING TECHNOLOGY TRENDS IN HIGHER EDUCATION [bs_row class="row"]
[bs_col class="col-sm-4″]
[/bs_col]
[bs_col class="col-sm-8″] Deadline for abstracts, lightning rounds and panel discussions is Friday, Jan. 15.
The J. Willard Marriott Library is pleased to present the second "Symposium on Emerging Technology Trends in Higher Education" on Feb. 26, 2016. Drawing on the 2015 Horizon Report from the New Media Consortium, presenters will be discussing the intersection between teaching, research and technology in higher education. This is a unique opportunity for students to present and publish alongside distinguished faculty from the U. Abstracts for presentations (25 min.), lightning rounds (5-10 min.) and panel discussions (50 min.) are currently being accepted until Jan. 15, 2016. For more information, please visit tinyurl.com/freelunchsymposium or contact the event organizers, Anne Morrow (anne.morrow@utah.edu) and Adriana Parker (adriana.parker@utah.edu). [/bs_col]
[/bs_row]
---
U DRIVE ELECTRIC DEADLINE EXTENDED UNTIL JAN. 31 [bs_row class="row"]
[bs_col class="col-sm-4″]

[/bs_col]
[bs_col class="col-sm-8″] Another excuse to buy an electric car! 
U Drive Electric deadline has been extended into Jan. 31, 2016, due to popular demand. U community members now have a longer opportunity to purchase or lease a, clean, plug-in hybrid or zero tailpipe emissions eclectic vehicle at a discounted price — 5-20 percent off MSRP. With the New Year's spirit in the air and the inversion season upon us, U Drive Electric hopes to inspire and to facilitate a new generation of electric car owners. To receive the most current information, visit udriveelectric.org. The University of Utah is regularly considering and implementing solutions to lessen its environmental impact and to improve conditions for the community and future generations. The University's Sustainability Office in partnership with Utah Clean Energy, and with a generous grant from UCAIR has joined together to offer this incentive program.[/bs_col]
[/bs_row]
---
UNIVERSITY TEACHING GRANTS APPLICATION NEXT DEADLINE IS MARCH 11, 2016 [bs_row class="row"]
[bs_col class="col-sm-4″]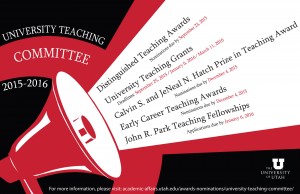 [/bs_col]
[bs_col class="col-sm-8″]Awards are made to faculty to undertake projects that will enhance their teaching or the curriculum in which they teach. Tenure-line and Career-line faculty are eligible to propose individual and group grants. Preference will be given to applicants whose primary professional affiliation is as faculty at the University of Utah.
Awards are made for amounts up to $3,500 for individuals and $7,000 for groups for items such as equipment, supplies or travel where appropriate (see website for detailed instructions).
The deadline for applications is now March 11, 2016. [/bs_col]
[/bs_row]
---
RSVP FOR LAW SCHOOL 'ROCK STAR' ERWIN CHEMERINSKY SPEECH AT THE U
Feb. 4, 2016 |5:30-7:30 p.m.
S.J. Quinney College of Law, 6th floor moot courtroom[bs_row class="row"]
[bs_col class="col-sm-4″]

[/bs_col]
[bs_col class="col-sm-8″]
He's the closest thing the law school circuit has to a rock star. And now Erwin Chemerinsky is headed to the University of Utah, scheduled to speak Feb.4 as part of the 50th Annual Leary Lecture at the S.J. Quinney College of Law. Chemerinsky is a well-known professor at the University of California, Irvine School of Law. Previously, he taught at Duke Law School for four years, during which he won the Duke University Scholar-Teacher of the Year Award in 2006. He also taught for 21 years at the University of Southern California School of Law, UCLA School of Law and DePaul University College of Law. His areas of expertise are constitutional law, federal practice, civil rights and civil liberties, and appellate litigation. He is the author of eight books, including The Case Against the Supreme Court published in 2014, and more than 200 articles in top law reviews. He frequently argues cases before the nation's highest courts, including the United States Supreme Court, and also serves as a commentator on legal issues for national and local media. He writes a weekly column for the Orange County Register, monthly columns for the ABA Journal and the Daily Journal, and frequent op-eds in newspapers across the country. In January 2014, National Jurist magazine named Chemerinsky as the most influential person in legal education in the United States. His lecture is expected to be a huge draw at the U for the legal community, where he'll reflect on the last half century of constitutional law. He is available for media interviews prior to his visit. Those interested in attending can RSVP here.[/bs_col]
[/bs_row]