DEADLINE EXTENDED UNTIL JAN. 20, 2016 FOR HATCH PRIZE
The Calvin S. and JeNeal N. Hatch Prize in Teaching is provided by an endowment given to the University of Utah by Mr. and Mrs. Hatch. The purpose of the prize is to recognize an outstanding teacher at the University of Utah and to "make a contribution to teaching, the dissemination of knowledge, and to improve our ability to communicate with each other."
Eligible faculty members must be from Tenure-line faculty ranks. Previous recipients of the Hatch Prize are not eligible for nomination. Recipients of other University-wide teaching awards must wait five years prior to being eligible for consideration.
Nominations must be submitted by Jan. 20, 2016.
If you have any questions regarding the nomination process, please email the Teaching Committee at teachingcommittee@lists.utah.edu.
For more information call (801) 581-8661.
---
FACULTY & STAFF OPEN HOUSE @ THE ECCLES STUDENT LIFE CENTER
Jan. 19-20, 2016
Join the University of Utah Staff Council and Campus Recreation Services for a two-day open house at the George S. Eccles Student Life Center.
No membership is required, just bring your valid UCard and experience your new healthy lifestyle.  Enjoy healthy snacks, climbing clinics, personal training tips and more.  And of course, don't forget to sign up for a discounted annual membership (payroll deduction available).
---
FITNESS CLASSES FREE WEEK
George S. Eccles Student Life Center
Jan. 11-17, 2016
Join us for FREE FITNESS CLASSES all week, Jan. 11-17, 2016.  It's a great way to try out our classes before you commit for the semester.
Classes are first come, first served. If you're ready to register, you can do so online at campusrec.utah.edu.
---
U DRIVE ELECTRIC DEADLINE EXTENDED
 Another excuse to buy an electric car! 
U Drive Electric deadline has been extended into Jan. 31, 2016, due to popular demand. U community members now have a longer opportunity to purchase or lease a, clean, plug-in hybrid or zero tailpipe emissions eclectic vehicle at a discounted price — 5-20 percent off MSRP. With the New Year's spirit in the air and the inversion season upon us, U Drive Electric hopes to inspire and to facilitate a new generation of electric car owners. To receive the most current information, visit udriveelectric.org. The University of Utah is regularly considering and implementing solutions to lessen its environmental impact and to improve conditions for the community and future generations. The University's Sustainability Office in partnership with Utah Clean Energy, and with a generous grant from UCAIR has joined together to offer this incentive program.
---
ANNUAL NOTICE: PEER-TO-PEER FILE SHARING AND COPYRIGHT VIOLATION
Every year, as a result of the
Digital Millennium Copyright Act
and the
Higher Education Opportunity Act
, The University of Utah distributes a notice about its policy regarding peer-to-peer file sharing and copyright violations. All students, faculty and staff should understand that it is a violation of federal law and university policy to share and/or distribute copyrighted materials without the permission of the copyright holder. Violators may be subject to civil and criminal prosecution under federal law, as well as personal sanctions specified in university policy.
Please review the policy notice and contact helpdesk@utah.edu with any questions.
---
UNIVERSITY TEACHING GRANTS APPLICATION DEADLINE IS JAN. 6, 2016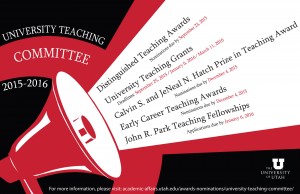 Awards are made to faculty to undertake projects that will enhance their teaching or the curriculum in which they teach. Tenure-line and Career-line faculty are eligible to propose individual and group grants. Preference will be given to applicants whose primary professional affiliation is as faculty at the University of Utah.
Awards are made for amounts up to $3,500 for individuals and $7,000 for groups for items such as equipment, supplies or travel where appropriate (see website for detailed instructions).
The deadline for applications is Jan. 6, 2016.
---
LINDA K. AMOS AWARD NOMINATIONS DEADLINE APPROACHING
The 2016 Women's Week Committee, Presidential Commission on the Status of Women and Office for Equity and Diversity request nominations for the 17th annual
Linda K. Amos Award for Distinguished Service to Women
. This award recognizes an individual staff or faculty member who has selflessly given time and energy to improve the educational and/or working environment for women at the university.
Deadline for nominations is Friday, Jan. 15, 2016, at noon.
Please send nomination materials electronically to: amos-award@utah.edu and use the subject line "LK Amos Award Nomination."
For more information, click here.
---
JOHN R. PARKS TEACHING FELLOWSHIP APPLICATIONS DUE JAN. 6, 2016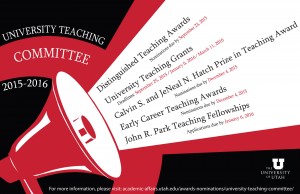 The Park Fellowships are awarded to faculty who will undertake one semester activity during the 2016-2017 academic year to study at a site outside the state of Utah with the purpose of enriching and enlarging the individual's teaching role. Tenure-line and Career-line faculty are eligible. Preference will be given to applicants whose primary affiliation is as faculty at the University of Utah.
Each award is for $5,000 with the possibility of an additional $5,000 to the faculty member's department to help defray costs for released time. These awards will be announced in February 2016.
The deadline for applications is Jan. 20, 2016.
---
RESEARCH PARTICIPANTS NEEDED FOR LANGUAGE STUDY
Research participants are needed for a fun and engaging study about language. The study lasts approximately 50-60 minutes and involves listening to audio recordings and making intuitive ratings of the expressions heard. Participants will be paid $15 for their time. We are looking for interested individuals who fit one of the following four descriptions:
1. Native English speakers, between the ages of 18 and 40, who grew up speaking English (both men and women are welcome).
2. Non-native English speakers, between the ages of 18 and 40, who have an advanced level of proficiency in English (both men and women are welcome; people of various backgrounds are welcome).
3. Native French speakers, between the ages of 18 and 40, who grew up speaking French (both men and women are welcome).
4. Non-native French speakers, between the ages of 18 and 40, who have an advanced level of proficiency in French (both men and women are welcome), and are native speakers of English.
If you are interested in participating, or if you have any questions, please contact us at violamakarova@hotmail.com. If you have previously taken part in this study, you may not be eligible for this new version of it.
---
RSVP FOR LAW SCHOOL 'ROCK STAR' ERWIN CHEMERINSKY SPEECH AT THE U
Feb. 4, 2016 |5:30-7:30 p.m.
S.J. Quinney College of Law, 6th floor moot courtroom
He's the closest thing the law school circuit has to a rock star. And now Erwin Chemerinsky is headed to the University of Utah, scheduled to speak Feb.4 as part of the 50th Annual Leary Lecture at the S.J. Quinney College of Law. Chemerinsky is a well-known professor at the University of California, Irvine School of Law. Previously, he taught at Duke Law School for four years, during which he won the Duke University Scholar-Teacher of the Year Award in 2006. He also taught for 21 years at the University of Southern California School of Law, UCLA School of Law and DePaul University College of Law. His areas of expertise are constitutional law, federal practice, civil rights and civil liberties, and appellate litigation. He is the author of eight books, including The Case Against the Supreme Court published in 2014, and more than 200 articles in top law reviews. He frequently argues cases before the nation's highest courts, including the United States Supreme Court, and also serves as a commentator on legal issues for national and local media. He writes a weekly column for the Orange County Register, monthly columns for the ABA Journal and the Daily Journal, and frequent op-eds in newspapers across the country. In January 2014, National Jurist magazine named Chemerinsky as the most influential person in legal education in the United States. His lecture is expected to be a huge draw at the U for the legal community, where he'll reflect on the last half century of constitutional law. He is available for media interviews prior to his visit. Those interested in attending can
RSVP here
.
---
UTAH INDOOR CLEAN AIR ACT REMINDER

Reminder:  In accordance with the Utah Indoor Clean Air Act, smoking is not allowed in any university facility or vehicle; owned, operated or leased. Smoking is not allowed within 25 feet of any building entrance, operable window or air intake.
---