LINDA K. AMOS AWARD NOMINATIONS OPEN[bs_row class="row"]
[bs_col class="col-sm-4″]
[/bs_col]
[bs_col class="col-sm-8″]The 2016 Women's Week Committee, Presidential Commission on the Status of Women and Office for Equity and Diversity request nominations for the 17th annual Linda K. Amos Award for Distinguished Service to Women. This award recognizes an individual staff or faculty member who has selflessly given time and energy to improve the educational and/or working environment for women at the university.
Deadline for nominations is Friday, Jan. 15, 2015, at noon.
Please send nomination materials electronically to: amos-award@utah.edu and use the subject line "LK Amos Award Nomination."
For more information, click here.[/bs_col]
[/bs_row]
---
LAW SCHOOL 'ROCK STAR' ERWIN CHEMERINSKY TO SPEAK AT THE U
Feb. 4, 2016 |5:30-7:30 p.m.
S.J. Quinney College of Law, 6th floor moot courtroom[bs_row class="row"]
[bs_col class="col-sm-4″]

[/bs_col]
[bs_col class="col-sm-8″]
He's the closest thing the law school circuit has to a rock star. And now Erwin Chemerinsky is headed to the University of Utah, scheduled to speak Feb.4 as part of the 50th Annual Leary Lecture at the S.J. Quinney College of Law. Chemerinsky is a well-known professor at the University of California, Irvine School of Law. Previously, he taught at Duke Law School for four years, during which he won the Duke University Scholar-Teacher of the Year Award in 2006. He also taught for 21 years at the University of Southern California School of Law, UCLA School of Law and DePaul University College of Law. His areas of expertise are constitutional law, federal practice, civil rights and civil liberties, and appellate litigation. He is the author of eight books, including The Case Against the Supreme Court published in 2014, and more than 200 articles in top law reviews. He frequently argues cases before the nation's highest courts, including the United States Supreme Court, and also serves as a commentator on legal issues for national and local media. He writes a weekly column for the Orange County Register, monthly columns for the ABA Journal and the Daily Journal, and frequent op-eds in newspapers across the country. In January 2014, National Jurist magazine named Chemerinsky as the most influential person in legal education in the United States.  His lecture is expected to be a huge draw at the U for the legal community, where he'll reflect on the last half century of constitutional law.  He is available for media interviews prior to his visit.  Those interested in attending can RSVP here.[/bs_col]
[/bs_row]
---
UTAH INDOOR CLEAN AIR ACT REMINDER [bs_row class="row"]
[bs_col class="col-sm-4″]

[/bs_col]
[bs_col class="col-sm-8″]Reminder:  In accordance with the Utah Indoor Clean Air Act, smoking is not allowed in any university facility or vehicle; owned, operated or leased. Smoking is not allowed within 25 feet of any building entrance, operable window or air intake.[/bs_col]
[/bs_row]
---
JOHN R. PARK TEACHING FELLOWSHIP CALL FOR NOMINATIONS
Deadline: Jan. 6, 2016 [bs_row class="row"]
[bs_col class="col-sm-4″]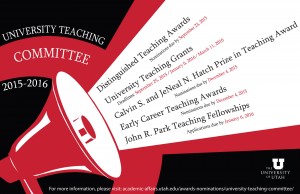 [/bs_col]
[bs_col class="col-sm-8″]
Park Fellowships are awarded to faculty who will undertake one semester activity during the 2015-2016 academic year to study at a site outside the state of Utah with the purpose of enriching and enlarging the individual's teaching role. Tenure-line and career-line faculty are eligible.
Preference will be given to applicants whose primary affiliation is as faculty at the University of Utah. Each award is for $5,000 with the possibility of an additional $5,000 to the faculty member's department to help defray costs for released time. These awards will be announced in February 2016.[/bs_col]
[/bs_row]
---
CALL FOR PAPERS OPEN UNTIL DEC. 18 [bs_row class="row"]
[bs_col class="col-sm-4″]


[/bs_col]
[bs_col class="col-sm-8″]
Have a story to share about how you've used emerging technology in your research, teaching and learning? Interested in an opportunity to present and publish?  If so, submit an abstract to the Second Annual Symposium on Emerging Technology Trends in Higher Education here.
The symposium is free and open to the public; and will be held on Feb. 26, 2016, at the Marriott Library.  Accepted abstracts will also be published as part of the conference's proceedings here. [/bs_col]
[/bs_row]
---