UTAH INDOOR CLEAN AIR ACT REMINDER

Reminder:  In accordance with the Utah Indoor Clean Air Act, smoking is not allowed in any university facility or vehicle; owned, operated or leased. Smoking is not allowed within 25 feet of any building entrance, operable window or air intake.
---
JOHN R. PARK TEACHING FELLOWSHIP CALL FOR NOMINATIONS
Deadline: Jan. 6, 2016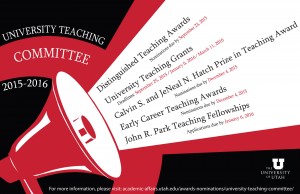 Park Fellowships are awarded to faculty who will undertake one semester activity during the 2015-2016 academic year to study at a site outside the state of Utah with the purpose of enriching and enlarging the individual's teaching role. Tenure-line and career-line faculty are eligible.
Preference will be given to applicants whose primary affiliation is as faculty at the University of Utah. Each award is for $5,000 with the possibility of an additional $5,000 to the faculty member's department to help defray costs for released time. These awards will be announced in February 2016.
---
CALL FOR PAPERS OPEN UNTIL DEC. 18

Have a story to share about how you've used emerging technology in your research, teaching and learning? Interested in an opportunity to present and publish?  If so, submit an abstract to the Second Annual Symposium on Emerging Technology Trends in Higher Education
here
.
The symposium is free and open to the public; and will be held on Feb. 26, 2016, at the Marriott Library.  Accepted abstracts will also be published as part of the conference's proceedings here.
---
NATIONAL COMMUNICATION ASSOCIATION HONORS U PROFESSOR AND GRADUATE STUDENT

The National Communication Association is pleased to announce the selection of Dr. Jakob Jensen, associate professor of  communication and Melinda Krakow, graduate student, as the 2015 recipients of the Golden Anniversary Monograph Award.
The award is given annually for the most outstanding scholarly monograph published during the previous calendar year. Jensen and Krakow were recognized for their work with colleagues on the article, "Comparing tailored and narrative worksite interventions at increasing colonoscopy adherence in adults 50-75: A randomized controlled trial," published in Social Science & Medicine (2014).
---
OPEN THE DOOR TO GIVING WITH THE U HOSPITAL ANNUAL FOOD DRIVE
Join the University Hospital food drive and make a difference this year.
The annual hospital food drive, held Nov. 23 through Dec. 15, benefits the Utah Food Bank. All donations will support the mission to feed hungry Utahns.
There are many ways to give: Run the Utah Human Race on Thanksgiving morning, donate online or volunteer at the Utah Food Bank to help the hospital reach this year's goal of 450,000 pounds of donated food.
University Hospital has led the effort to gather food donations for those in need over the past five years, collecting over 1,262,340 pounds of food since 2010.
Call Tracy Bodrero at 801-581-2429 with any questions about volunteering, and for more ways to give, visit Pulse.
---