U HONORED WITH UTAH GREEN BUSINESS AWARD
Utah Business Magazine recently recognized the University of Utah with a Utah Green Business Award in the category Corporate Excellence. Chief Sustainability Officer Amy Wildermuth accepted the award at a ceremony Thursday, Nov. 19. The U was recognized for its efforts to organize an air quality task force that developed recommendations for reducing emissions and lessening the institutions's overall contribution to poor air quality among other sustainable projects. 
---
DISTINGUISHED INNOVATION AND IMPACT AWARD
Deadline: Dec. 4, 2015
The Distinguished Innovation and Impact Award recognizes outstanding faculty innovators for contributions that improved the lives of people. The award recognizes contributions by faculty from all academic disciplines, including health care, energy, environment, business, law, communications, technology or the arts. Awards are given each year to one or two outstanding faculty members who distinguished themselves and the university through entrepreneurial activities that resulted in innovations with a measurable societal impact. Faculty on career, clinical or tenure tracks are eligible. The recipient receives public recognition plus a $10,000 cash award to be used at his or her discretion. Please submit your online nomination here.
---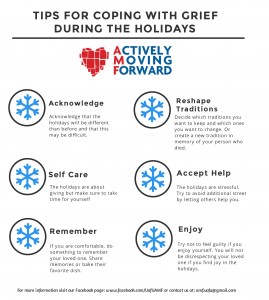 STUDENT-LED GRIEF SUPPORT GROUP ON CAMPUS
One in four college students is grieving the death of a loved one. On a campus where over 30,000 students are currently enrolled, this means that there are over 7,500 students grieving. As anyone who has experienced the death of a loved one knows, the world keeps on turning despite the grief. This is especially true on a college campus where students are expected keep up with our studies. Combine this with a culture where death is a taboo subject and many are left with an environment in which expressing grief can be particularly difficult.
Actively Moving Forward (AMF) is non-profit organization committed to supporting college students who are grieving the death of a loved one. The University of Utah chapter runs a student-led grief support group providing a space for students to talk about their experience and feel supported by their peers. The group is held the first and third Wednesday of the month from 6-7:30 p.m. and the fist and third Thursday of the month from 12-1:30 p.m. in the Union.
As a group of grieving college students supporting other grieving students on campus, we know the holidays can be an especially difficult time. While, we do not believe that there is one "right" way to grieve, we want to offer a few tips to help students deal with their grief over the holidays.
---

OPEN THE DOOR TO GIVING WITH THE U HOSPITAL ANNUAL FOOD DRIVE


Join the University Hospital food drive and make a difference this year.
The annual hospital food drive, held Nov. 23 through Dec. 15, benefits the Utah Food Bank. All donations will support the mission to feed hungry Utahns.
There are many ways to give: Run the Utah Human Race on Thanksgiving morning, donate online or volunteer at the Utah Food Bank to help the hospital reach this year's goal of 450,000 pounds of donated food.
University Hospital has led the effort to gather food donations for those in need over the past five years, collecting over 1,262,340 pounds of food since 2010.
Call Tracy Bodrero at 801-581-2429 with any questions about volunteering, and for more ways to give, visit Pulse.
---
THE CALVIN S. AND JENEAL N. HATCH PRIZE IN TEACHING
Deadline: Dec. 4, 2015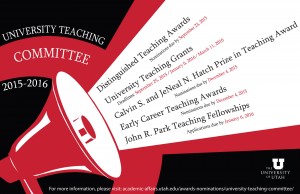 The Hatch Prize recognizes an outstanding and longstanding service by a teacher from tenure-line faculty ranks. The recipient of the Hatch Prize will receive $5,000. The award will be announced in March 2016.
All award nominations, grant applications and fellowship applications are available for submission online here.
---
EARLY CAREER TEACHING AWARD
Deadline: Dec. 4, 2015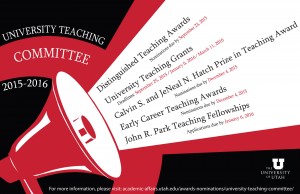 The Early Career Teaching Award recognizes up to four outstanding faculty at an early stage in their careers at the University of Utah. To be eligible, a faculty member must have completed at least three full years but fewer than eight years of service at the University and must be tenure-line or career-line faculty. Each recipient will also receive $2,500. These awards will be announced in March 2016.
All award nominations, grant applications, and fellowship applications are available for submission online here.
---
UTILIZING UNIVERSITY MAIL RESOURCES FOR PERSONAL USE
As the holiday season approaches and usage of mail services increases, University Print & Mail Services would like to remind campus that personal correspondence and deliveries should not be sent to campus addresses but rather to home addresses. Because of recent changes with UPS and FedEx rerouting packages through the U.S. Postal Service, the volume of packages distributed through Campus Mail has increased significantly, making prompt deliveries more difficult.
Pursuant to university policy 3-166, "use of the campus mail system is available only to recognized university organizations for official university purposes and is not intended for personal use." Accordingly, faculty and staff should refrain from using the Campus Mail system for receiving or sending personal mail. Questions or concerns may be directed to Juan Sosa at 801-580-7792 or Juan.Sosa@utah.edu.