PLAN AHEAD FOR FIELD TRIPS
Are you planning field trips, activities, or events with your class or group? If so, plan ahead for special requirements, hazards, approvals, accommodations, liability waivers, equipment needs, transportation requirements, and emergencies. A field trip guideline checklist and approved liability waiver form can be accessed at Risk & Insurance Management website.
---
GARTNER RESEARCH RESOURCES AVAILABLE AT NO COST
If you're a University of Utah faculty member, staff member, or student doing research on IT-related topics, Gartner Research resources are available for you to use at no charge. Gartner, Inc. is the world's leading information technology research and advisory company. Additionally, faculty and staff may request complimentary meetings with Gartner consultants on IT-related topics. Log into the Gartner site using your uNID and CIS password.
---
DALAI LAMA CANCELS VISIT TO U

The University of Utah was notified by the Office of Tibet in Washington D.C. in a statement that "the Dalai Lama arrived in the United States earlier this week for a medical evaluation. Upon completion of the evaluation, the doctors have advised that His Holiness take complete rest. As a result, His Holiness will be returning to India next week and will not be able to visit the United States next month. We deeply regret cancellation of the visit."
Anyone who purchased tickets online will be refunded automatically within seven-10 days. For those who purchased tickets in-person with check or cash, please contact ticket office to verify your contact information to ensure you receive your refund. 801- 581-UTIX.
The university community and the Utah Tibet Foundation wish the Dalai Lama a speedy recovery.
---
5TH ANNUAL STUDENT VETERAN OF THE YEAR: CALL FOR NOMINATIONS
Deadline: Midnight, Oct. 15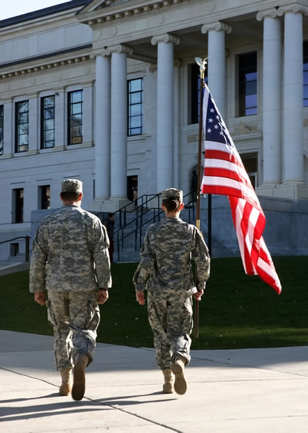 U student veterans will recognize one of their own for outstanding military service, academic performance and community involvement this Veterans Day, Nov. 11, 2015. Student veterans can be nominated by faculty, staff or fellow students, and there is no maximum number of nominations; the more the merrier. Nomination forms and eligibility requirements can be found online at veteranscenter.utah.edu. For more information, contact the Veterans Support Center at 801-587-7722 or vetcenter@sa.utah.edu.
---
CLINIC SERVICES AT THE SCHOOL OF DENTISTRY


The Ray and Tye Noorda Oral Health Sciences Building is home to a full-service community dental clinic featuring 62 dental operatories; an oral diagnosis suite with eight operatories and a Cone Beam CT machine for 3-D imaging; a pediatric dentistry suite with eight operatories including a private waiting room for children and an oral maxillofacial surgery suite with four private operatories.
The clinic offers a full range of services including:
Oral health screening
Periodontal treatment
Comprehensive restorative care:

Fillings
Crowns
Bridges – fixed and removable appliances
Root canals
Implants
Cosmetic dentistry and teeth whitening

Pediatric dentistry
Geriatric dentistry
Orthodontics (at our residency clinics)
Oral surgery
Special needs patients
All patient care is supervised by faculty who are licensed dentists in Utah. Service fees are as follows:
Student dentists – 50 percent discounted
Resident dentists – 30 percent discounted
Faculty dentists – Full cost
Most insurance plans are accepted.
To schedule an initial screening/consultation call -801- 58-SMILE (7-6453) and visit dentistry.utah.edu for more information.
---
VETERANS SUPPORT CENTER HAS MOVED
Please be aware that the Veterans Support Center has now moved from Union 162 to Union 418, and Veterans Services has moved from Window 10 of the Student Services Building to Union 418 within the Veterans Support Center for the convenience of our student veterans. Please update any directories, and distribute this change to your faculty and staff so they can point student veterans to the right location in order to access their veteran-related benefits, or handle any veteran-related issues they may have.
We appreciate your support as these veterans transition back in to both civilian, and student life.
---
U-MATCH


U-Match is connecting the university community to seek, provide and trade one-on-one child care needs. New for this fall is a simplified electronic application that can be accessed via the home page at childcare.utah.edu. Those interested can register using their uNID as "looking for a babysitter or nanny" and/or "willing to babysit or nanny." Once logged in, users can search the growing registry of babysitters and nannies.
"We're starting to see traffic increase as more students, faculty and staff understand the benefit of this service — especially for parents needing irregular care hours or in-home care," says Virginia DeSpain, project coordinator for the U's Child Care and Family Resources office.