JUMP TO:
SVPPA candidate open forums
University transitioning to Google Custom Search Engine
Join the Wasatch Experience
April Academic Senate recap
HCI Total Cancer Care support study: Looking for cancer-free volunteers
Campus Store UTech one-day event
24th Annual Honors for Nursing
Utah Gymnastics seeks Dumke Center expansion
HIP talks speech contest
2018 Global Learning retreat call for applications
The Great ShakeOut drill
Summer technology camp
---
SENIOR VICE PRESIDENT FOR ACADEMIC AFFAIRS OPEN FORUM DATES AND CANDIDATES ANNOUNCED[bs_row class="row"][bs_col class="col-sm-4″]
[/bs_col][bs_col class="col-sm-8″]Three candidates for Senior Vice President for Academic Affairs are coming to campus this month. Please participate in the selection process by attending the open forum sessions with each candidate.
Following these sessions, you can provide feedback via an electronic survey posted on the SVP-AA search website.
Candidate information, including CVs, will be available on the SVP-AA search site one day prior to their campus visit.
Each finalist will open their forum with a brief presentation, followed by discussion.
Senior Vice President Candidate A:
Monday, April 9 | 1-2 p.m.
Gould Auditorium, first floor Marriott Library
Senior Vice President Candidate B:
Wednesday, April 11 | 8:30-9:30 a.m.
Gould Auditorium, first floor Marriott Library

Senior Vice President Candidate C:
Monday, April 16 | 2 p.m.
Gould Auditorium, first floor Marriott Library
[/bs_col][/bs_row]
---
University transitioning to Google Custom Search Engine[bs_row class="row"][bs_col class="col-sm-4″]
[/bs_col][bs_col class="col-sm-8″]The University of Utah is in the process of transitioning to Google Custom Search Engine (GCSE). Google Search Appliance (GSA), the university's current institutional website search product, is being discontinued by Google. After a months-long search for a suitable alternative, the university selected GCSE, Google's no-cost service, which is ad-free for non-profit institutions. Read this Node 4 article for more information.
Websites using GSA will remain fully functional. Sites with their own GSA search collection (i.e., searches that only look in a specific "collection" of sites) will be migrated to a GCSE collection, and continue to function as before. University Information Technology's University Support Services (USS) team will migrate campus OmniUpdate (OU) websites to use a local GCSE search page, as has been done with it.utah.edu.
Even though search boxes will remain fully functional, campus web developers are encouraged to make changes to existing search code, and take advantage of the ability to host a local search results page. Instructions are available here.
Barb Iannucci, USS associate director of Content Management & Usability, will host a UIT Talks event on Tuesday, April 24, 2018, 1-1:30 p.m., to address any remaining questions.
If you would like further instructions and guidance, please email Iannucci at barb.iannucci@utah.edu.[/bs_col][/bs_row]
---
Join the Wasatch Experience
Apply by May 4 at tinyurl.com/wasatchexp[bs_row class="row"][bs_col class="col-sm-4″]
[/bs_col][bs_col class="col-sm-8″]Join University of Utah faculty in a quest to make sustainability teaching more exciting and relevant through the Wasatch Experience. The program engages educators in a two-day, team-based workshop in August, followed by regular small-group meetings during the school year. Participants design and implement an action plan to integrate the big ideas of sustainability into their courses. Upon program completion, participants are awarded $500 and receive the Sustainability Teaching Scholar designation.
The Wasatch Experience will be Aug. 8-9, 2018. Apply now.[/bs_col][/bs_row]
---
APRIL ACADEMIC SENATE RECAP[bs_row class="row"][bs_col class="col-sm-4″]
[/bs_col][bs_col class="col-sm-8″]On Monday, April 2, the Academic Senate passed the following items:
A new Ph.D. in Human Development and Social Policy
Name change from the Department of Bioengineering to the Department of Biomedical Engineering
A new committee will be established to look into the formation of a Graduate Assembly
A new committee will be established to draft policy to allow career-line faculty to be eligible for the Academic Senate presidency
The next Academic Senate meeting will be Monday, April 30 at 3 p.m. in the Moot Courtroom of the College of Law. Senate meetings are open to the public.
The agenda will be posted here approximately one week before.[/bs_col][/bs_row]
---
HUNTSMAN CANCER INSTITUTE TOTAL CANCER CARE SUPPORT STUDY
Looking for cancer-free volunteers[bs_row class="row"][bs_col class="col-sm-4″]
[/bs_col][bs_col class="col-sm-8″]If you are cancer-free you may qualify to participate in the HCI-Total Cancer Care SUPPORT Study. TCC SUPPORT is a partnership between patients with cancer, cancer-free participants, health care providers and researchers. Our aim is to better understand what causes cancer and to find better ways to prevent, detect and treat cancer more successfully while also supporting families.
Who can participate? Volunteers who are willing to share samples and data for research. These can be family, friends and anyone who wants to help advance our knowledge on cancer.
How do I participate? You are willing to give blood, and possibly other samples from your body such as urine, stool and saliva. You are willing to fill out questionnaires in regards to your physical and emotional health, and lifestyle. We would also like to collect information and samples at six, 12 and 24 months after you join the study. This is optional.
Why should I take part? This study is an opportunity to contribute samples and information that will be used to accelerate cancer research and improve patient care. Participants like you are vital to our success.
We invite you to participate in this important research or learn more.If you have study questions or want to participate please contact: SUPPORT Study Team at 801-213-6166 or email tcc.support@hci.utah.edu.[/bs_col][/bs_row]
---
Campus Store UTech One-Day Event[bs_row class="row"][bs_col class="col-sm-4″]
[/bs_col][bs_col class="col-sm-8″]On Wednesday, April 25, the Main University Campus Store and the University Campus Store Health in HSEB, all Apple products, excluding accessories and the Apple Watch, will be available tax-free. Faculty and staff will save an additional 8 percent off of already reduced academic prices on all MacBook Pros, MacBooks, iPad Pros, iPads, and iMacs. This semi-annual sale is exclusively for University of Utah faculty and staff, are all invited to save hundreds on a new Apple device.
All discounted items are limited to the stock on hand on April 25. Faculty and staff are encouraged to pre-order their desired Apple products at campusstore.utah.edu/UTechoneday before Friday, April 20, at 11:59 p.m. These pre-ordered items will be in-store, ready for pick-up on the day of the event, or ready for pick-up at the Campus Store Health starting on April 25.
Full-time faculty and staff are also eligible for zero-interest payroll deduction on their new Apple products. Those who use payroll deduction pay only $20 on April 25 and the rest is taken automatically out of their paycheck for up to 12 pay periods.
For more information about the University Campus Store's UTech One Day Event, please visit the store or call its Apple certified sales experts at 801-581-4776.[/bs_col][/bs_row]
---
24th Annual HONORS FOR NURSING ANNOUNCED
Friday, May 11, 2018
Little America Hotel[bs_row class="row"][bs_col class="col-sm-4″]
[/bs_col][bs_col class="col-sm-8″]Know an exceptional nurse? Would you like a meaningful way to honor them?
Come celebrate with us.
Added bonus: When you support Honors for Nursing, you provide much needed student scholarship funding.
Visit honorsfornursing.org by April 20, 2018
Hosted by the University of Utah College of Nursing Alumni Board of Directors.
Honor a nurse with a dinner, gift and certificate: $45
Attend Honors for Nursing with your honoree: $45
Bring an additional guest with you to Honors for Nursing: $50
Sponsor a table for 10 guests at Honors for Nursing: $450
Honoring today's nurses. Preparing tomorrow's nurses.
Please come prepared to support future nurses through scholarships.[/bs_col][/bs_row]
---
Utah Gymnastics Seeks Dumke Center Expansion[bs_row class="row"][bs_col class="col-sm-4″]
[/bs_col][bs_col class="col-sm-8″]With the goal to remain among the nation's elite college athletic programs, the Utah gymnastics program has initiated a fund-raising campaign to expand and upgrade its aging training facility. When it opened in 1999, the Dumke Gymnastics Center was the finest college training facility of its kind in the country. In the nearly two decades that have elapsed, the Ute gymnasts have outgrown their home and are inviting the public to invest in a much-needed expansion.
The plans call for a partial second story addition to house an expanded team locker room, lounge and balcony. Other amenities include locker rooms for the coaches — something the building now lacks — and improvements to the athletic training and rehabilitation area.
"When the Dumke Gymnastics Center opened back in 1999, it was a state-of-the-art facility that helped our program break barriers in women's sports," said Utah co-head coach Megan Marsden. "But the world has caught up and we need help in bringing our facility in line with the other top programs in the country."
Utah's legacy of 10 national championships, an unprecedented 42-year streak of national championship appearances, 20 NCAA Super Six appearances and the largest fan base in college women's sports is at stake, stress Marsden and co-head coach Tom Farden.
"The improvements we need to make aren't extravagant—they are essential," said Farden, who also heads Utah's recruiting efforts. "They are core to our mission of attracting world-class student-athletes to our program and providing them the best experience possible. The Dumke Center expansion will help ensure our legacy of success continues into the future."
Ways to give:
1. Visit online at Dumke Center Expansion Project
2. Call a Crimson Club account representative 801-587-9894
3. Mail a check payable to Utah Gymnastics c/o Dumke Expansion, 1825 E. South Campus Dr., Salt Lake City, UT 84112
Click here to read the full story.[/bs_col][/bs_row]
---
HIP Talks Speech Contest[bs_row class="row"][bs_col class="col-sm-4″]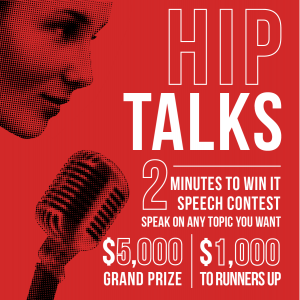 [/bs_col][bs_col class="col-sm-8″]In honor of the public speaking skills of former Utah Congressman Wayne Owens, the Hinckley Institute of Politics and ASUU are proud to host the HIP Talks annual speech contest.
Participants have two minutes to deliver a speech on any topic of their choosing. One grand prize winner will receive $5,000 and five runners up each receive $1,000. This event is open to all University of Utah students who want to contribute original, powerful thinking in the form of public speaking. Qualifying rounds: April 2, 3 and 4. Final round: April 11.
Click here for more information.[/bs_col][/bs_row]
---
2018 GLOBAL LEARNING RETREAT CALL FOR APPLICATIONS
Deadline for applications: April 9, 2018[bs_row class="row"][bs_col class="col-sm-4″]
[/bs_col][bs_col class="col-sm-8″]The Office for Global Engagement (OGE) invites faculty, administrators, and staff for a retreat in beautiful Centennial Valley, Montana, in the relaxing setting of the TNC Environmental Humanities Center to educate, motivate and facilitate the advancement of global learning across the disciplines on our campus.
Retreat dates: Sept. 20-23, 2018. 
For more details and how to apply, click here.
The retreat will build on the Global Learning Across the Disciplines grant initiative that seeks to incentivize curriculum revision to integrate global and intercultural learning. The retreat will provide structured interaction and training with experts in the field as well as informal exchanges and activities in a place designed for rumination and contemplation. Participants will learn about the AAC&U VALUE rubrics to define learning outcomes and assess stated outcomes, to design classroom activities and assignments that focus on global learning, and improve teaching and learning for students to develop the global competence that will be required for them to succeed in today's interconnected world.
We invite faculty, administrators, and staff involved in, or interested in global learning and curriculum internationalization to apply for this exceptional opportunity for professional development. Learn from the experts, meet and find new ways to collaborate with other individuals on campus who are engaged in global learning, and explore the unique setting in Centennial Valley. The retreat will include up to 20 participants who will be selected and invited by OGE after an initial application process.[/bs_col][/bs_row]
---
THE GREAT SHAKEOUT DRILL[bs_row class="row"][bs_col class="col-sm-4″]
[/bs_col][bs_col class="col-sm-8″]The Great Utah ShakeOut is an opportunity for our University campus to learn about overall preparedness plans, what to do during earthquakes, and then practice those skills.
Watch for a campus alert on April 19, 2018, at 10:15 a.m., encouraging everyone to practice drop, cover and hold on. Practice and reinforcement of these protective actions can help prevent injury when the earth starts to shake. Remember, it is not the shaking of the ground that causes death or injury, it is the objects that are falling that will be most dangerous.
If you haven't signed up to receive emergency messages from the University, please update your profile in CIS today. Help us keep our students and campus community prepared and safe by encouraging participation in the Great Utah ShakeOut earthquake drill.[/bs_col][/bs_row]
---
SUMMER TECHNOLOGY CAMP[bs_row class="row"][bs_col class="col-sm-4″]
[/bs_col][bs_col class="col-sm-8″]The School of Computing's GREAT summer technology camps are open for registration. These camps have programs for upper elementary, middle school, and high school ages with topics in computer programming, game development, graphics and robotics. Most camps are one week programs from 9 a.m.-3 p.m. with an optional late afternoon activity.
Learn more about these camps at cs.utah.edu/~dejohnso/GREAT or just search "GREAT camps Utah."[/bs_col][/bs_row]
---