JUMP TO:
Amy Wildermuth named dean of University of Pittsburgh School of Law
Paleontology procures the prize: Linda K. Amos Award winner announced
Binge worthy: UMC film festival
HIP talks speech contest
2018 Global Learning retreat call for applications
The Great ShakeOut drill
Summer technology camp
UKids summer camp 2018
Fall textbook adoption requests due
Beacons of Excellence Award call for nominations
---
Amy Wildermuth named dean of University of Pittsburgh School of Law[bs_row class="row"][bs_col class="col-sm-4″]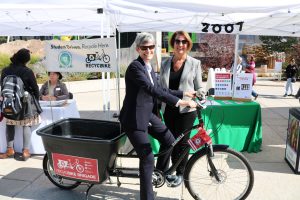 [/bs_col][bs_col class="col-sm-8″]Amy Wildermuth, associate vice president for faculty and chief sustainability officer, has accepted an offer from the University of Pittsburgh to serve as dean of the School of Law, effective July 1, 2018. Wildermuth has served on the University of Utah faculty since 2001. She has remained active as a teacher and scholar, even as she assumed the roles of associate vice president for faculty in 2011 and chief sustainability officer in 2013. As AVP, Wildermuth worked to support chairs and deans, enhanced retention, promotion and tenure and hiring practices, solved many challenges and provided guidance and timely help to leaders across the university. As chief sustainability officer, Wildermuth has been a passionate advocate and partner on many innovative efforts, from community solar and electric vehicle programs to increasing sustainability learning outcomes to implementing strategies that advance our progress toward carbon neutrality.
Dr. Harriet Hopf, professor and vice chair for faculty development in the Department of Anesthesiology and adjunct professor of bioengineering, will serve in the role of associate vice president for faculty on a part-time basis in the interim, beginning on April 2, 2018. More information about leadership for the Sustainability Office will be forthcoming.[/bs_col][/bs_row]
---
PALEONTOLOGY PROCURES THE PRIZE: LINDA K. AMOS AWARD WINNER ANNOUNCED[bs_row class="row"][bs_col class="col-sm-4″]
[/bs_col][bs_col class="col-sm-8″]The 2018 Linda K. Amos award was presented to Carolyn (Carrie) Levitt-Bussian collections manager of paleontology at the Natural History Museum of Utah. The award was presented on March 2, 2018, by Kathryn Bond Stockton, associate vice president for Equity and Diversity and Lauren Clark, professor in the College of Nursing, who represented the Linda K. Amos Award Subcommittee of the Presidential Commission on the Status of Women.
"I'm very, very honored and never expected to receive an award like this for the work I do in paleontology," said Levitt-Bussian. "To me, I'm just doing my job. I don't feel like I'm going above and beyond, I'm just doing the job I love. I like to spend time taking people on behind-the-scenes tours, and teaching during job shadows and internships. It's an amazing honor to receive this for continuing to improve the educational and working environment for women."
Levitt-Bussian, in addition to being the collections manager of paleontology at the NHMU, is a full-time mentor. She offers college students a hands-on internship where participants get real lab and curation experiences handling fossils. In fact, three of her student interns actually decided to change their majors and pursue a science degree after their experiences. She also offers job shadowing to young people and mentors the museum's many volunteers.
Click here to read the full story.[/bs_col][/bs_row]
---
BINGE WORTHY: UMC FILM FESTIVAL[bs_row class="row"][bs_col class="col-sm-4″]
[/bs_col][bs_col class="col-sm-8″]Forget Netflix originals and YouTube cat videos, if you're looking for your next binge-watching marathon the University's Marketing & Communication (UMC) team has you covered. The office recently hosted a campus film festival to show the best of its video production work over the past year – 36 short films you can watch via this link.
The films were produced on behalf of campus entities to help tell the stories of people and programs from across campus. The short features included stories on student housing, Utah Esports, the value of getting a humanities degree, and why you might not want to take personal advice from first-year students.
"We have worked hard over the past few years to recruit some of the best creative talent in Salt Lake City to our team. Local advertising agencies are taking notice, our in-house ability to produce top-notch video content is as good as you'd find at any local agency," according to Jeff Hanson, UMC's executive producer. Hanson points to the 10 awards received by the office in 2017 from the University & College Designers Association (the most UCDA awards than any other university or college in the nation for the year).
While the office has plenty of work on its hands, Hansen says the team is always ready to meet with campus clients to discuss and brainstorm new projects. You can reach Hansen at 801-581-7509 or via email at jeff.hanson@utah.edu.
Click here to read the full story.[/bs_col][/bs_row]
---
HIP Talks Speech Contest[bs_row class="row"][bs_col class="col-sm-4″]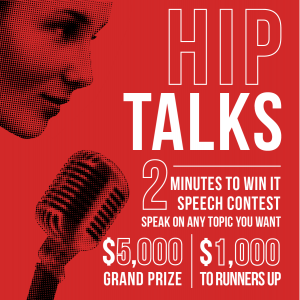 [/bs_col][bs_col class="col-sm-8″]In honor of the public speaking skills of former Utah Congressman Wayne Owens, the Hinckley Institute of Politics and ASUU are proud to host the HIP Talks annual speech contest.
Participants have two minutes to deliver a speech on any topic of their choosing. One grand prize winner will receive $5,000 and five runners up each receive $1,000. This event is open to all University of Utah students who want to contribute original, powerful thinking in the form of public speaking. Qualifying rounds: April 2, 3 and 4. Final round: April 11.
Click here for more information.[/bs_col][/bs_row]
---
2018 GLOBAL LEARNING RETREAT CALL FOR APPLICATIONS
Deadline for applications: April 9, 2018[bs_row class="row"][bs_col class="col-sm-4″]
[/bs_col][bs_col class="col-sm-8″]The Office for Global Engagement (OGE) invites faculty, administrators, and staff for a retreat in beautiful Centennial Valley, Montana, in the relaxing setting of the TNC Environmental Humanities Center to educate, motivate, and facilitate the advancement of global learning across the disciplines on our campus.
Retreat dates: Sept. 20-23, 2018. 
For more details and how to apply, click here.
The retreat will build on the Global Learning Across the Disciplines (GLAD) grant initiative that seeks to incentivize curriculum revision to integrate global and intercultural learning. The retreat will provide structured interaction and training with experts in the field as well as informal exchanges and activities in a place designed for rumination and contemplation. Participants will learn about the AAC&U VALUE rubrics to define learning outcomes and assess stated outcomes, to design classroom activities and assignments that focus on global learning, and improve teaching and learning for students to develop the global competence that will be required for them to succeed in today's interconnected world.
We invite faculty, administrators, and staff involved in, or interested in global learning and curriculum internationalization to apply for this exceptional opportunity for professional development. Learn from the experts, meet and find new ways to collaborate with other individuals on campus who are engaged in global learning, and explore the unique setting in Centennial Valley. The retreat will include up to 20 participants who will be selected and invited by OGE after an initial application process.[/bs_col][/bs_row]
---
THE GREAT SHAKEOUT DRILL[bs_row class="row"][bs_col class="col-sm-4″]
[/bs_col][bs_col class="col-sm-8″]The Great Utah ShakeOut is an opportunity for our University campus to learn about overall preparedness plans, what to do during earthquakes, and then practice those skills.
Watch for a campus alert on April 19, 2018, at 10:15 a.m., encouraging everyone to practice drop, cover and hold on. Practice and reinforcement of these protective actions can help prevent injury when the earth starts to shake. Remember, it is not the shaking of the ground that causes death or injury, it is the objects that are falling that will be most dangerous.
If you haven't signed up to receive emergency messages from the University, please update your profile in CIS today. Help us keep our students and campus community prepared and safe by encouraging participation in the Great Utah ShakeOut earthquake drill.[/bs_col][/bs_row]
---
SUMMER TECHNOLOGY CAMP[bs_row class="row"][bs_col class="col-sm-4″]
[/bs_col][bs_col class="col-sm-8″]The School of Computing's GREAT summer technology camps are open for registration. These camps have programs for upper elementary, middle school, and high school ages with topics in computer programming, game development, graphics and robotics. Most camps are one week programs from 9a-3p with an optional late afternoon activity.
Learn more about these camps at cs.utah.edu/~dejohnso/GREAT or just search "GREAT camps Utah."[/bs_col][/bs_row]
---
UKIDS SUMMER CAMP 2018[bs_row class="row"][bs_col class="col-sm-4″]
[/bs_col][bs_col class="col-sm-8″]Calling all kiddos ages 5-8. Join us this summer at UKids – Presidents Circle for Summer Camp 2018.
First session will begin May 14 and end June 20, second session will begin June 21 and end Aug. 1. There will be a $100 discount for registering for both sessions.
The camps will feature two weekly field trips, including such places as Hogle Zoo and Discovery Gateway, developmentally appropriate curriculum and lots of opportunities for adventure. Registration will open early April so mark your calendars.
If you have any questions, please call 801-585-7393 or email presidentscircle@sa.utah.edu. Hope to see you there.[/bs_col][/bs_row]
---
 Fall Textbook Adoption Requests Due[bs_row class="row"][bs_col class="col-sm-4″]
[/bs_col][bs_col class="col-sm-8″]If you haven't submitted your textbook adoptions to the University Campus Store for 2018 fall semester, it's not too late. Submitting adoptions is easy—simply complete the University Campus Store's online textbook adoption form for a Quick Adoption. If you need assistance, please contact Dave Nelson at 801-581-8321 or dnelson@campusstore.utah.edu.
Prompt submission of textbook adoptions by faculty each semester enables the Campus Store to stock books in a timely manner and increases the chances of offering used textbooks, eBooks and rental textbooks, all of which help students save up to 50 percent off of new book prices. The Campus Store relies heavily on your timely response, so please don't delay.
Final textbook adoptions for summer and fall 2018 semesters are due on  April 6.
Thank you for your ongoing support of the Campus Store's textbook adoption program and best wishes for another great academic year.[/bs_col][/bs_row]
---
BEACONS OF EXCELLENCE AWARD CALL FOR NOMINATIONS[bs_row class="row"][bs_col class="col-sm-4″]
[/bs_col][bs_col class="col-sm-8″]Consider nominating a person, program or project to recognize contributions to an exceptional undergraduate educational experience at the University of Utah.
Nominations are due by 5 p.m. on April 6, 2018. Nominate someone here. 
The University of Utah fosters a transformational experience for all students. We value and recognize a respect for knowledge that empowers students to become actively engaged on campus. We accomplish this through recognizing people, programs and projects committed to excellence.[/bs_col][/bs_row]