JUMP TO:
Articulation agreement
HCI lights "Beacon of Hope" in honor of Jon M. Huntsman Sr.
Learning Abroad now a passport acceptance facility
Alum wins award for public science engagement
Red Butte Garden Summer Camp 2018
Academic Senate Committee Interest Survey
February Academic Senate recap
Clear the Air Challenge
Excellence in Global Engagement Awards
Research Reproducibility 2018 Conference call posters
---
ARTICULATION AGREEMENT[bs_row class="row"][bs_col class="col-sm-4″]
[/bs_col][bs_col class="col-sm-8″]A new articulation agreement will allow students who complete certain associate degrees at Salt Lake Community College to apply those credits to the family, community and human development major and financial planning certificate program offered by the Department of Family and Consumer Studies.
The agreement creates a pathway for students to pursue the degree or certificate program upon transfer to the U.
Financial planners help clients meet financial goals, prepare for retirement and make comprehensive financial plans. The program can boost options for graduates interested in careers in banking, trust companies, brokerage firms, insurance businesses and as private financial planners and counselors. Financial counselors may help clients with such money matters as developing a personal budget, building good credit, getting out of debt, repaying loans and preparing for home ownership.
According to the Bureau of Labor Statistics, the 10-year job outlook for personal financial advisors is much stronger than the average for all professions — a finding that reflects the wave of retirements anticipated as Baby Boomers leave the job market.[/bs_col][/bs_row]
---
HCI LIGHTS "BEACON OF HOPE" IN HONOR OF JON M. HUNTSMAN SR.[bs_row class="row"][bs_col class="col-sm-4″]
[/bs_col][bs_col class="col-sm-8″]A new lighting installation at Huntsman Cancer Institute at the University of Utah honors Jon M. Huntsman Sr.'s enduring impact on cancer research and care. The installation, called "The Beacon of Hope" is located within an architectural feature on the west façade of the original HCI research building, and is viewable from the exterior of the building.
The Beacon of Hope was a concept originally proposed by Huntsman. He envisioned a shaft of light emanating from the cancer center each night, creating a beacon that symbolized HCI's commitment to continue its work to advance cancer research until Huntsman's ultimate goal is achieved and cancer is cured.
"Jon M. Huntsman started a movement that completely transformed the landscape for cancer research and care in Utah and beyond," says Mary Beckerle, CEO and director of HCI. "This new installation will remind us of how Jon inspired millions to band together against this disease. Here at HCI, we are recommitting ourselves to continue what he started. We will not rest until cancer is defeated."
The Beacon of Hope installation was overseen by Jacobsen Construction Company under the direction of John Wright, project manager; designed by Architectural Nexus; installed by Next Generation Lighting; and manufactured by Taylor Electric. Upon learning of Huntsman's death last week, these groups worked with HCI to develop this new lighting feature to honor the impact of HCI's founder.
Huntsman passed away on Feb. 2, 2018, at the age of 80.
The Beacon of Hope was lit from sunset to sunrise beginning Feb. 9. Future improvements planned for the installation will make the new feature visible in clear weather conditions as far as I-15 on the northwest side of Salt Lake City.[/bs_col][/bs_row]
---
Learning Abroad now a passport acceptance facility[bs_row class="row"][bs_col class="col-sm-4″]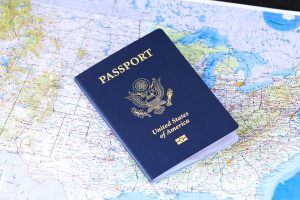 [/bs_col][bs_col class="col-sm-8″]Learning Abroad is now an official Passport Acceptance Facility. As a passport acceptance facility, Learning Abroad processes new passport applications and takes passport photos. If you are on campus and need a passport, schedule an appointment with the office in Union, room 159. Be sure to check all passport application requirements on the U.S. Department of State website, travel.state.gov, before your appointment. Learning Abroad is able to process applications for both adults and minors. These services include passport books, passport cards, passport photos and visa photos.
For more information and to schedule an appointment, please call Learning Abroad at 801-581-5849. For passport emergencies, please contact the National Passport Duty Office at 202-647-4000.[/bs_col][/bs_row]
---
Alum wins award for public science engagement[bs_row class="row"][bs_col class="col-sm-4″]
[/bs_col][bs_col class="col-sm-8″]Johanna Varner, a recent graduate of the University of Utah, was awarded the American Association for the Advancement of Science (AAAS) 2018 Early Career Award for Public Engagement with Science, presented at the AAAS Annual Meeting in Austin, Texas.
While a doctoral candidate in biology at the U, Varner brought her research on the ecology of pikas (small mammals) to Salt Lake County Jail inmates. In 2015 a AAAS Mass Media Science & Engineering Fellowship took her to radio station KQED in San Francisco to report on science news.
Now teaching at Colorado Mesa University in Grand Junction, Colorado, Varner uses her experiences to develop courses that teach science students how to communicate with the public. She is a cofounder of Cascades Pika Watch, which trains citizen scientists to track pika populations in Oregon.[/bs_col][/bs_row]
---
RED BUTTE GARDEN SUMMER CAMP 2018[bs_row class="row"][bs_col class="col-sm-4″]
[/bs_col][bs_col class="col-sm-8″]Registration for week-long half-and full-day camps for kindergarteners to sixth graders opens Monday, Feb. 26 at 9 a.m. for garden members and Wednesday, Feb. 28 at 9 a.m. to the general public.
Red Butte Garden also offer weekly Lil' Buds summer classes for preschool-aged children and a parent.
Click here for pricing and registration information.[/bs_col][/bs_row]
---
ACADEMIC SENATE COMMITTEE INTEREST SURVEY[bs_row class="row"][bs_col class="col-sm-4″]
[/bs_col][bs_col class="col-sm-8″]The Academic Senate is soliciting responses to its annual Committee Interest Survey. Shared governance at the university is dependent upon active faculty participation and there are numerous ways to get involved. Please fill out the survey if you are interested in participating on one of our dozens of senate and university committees.
Any questions may be directed to Maddy Oritt at maddy.oritt@utah.edu.
The survey link can be found here.[/bs_col][/bs_row]
---
FEBRUARY ACADEMIC SENATE RECAP[bs_row class="row"][bs_col class="col-sm-4″]
[/bs_col][bs_col class="col-sm-8″]On Monday, Feb. 5, the Academic Senate passed the following items:
A new graduate certificate in Statistics, with tracks in biostatistics, economics, and educational psychology.
A new minor in Information Systems, for students in the David Eccles School of Business.
A new minor in Games, through the Entertainment Arts and Engineering program.
A new joint B.S./M.S. in Accounting, through the David Eccles School of Business.
The next Academic Senate meeting will be Monday, March 5 at 3 p.m. in the Moot Courtroom of the College of Law. Senate meetings are open to the public. The agenda will be posted here approximately one week before.[/bs_col][/bs_row]
---
CLEAR THE AIR CHALLENGE[bs_row class="row"][bs_col class="col-sm-4″]
[/bs_col][bs_col class="col-sm-8″]Join the University of Utah team for the Clear the Air Challenge, a statewide competition to reduce emissions from vehicles throughout the month of February.
Mobile sources, including our personal cars, contribute significantly to fine particulate matter that dirties our winter air. Ride transit, walk, bike, carpool or even skip the trip. Then, log it into the online tracker. The top five individuals from the University of Utah team win dinner with Ruth Watkins, senior vice president and incoming president, and Amy Wildermuth, chief sustainability officer.
Help the U take first place overall, and remember, with cleaner air, we all win.
Find more information at cleartheairchallenge.org.[/bs_col][/bs_row]
---
EXCELLENCE IN GLOBAL ENGAGEMENT AWARDS[bs_row class="row"][bs_col class="col-sm-4″]
[/bs_col][bs_col class="col-sm-8″]The Office for Global Engagement has established this award to recognize faculty and staff contributions to the university's global dimension and those who have demonstrated excellence in facilitating student global learning and intercultural understanding. This may include international partnership development that engages students, curriculum revision to include global learning outcomes, advancement of the learning of languages and other initiatives that provide significant opportunities for global learning either on campus or abroad. It may also include providing exceptional support or mentoring to international students and students participating in learning abroad programs.
One faculty member and one staff member will be awarded (two awards). This is an annual award for which the Office for Global Engagement seeks nominations each spring semester.
The award selection and ceremony is held in early April each year.
Click here for submission information. Deadline: March 2, 2018[/bs_col][/bs_row]
---
RESEARCH REPRODUCIBIITY 2018 CONFERENCE: CALL FOR POSTERS[bs_row class="row"][bs_col class="col-sm-4″]
[/bs_col][bs_col class="col-sm-8″]The Research Reproducibility Conference will bring together researchers, students and administrators for a frank discussion on how to build research integrity through reproducibility.
Presenting a poster is a great opportunity, especially for students and new researchers, to obtain interesting and valuable feedback on ongoing research for conference attendees.
The conference will be held June 15, 2018. Click here for more information.
Contact: UtahRR@lists.utah.edu.[/bs_col][/bs_row]
---