JUMP TO:
Academic Senate meeting and agenda announced
Support Dreamer Fund 3k walk/run
Pioneer Theatre Company holiday book drive
Nominate students to be featured in "Student Innovation @ the U" 2018
Sarah George celebrates 25 years with the Natural History Museum of Utah
Protect yourself from Hepatitis A
National Center for Faculty Development & Diversity
Junior League of Salt Lake hosts a Women Helping Women clothing project
U holiday cards
Customized holiday gifts by University Print & Mail
Send packages home, please
U Staff Scholarship applications open
---
ACADEMIC SENATE MEETING AND AGENDA ANNOUNCED[bs_row class="row"][bs_col class="col-sm-4″]
[/bs_col][bs_col class="col-sm-8″]The next meeting of the Academic Senate is Monday, Dec. 4 from 3-5 p.m. The following items will be discussed, among others:
New BA/BS in Criminology & Criminal Justice
Update on the south campus housing project
New test proctoring procedure
Transfer of Disability Studies to the School for Cultural and Social Transformation
The meeting will be in the Moot Courtroom on the 6th floor of the College of Law.
Meetings are open to the public.[/bs_col][/bs_row]
---
SUPPORT DREAMER FUND 3K WALK/RUN[bs_row class="row"][bs_col class="col-sm-4″]
[/bs_col][bs_col class="col-sm-8″]The University of Utah Division of Student Affairs is showing support for Dreamers and DACA students by organizing a 3K walk/run on campus. The funds raised will go to the Dreamer Support Fund, which provides scholarships and specialized mentoring and support, from college access to graduation and beyond. Dreamer(s) is an inclusive term for undocumented students with and without Deferred Action for Childhood Arrivals (DACA). DACA was introduced in 2012 to protect immigrants who came to the United States as children and allows them to enroll in college, work legally, and obtain a driver's license. Before the current administration ended the executive order in support of DACA, nearly 800,000 young people had benefited from the program.
The 3K, will be held Saturday, Dec. 2, at 10 a.m. and is open to anyone. The route circles the campus, beginning and ending at the Student Services Building. Registration begins at 9:15 a.m. Runners start at 10 a.m., and walkers start 10 minutes later. Registration donations are $30 for community members and $15 for students. For a $5 donation, dogs can join. Click here to register.
Read the full story here.[/bs_col][/bs_row]
---
Pioneer Theatre Company Partners with Granite Education Foundation for Holiday Book Drive
[bs_row class="row"][bs_col class="col-sm-4″]
[/bs_col][bs_col class="col-sm-8″]In a tradition that has spanned seven-years, Pioneer Theatre Company (PTC) enlists the help of its holiday patrons to support the services of Granite Education Foundation (GEF) and the "Santa Sacks" project.
PTC and GEF request that patrons attending the December 1-20, 2017 production of Newsies bring a new, unwrapped book for the Santa Sacks.
Books need to be new; used books are not needed at this time.
Books can be for any age K-12, although K-6 are preferred.
GEF has served students and teachers in Granite School District by facilitating education programs and providing basic needs such as food, clothing, school supplies and more. They provide Christmas to children who would normally not receive gifts. Last year, they distributed 3,200 "Santa Sacks" and expect an increase in requests this year.
PTC, a professional regional theatre, is producing Newsies for the holidays. "It is a show that speaks to the resourcefulness of young people (the "newsies") in times of poverty and want," said director Karen Azenberg. "These circumstances still exist today, but one way out is by fostering a love for reading and learning. We hope the book drive helps instill that love in children who might not otherwise be given the opportunity to fall in love with books."
Purchase tickets for Newsies
here
.[/bs_col][/bs_row]
---
Nominate students to be featured in "Student Innovation @ the U" 2018[bs_row class="row"][bs_col class="col-sm-4″]
[/bs_col][bs_col class="col-sm-8″]Please nominate one or more students at the U to be featured in the next edition of "Student Innovation @ the U."
Submit nominations here. Nominations are due Wednesday, Dec. 5, 2017.
Lassonde produces this annual publication to celebrate students from all departments who are innovating and making an impact. We feature student inventors, artists, researchers, athletes and entrepreneurs. Click here to see the current edition. Recent graduates are eligible to be featured if they were enrolled and working on the related project in spring 2017.[/bs_col][/bs_row]
---
Sarah George Celebrates 25 Years with the Natural History Museum of Utah[bs_row class="row"][bs_col class="col-sm-4″]
[/bs_col][bs_col class="col-sm-8″]Natural History Museum of Utah staff and board members surprised Sarah George Nov 17th with a celebratory cake to mark her 25 years as the executive director of the museum.  Over the past quarter century, Sarah has lead a talented team to transform the Museum to be a state treasure, a travel destination, and to help strengthen Utah's museum community. Staff and board members described Sarah as a visionary and thoughtful leader and are grateful for her service and honored to work with her.[/bs_col][/bs_row]
---
PROTECT YOURSELF FROM HEPATITIS A[bs_row class="row"][bs_col class="col-sm-4″]
[/bs_col][bs_col class="col-sm-8″]Utah is among several states experiencing a surge in Hepatitis A cases. Those at highest risk are the homeless, individuals who use injection and non-injection drugs, those who are incarcerated and their close contacts. Those who have close contact with these high risk groups can protect themselves by practicing good hand hygiene and considering Hepatitis A vaccination.
Be sure to wash your hands after using the restroom and before preparing food or eating:
Wet your hands and apply soap.
Scrub your hands thoroughly for at least 20 seconds. Be sure to lather the backs of your hands, between your fingers and under your nails.
Rinse your hands well.
Dry your hands using a clean towel, or air dry them.
If you may be at risk and would like to receive Hepatitis A vaccination you can:
Call 385-468-SHOT (7468) to make an appointment at a Salt Lake County Health Department immunization clinic
Contact your health care provider
Visit your local pharmacy
For more information, visit CDC.gov/hepatitis.[/bs_col][/bs_row]
---
NATIONAL CENTER FOR FACULTY DEVELOPMENT & DIVERSITY [bs_row class="row"][bs_col class="col-sm-4″]
[/bs_col][bs_col class="col-sm-8″]All graduate students, postdocs and faculty: Did you know that you have access to a wonderful online mentoring program to support you in your scholarship at no cost?
The Office for Equity and Diversity and the Office for Health Equity and Inclusion have sponsored the University of Utah's Institutional Membership for the National Center for Faculty Development & Diversity (NCFDD). The NCFDD is a nationally-recognized, independent organization that provides online career development and mentoring. Our faculty, graduate students, and postdoctoral scholars now have access to a large variety of services and resources including webinars, multi-week courses, guest lectures, accountability writing buddy matches, discussion forums, dissertation boot camp, and much more. The normal cost for individual NCFDD memberships would be $240 a year for doctoral and postdoctoral scholars and $480 a year for faculty.
To register for your free NCFDD membership, please complete the following
steps:
Visit facultydiversity.org
Click "Activate My Membership"
Enter your account information using your University of Utah email address.
If you have any questions about the membership, please contact Nadia Granados in the College of Education at nadia.granados@utah.edu.[/bs_col][/bs_row]
---
JUNIOR LEAGUE OF SALT LAKE HOSTS A WOMEN HELPING WOMEN CLOTHING PROJECT[bs_row class="row"][bs_col class="col-sm-4″]
[/bs_col][bs_col class="col-sm-8″]The Junior League of Salt Lake hosts a Women Helping Women clothing project to assist women entering the workforce with appropriate clothing. WHW currently needs women's coats and winter boots. Also needed are large, extra-large and plus sized clothing, purses and new bras, underwear and nylons. All work appropriate items in good, clean condition are also gladly accepted. For more information, visit jlslc.org.
Bring donations to:
Rebecca Dowdell
University Student Apartments, Main Office
1945 E Sunnyside Avenue
Donations accepted M-F from 8 a.m.-4 p.m.[/bs_col][/bs_row]
---
U HOLIDAY CARDS[bs_row class="row"][bs_col class="col-sm-4″]
[/bs_col][bs_col class="col-sm-8″]Get a head start on the holiday season by ordering your greeting cards from University Print & Mail Services. Conveniently place your order online and choose from more than 30 designs, enhanced by your own personalized message. Orders are typically completed in five business days and can be picked up or delivered to your office for free. Making this annual task even easier, Print & Mail can address your envelopes, apply postage and place your cards in the mail for you.
In addition to holiday card designs, University Print & Mail offers several other styles for fall, along with other special occasion cards such as birthday cards, thank you cards, custom-design cards and personalized stationery.
Both personal and office orders are welcome. To view designs online and place your order, visit printing.utah.edu.[/bs_col][/bs_row]
---
Customized Holiday Gifts by University Print & Mail[bs_row class="row"][bs_col class="col-sm-4″]
[/bs_col][bs_col class="col-sm-8″]In need of holiday gifts or giveaways for those special people on your list this year? Let University Print & Mail help you design and customize one-of-a-kind gifts for your department or personal use.
From water bottles to umbrellas, blankets to tote bags, if you can think of it, Print & Mail can create it and make it personal by adding text, logos or specific designs. Most items take approximately five weeks for production and delivery, so order now to ensure your items arrive in time for the holidays. For more information or a custom quote, please contact Roger King at 801-581-3947 or roger.king@utah.edu.
University Print & Mail is an official licensee of the University of Utah and is therefore legally permitted to use and reproduce university-owned trademarks and logos. By supporting official licensees like Print & Mail, you are assured to receive quality products while also supporting student scholarships, athletic programs and other university initiatives.[/bs_col][/bs_row]
---
Send Packages Home, Please[bs_row class="row"][bs_col class="col-sm-4″]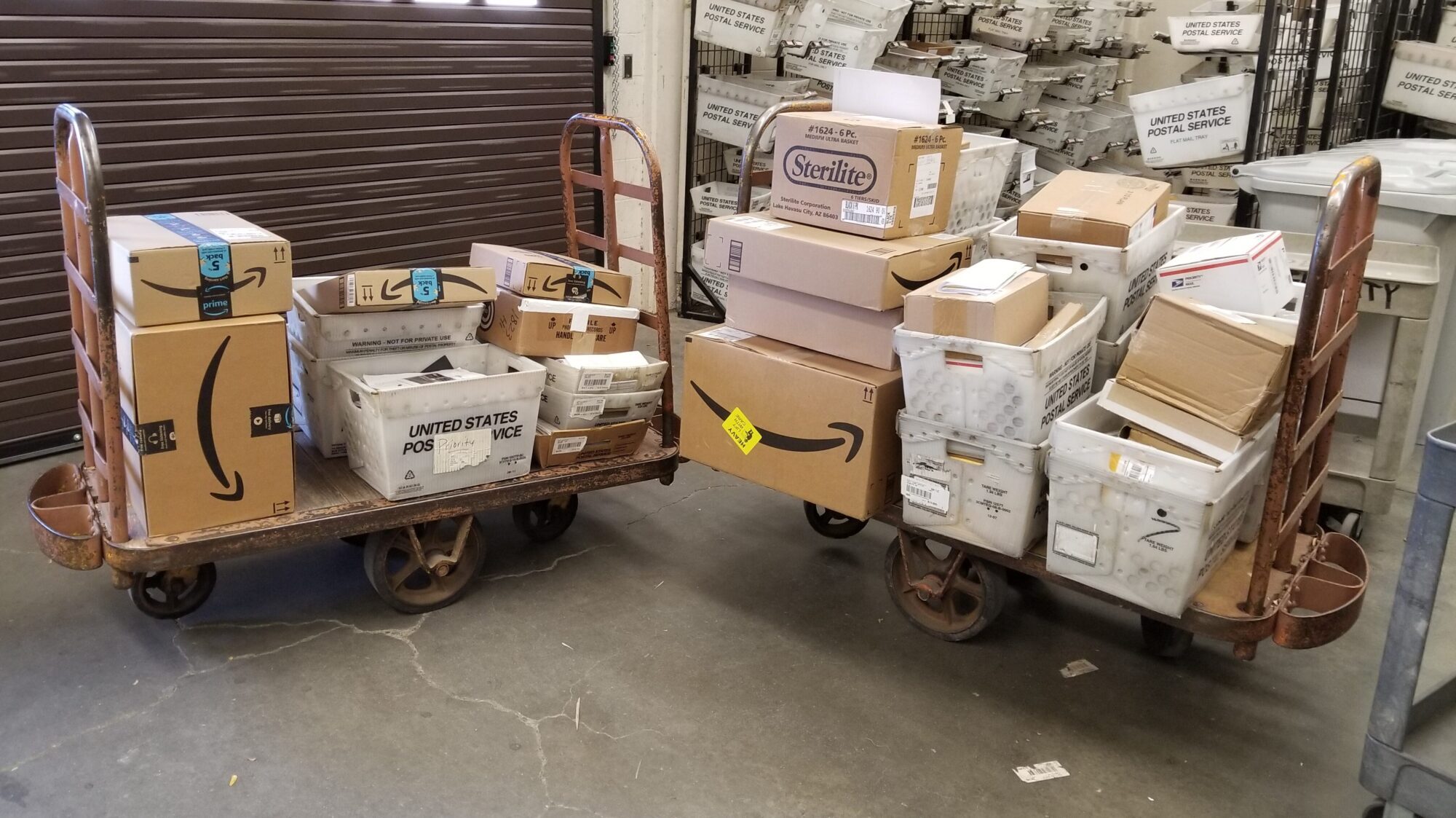 [/bs_col][bs_col class="col-sm-8″]As the holiday season approaches and usage of mail services increases, University Print & Mail Services would like to remind the campus that personal correspondence, packages (e.g. Amazon shipments, etc.) and other deliveries should not be sent to campus addresses but rather, to home addresses.
Because of recent changes with UPS and FedEx rerouting packages through The United States Postal Service (USPS), the volume of packages distributed through Campus Mail has increased significantly, making prompt deliveries more difficult. Pursuant to University policy 3-166, use of the campus mail system is available only to recognized university organizations for official university purposes and is not intended for personal use. Accordingly, faculty and staff should refrain from using the Campus Mail system for receiving or sending personal mail and understand that if they do so, the university is not liable for the contents of those parcels.
Questions or concerns may be directed to Juan Sosa at 801-580-7792 or Juan.Sosa@utah.edu. Thank you for your cooperation, University Print & Mail enjoys serving the campus community and appreciates your ongoing support.[/bs_col][/bs_row]
---
U STAFF SCHOLARSHIPS[bs_row class="row"][bs_col class="col-sm-4″]
[/bs_col][bs_col class="col-sm-8″]Applications are now being accepted for staff development scholarships for the Spring 2018 Semester.
Each scholarship is worth up to $500 and can be used towards the employee's tuition bill. Scholarships can be used towards professional trainings, symposiums, conferences or workshops and their associated expenses.
The committee will process the scholarship applications in the most fair and judicious manner to benefit the employee, according to the procedures directed by the University of Utah policy. UUSC is an equal opportunity provider.
Qualified applicants must meet the following criteria:
1: Currently working at 75 percent or above Full Time Equivalency (FTE) position (30-40 hours per week).
2: Maintained 75 percent or greater Full Time Equivalency (FTE) in a benefits eligible position for two (2) consecutive years as of Dec. 1, 2017.
3: Have not received a Staff Council Scholarship within the past two years.
Current Staff Council Members are not eligible.
Click here to apply. Applications are due by 11:50 p.m.(MST) on Dec. 1, 2017.
Incomplete applications will not be considered.[/bs_col][/bs_row]
---