JUMP TO:
$47.5 million gift from Craig H. Neilsen Foundation for new rehabilitation hospital
Marriott Library honors the U Ski Team and Ron Steele during annual Ski Affair
U holiday cards
Customized holiday gifts by University Print & Mail
Send packages home, please
U Staff Scholarship applications open
---
$47.5 million gift from Craig H. Neilsen Foundation for new rehabilitation hospital[bs_row class="row"][bs_col class="col-sm-4″]
[/bs_col][bs_col class="col-sm-8″]The University of Utah announced that the Craig H. Neilsen Foundation will donate $47.5 million for a new, state-of-the-art rehabilitation hospital as part of the redevelopment and modernization of the university's health sciences campus. The 75-bed hospital, to be named the Craig H. Neilsen Rehabilitation Hospital, will be one of the most advanced rehabilitation facilities in the nation and will serve as a catalyst for the further development of the university's rehabilitation programs.
"This remarkable donation will allow the university to dramatically expand and advance our rehabilitation capabilities," said David Pershing, president of the University of Utah. "We are proud to partner with the Neilsen Foundation to create an innovative design for an accessible, patient-centered rehabilitation hospital, inspired by the visionary spirit of Craig Neilsen's exemplary life."
"For nearly 50 years, University of Utah Health's Rehabilitation Center has been a recognized leader in rehabilitation medicine and education," said A. Lorris Betz, interim senior vice president for University of Utah Health Sciences and CEO of University of Utah Health. "Thanks to the Neilsen Foundation's gift, we now commence the construction of a free-standing hospital, integrated with the redevelopment of the health sciences campus. This will ensure that we continue to provide leading-edge rehabilitative care for generations to come."
Read the full story on @theU here.[/bs_col][/bs_row]
---
Marriott Library honors the U Ski Team and Ron Steele during annual Ski Affair[bs_row class="row"][bs_col class="col-sm-4″]
[/bs_col][bs_col class="col-sm-8″]The University of Utah's J. Willard Marriott Library will honor the U Ski Team and Ron Steele during their annual Ski Affair at the Little America Hotel on Nov. 7 at 6 p.m. The fundraising event supports the library's ski archives, which houses the largest collection of ski and snow sport history in the country.
The ski team will receive the library's History-Maker Award for their historic achievements and their 11th NCAA championship. When the ski team won the national championship in March it marked the first such title by any sport since the U joined the Pac-12 conference in 2011. Their 11th NCAA title is the most by any U team.
"We selected the U ski team for this award because of its impressive history as one of the nation's top college teams," said Barbara Yamada, chair of the Ski Affair Board. "We are so proud of the students and the coaches that make the team the shining gem that it is."
Also honored at the event will be former U ski team and ski industry executive Ron Steele who will receive the library's S. J. Quinney Award for his contributions to snow sports. Steele was a three-time All-American while skiing for the U from 1974 to 1978 and a U.S. Olympic team member in 1972. He is a 40-year employee of Group Rossignol North America, serving as president since 2012.
Read the full article here.[/bs_col][/bs_row]
---
U HOLIDAY CARDS[bs_row class="row"][bs_col class="col-sm-4″]
[/bs_col][bs_col class="col-sm-8″]Get a head start on the holiday season by ordering your greeting cards from University Print & Mail Services. Conveniently place your order online and choose from more than 30 designs, enhanced by your own personalized message. Orders are typically completed in five business days and can be picked up or delivered to your office for free. Making this annual task even easier, Print & Mail can address your envelopes, apply postage and place your cards in the mail for you.
In addition to holiday card designs, University Print & Mail offers several other styles for fall, along with other special occasion cards such as birthday cards, thank you cards, custom-design cards and personalized stationery.
Both personal and office orders are welcome. To view designs online and place your order, visit printing.utah.edu.[/bs_col][/bs_row]
---
Customized Holiday Gifts by University Print & Mail[bs_row class="row"][bs_col class="col-sm-4″]
[/bs_col][bs_col class="col-sm-8″]In need of holiday gifts or giveaways for those special people on your list this year? Let University Print & Mail help you design and customize one-of-a-kind gifts for your department or personal use.
From water bottles to umbrellas, blankets to tote bags, if you can think of it, Print & Mail can create it and make it personal by adding text, logos or specific designs. Most items take approximately five weeks for production and delivery, so order now to ensure your items arrive in time for the holidays. For more information or a custom quote, please contact Roger King at 801-581-3947 or roger.king@utah.edu.
University Print & Mail is an official licensee of the University of Utah and is therefore legally permitted to use and reproduce university-owned trademarks and logos. By supporting official licensees like Print & Mail, you are assured to receive quality products while also supporting student scholarships, athletic programs and other university initiatives.[/bs_col][/bs_row]
---
Send Packages Home, Please[bs_row class="row"][bs_col class="col-sm-4″]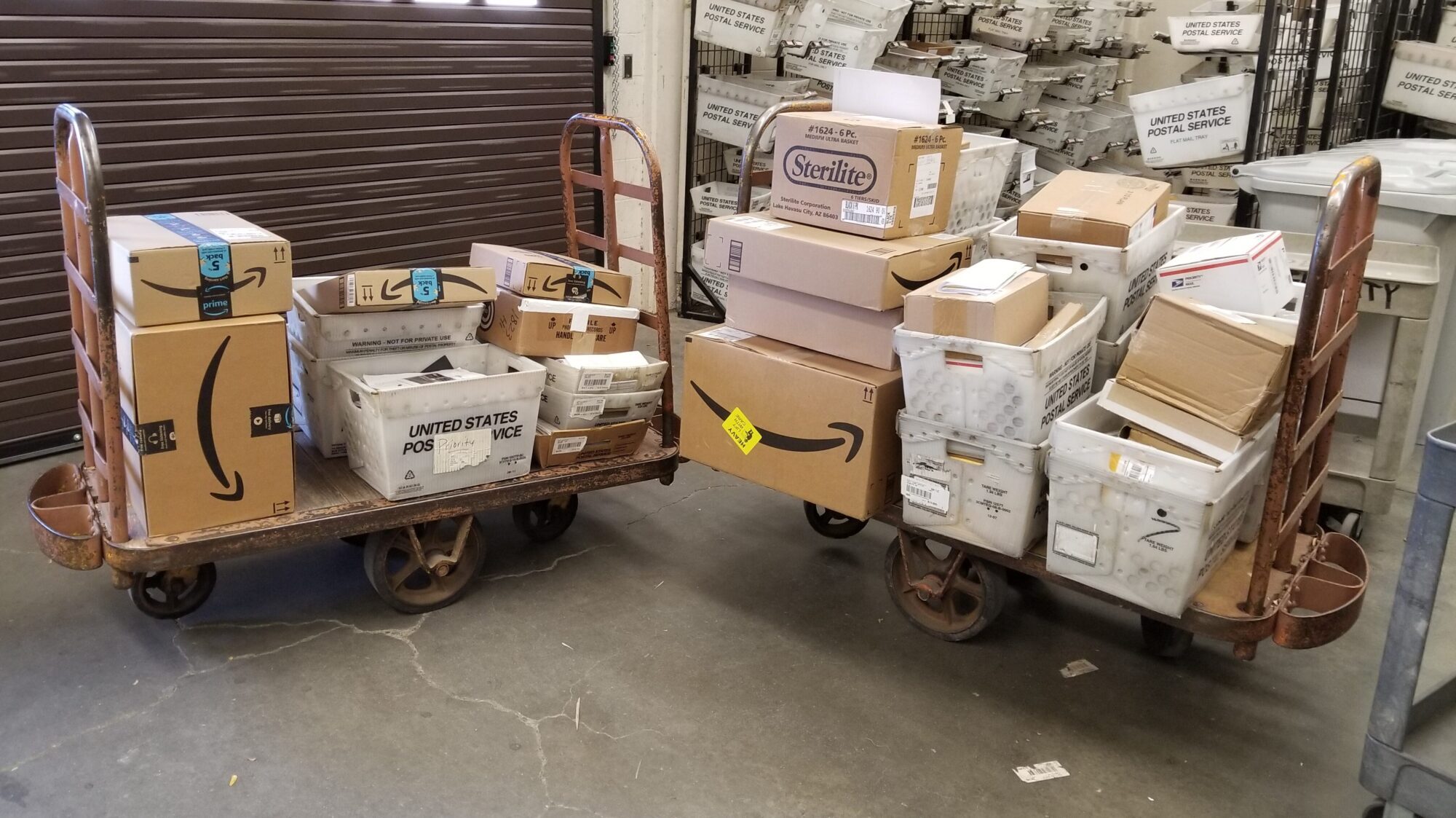 [/bs_col][bs_col class="col-sm-8″]As the holiday season approaches and usage of mail services increases, University Print & Mail Services would like to remind the campus that personal correspondence, packages (e.g. Amazon shipments, etc.) and other deliveries should not be sent to campus addresses but rather, to home addresses.
Because of recent changes with UPS and FedEx rerouting packages through The United States Postal Service (USPS), the volume of packages distributed through Campus Mail has increased significantly, making prompt deliveries more difficult. Pursuant to University policy 3-166, use of the campus mail system is available only to recognized university organizations for official university purposes and is not intended for personal use. Accordingly, faculty and staff should refrain from using the Campus Mail system for receiving or sending personal mail and understand that if they do so, the university is not liable for the contents of those parcels.
Questions or concerns may be directed to Juan Sosa at 801-580-7792 or Juan.Sosa@utah.edu. Thank you for your cooperation, University Print & Mail enjoys serving the campus community and appreciates your ongoing support.[/bs_col][/bs_row]
---
U STAFF SCHOLARSHIPS[bs_row class="row"][bs_col class="col-sm-4″]
[/bs_col][bs_col class="col-sm-8″]Applications are now being accepted for staff development scholarships for the Spring 2018 Semester.
Each scholarship is worth up to $500 and can be used towards the employee's tuition bill. Scholarships can be used towards professional trainings, symposiums, conferences or workshops and their associated expenses.
The committee will process the scholarship applications in the most fair and judicious manner to benefit the employee, according to the procedures directed by the University of Utah policy. UUSC is an equal opportunity provider.
Qualified applicants must meet the following criteria:
1: Currently working at 75 percent or above Full Time Equivalency (FTE) position (30-40 hours per week).
2: Maintained 75 percent or greater Full Time Equivalency (FTE) in a benefits eligible position for two (2) consecutive years as of Dec. 1, 2017.
3: Have not received a Staff Council Scholarship within the past two years.
Current Staff Council Members are not eligible.
Click here to apply. Applications are due by 11:50 p.m.(MST) on Dec. 1, 2017.
Incomplete applications will not be considered.[/bs_col][/bs_row]
---