JUMP TO:
Presidential Search Committee has selected a search firm
Dreamer Support Fund
U Health needs you for AHA Heart and Stroke Month
Tickets available for "A Conversation: Michael Chabon and Zadie Smith"
One Button Studio enables video creation at the touch of a button
Utah gymnastics coaches receive 5-year contract extension
Ready to flip your classroom?
Climbing clinics, events and competitions
University Teaching Committee: Call for applications and nominations
New English Language proficiency test
---
DREAMER SUPPORT FUND: [bs_row class="row"][bs_col class="col-sm-4″]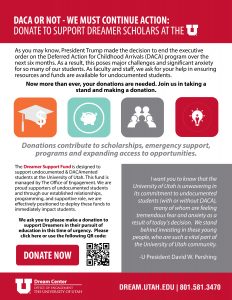 [/bs_col][bs_col class="col-sm-8″]Dear Faculty and Staff:
For years, DACA students have deeply enriched our campus community. In their pursuit of education, we all continue to be inspired. Therefore, we would like strongly to echo President Pershing's statement saying that a diverse community is a core value of the University of Utah. Our message to DACA students is plain and simple: We stand with you and you are welcome here.
Several programs, which we seek to expand, have been created to provide financial assistance to undocumented students. Now more than ever, your support is needed. We ask you to please consider donating to support Dreamers in their pursuit of education in this time of urgency. The Dreamer Support Fund is designed to support undocumented and DACA students at the U. Donations contribute to scholarships, emergency support, programs and expanded access to opportunities (please see document below for additional information).
If you know of anyone who would like to donate to the Dreamer Support Fund, please direct them here.
Additionally, if you have questions or know of students who need support, please do not hesitate to contact the Dream Center at dream@utah.edu or 801-581-3470.
Thank you,
Barb Snyder
Vice President for Student Affairs
Kathryn Bond Stockton
Associate Vice President for Equity and Diversity
Sandi Pershing
Assistant Vice President, Engagement[/bs_col][/bs_row]
---
PRESIDENTIAL SEARCH COMMITTEE HAS SELECTED A SEARCH FIRM[bs_row class="row"][bs_col class="col-sm-4″]
[/bs_col][bs_col class="col-sm-8″]R. William Funk & Associates is a premier search firm specializing only in higher education search consulting. They are recognized for their unparalleled record in recruiting many of the nation's most esteemed college and university leaders. Some recent successful presidential searches include the University of Arizona, the University of Southern California, Ohio State University, the University of Minnesota, the University of North Carolina and St. Johns University, among many others. The firm's founder, Bill Funk, is renowned for his vast network of higher education leaders, and he will personally handle the U's search. The search committee is confident that Funk's experience and track record will be a major asset to its efforts.
The next public announcement from the University of Utah Presidential Search Committee will be when it announces the selection of three to five finalists, which it will forward to the Board of Regents for consideration. That is anticipated to take place in spring 2018.[/bs_col][/bs_row]
---
U HEALTH NEEDS YOU FOR AHA HEART AND STROKE MONTH[bs_row class="row"][bs_col class="col-sm-4″]
[/bs_col][bs_col class="col-sm-8″]Please sign up and support the cause, be a team captain and create a team by going here. There's also a pulse page setup for employees and students to look at current stats and coach challenges.
If you have any questions about the event, please contact Heart Stroke Walk Leaders at HeartStrokeWalk@hsc.utah.edu.
Pay the $25 registration fee and receive a t-shirt.
Fun-filled, non-competitive 3-mile walk through Sugar House Park to promote walking as a part of a healthy lifestyle and raise funds to support cardiovascular research and educational programs for the UtahCommunity.
Saturday, Sept. 16, 2017
7:30 a.m. – Registration
8:30 a.m. – Opening ceremonies
9 a.m. – Race: Walk or run 5K
Sugarhouse Park: 1400 East 2100 South[/bs_col][/bs_row]
---
TICKETS AVAILABLE FOR 'A CONVERSATION: MICHAEL CHABON AND ZADIE SMITH'
Monday, Sept. 11, 2017 | 10 a.m.[bs_row class="row"][bs_col class="col-sm-4″]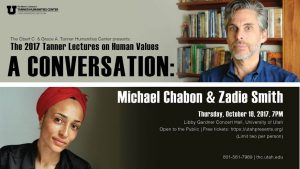 [/bs_col][bs_col class="col-sm-8″]Free tickets for the 2017 Tanner Lecture on Human Values "A Conversation: Michael Chabon & Zadie Smith" will be available here or by calling the box office at 801-581-7100. Limited to two per person.
Award-winning novelists Michael Chabon ("The Amazing Adventures of Kavalier and Klay") and Zadie Smith ("White Teeth") will participate in an unscripted, on-stage dialogue as part of the Tanner Lectures on Human Values, Thursday, Oct. 19 at 7 p.m. in Libby Gardner Hall. They will interview each other about the cultural significance of the arts and the humanities, the value of engaging with contemporary literature and the impact of current events on their writing.[/bs_col][/bs_row]
---
ONE BUTTON STUDIO ENABLES VIDEO CREATION AT THE TOUCH OF A BUTTON[bs_row class="row"][bs_col class="col-sm-4″]
[/bs_col][bs_col class="col-sm-8″]Have you ever wanted to create a video but just didn't have the time to do it? Welcome to the Marriott Library's One Button Studio on level 2 – the easiest and fastest way to make high-quality videos. All you need to do is reserve a time in the studio and bring a flash drive. Questions? Contact Tony Sams at tony.sams@utah.edu.
Click here for more information.[/bs_col][/bs_row]
---
UTAH GYMNASTICS COACHES RECEIVE 5-YEAR CONTRACT EXTENSION[bs_row class="row"][bs_col class="col-sm-4″]
[/bs_col][bs_col class="col-sm-8″]Utah gymnastics co-head coaches Tom Farden and Megan Marsden have signed five-year contract extensions through 2022, Director of Athletics Chris Hill has announced.
"We are privileged to have two of the finest gymnastics coaches in the country in Tom Farden and Megan Marsden and this contract extension signifies their commitment to the future success of Utah gymnastics," said Hill. "Tom is a rising star in the gymnastics coaching world and Megan's reputation is well established. They make a great team."
Farden and Marsden are beginning their third year as co-head coaches of the Ute gymnastics program, a position Marsden has held for the past eight years (six with the program's founding coach Greg Marsden). Both previously served as Utah assistant coaches. Farden is preparing for his eighth season at Utah, while Marsden — who won multiple NCAA team and individual championships as a Ute gymnast — is in her 34th year on the coaching staff.
"Megan and I are grateful to Dr. Hill for his faith in us," said Farden. "With the unrivaled resources, fan base and tradition of success at Utah, we think this is the best coaching job in the country. Our goal is to continue to compete for championships and maintain our position among the nation's elite gymnastics programs year in and year out."
The duo won their first Pac-12 Championship as co-directors last year (Utah's third Pac-12 Championship in the last four years) and led the 2017 Utes to the NCAA Super Six, finishing fifth in the nation. Utah has qualified for the NCAA Championship every year they have been on the staff—extending Utah's national-record streak of national championship appearances to 42 years.[/bs_col][/bs_row]
---
READY TO FLIP YOUR CLASSROOM?[bs_row class="row"][bs_col class="col-sm-4″]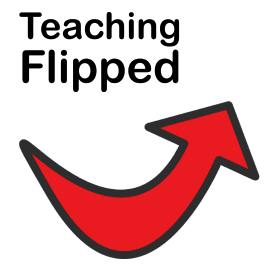 [/bs_col][bs_col class="col-sm-8″]Teaching Flipped is a free, six-week online course offered through Canvas Network (canvas.net), starting Oct. 2. Find out more about what it takes to flip your class, and work through the process step-by-step with instructors at the University of Utah.
Topics include the basics of the flipped classroom, creating of video lectures, planning active learning face to face (F2F) experiences, and taking the leap to fully flip.[/bs_col][/bs_row]
---
Climbing Clinics, Events and Competitions
[bs_row class="row"][bs_col class="col-sm-4″]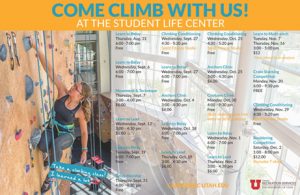 [/bs_col][bs_col class="col-sm-8″]We have a packed schedule at The Summit Climbing Wall in the Eccles Student Life Center. From Belay Clinics and Climbing Conditioning classes, to Belay-tionships and Costume Climbing, we have a great line-up of events.
Check out the full schedule and register at
campusrec.utah.edu
. Entry fees vary.[/bs_col][/bs_row]
---
UNIVERSITY TEACHING COMMITTEE: CALL FOR APPLICATIONS AND NOMINATIONS[bs_row class="row"][bs_col class="col-sm-4″]
[/bs_col][bs_col class="col-sm-8″]The University Teaching Committee encourages the efforts of faculty members, departments and colleges to improve individual teaching skills, devise effective teaching techniques and recognize and reward superior achievements in teaching. A variety of awards are now seeking applications and nominations.
To see criteria and deadlines, click here.[/bs_col][/bs_row]
---
NEW ENGLISH LANGUAGE PROFICIENCY TESTS[bs_row class="row"][bs_col class="col-sm-4″]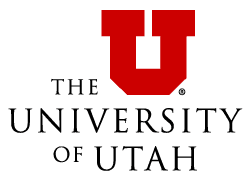 [/bs_col][bs_col class="col-sm-8″]Beginning in the admissions cycle for the spring 2018 term, Credits and Admissions has approved additional tests to be utilized by the Office of Admissions in order to prove a student's English proficiency and meet the international student admissions requirement for undergraduate applicants. Previously, we have only accepted the TOEFL and IELTS test results to prove English proficiency. Please note that a student meeting the minimum score requirement on one of these tests is not guaranteed admission, but the test will qualify the student to meet the English proficiency requirement.
The chart below details the names of all tests that will be accepted to prove English proficiency, beginning in spring 2018, and also lists the minimum requirement that a student must meet for each test.
If you have any questions about these new standards, please contact Teri Clawson, associate director of Admissions (teri.clawson@utah.edu), or Chelsea Wells, assistant director of International Admissions (cwells@sa.utah.edu).[/bs_col][/bs_row]