JUMP TO:
University Campus Bicycle Shop opens
Call for participation: U research data repository pilot project
Summer intramural sports registration deadline: May 31
Poet and BYU professor selected as the 2017-18 Marlin K. Jensen Scholar and Artist in Residence
Reimagine Education Awards: Open for applications
Learning Abroad deadlines
Campus Recreation is hiring personal trainers
Support national parks by using Zimride
---
UNIVERSITY CAMPUS BICYCLE SHOP OPENS[bs_row class="row"][bs_col class="col-sm-4″]
[/bs_col][bs_col class="col-sm-8″]
The University of Utah Commuter Services Department is proud to announce the opening of the University Campus Bicycle Shop. The Campus Bicycle Shop is located next to our main offices in the Annex at 1901 E. South Campus Drive, our primary hub of operations.
This year, May, is designated as Bike Month, the official month for celebrating bicycling and promoting active transportation. Cycling is convenient, healthy and a sustainable alternative to driving to campus. It's virtually cost-free and allows much closer access to your destination than vehicle parking lots. Cycling to the U can be a fun, practical, and productive way of making exercise a regular part of your life.
Commuter Services is kicking off its new Campus Bicycle Shop to support all cyclists throughout the year. The Campus Bicycle Shop will provide the campus community a central location for any repair needed to commute to and from the U. Located near both the South Campus TRAX station, and the Fort Douglas TRAX station, getting your bike to the shop should be easy. Services will be available from 8 a.m. to 12 p.m., Monday through Friday, with special requests available.
The shop will be able to offer you most of the services you can expect at other locations throughout the city, but at a convenient location should you need a repair during you time in class or at work. Stop by our main office or give us a call to schedule some TLC for your bicycle.
The University Campus Bicycle Shop will be offering the following services starting June 1 throughout the summer:
Flat repair
Cable service
Tune up
Bike assembly
Consultation
Maintenance instruction
We will consider any custom request, which may require additional time to order parts.
For other bike, related questions please check out our website here.[/bs_col][/bs_row]
---
CALL FOR PARTICIPATION: U RESEARCH DATA REPOSITORY PILOT PROJECT[bs_row class="row"][bs_col class="col-sm-4″]
[/bs_col][bs_col class="col-sm-8″]The University of Utah has created an institutional research data repository, The Hive, to help researchers fulfill funding agency and journal mandates to share data and to encourage transparent research. As part of a pilot project, we would like to work with a select number of researchers on campus to deposit data into The Hive and to learn what we can do to better meet the needs of researchers on campus. If you are interested in participating in this pilot project or would just like to learn more, please fill out this short online application before June 19, 2017. Participants will work with a librarian to describe and ingest their dataset into The Hive repository.
Datasets ingested into The Hive as part of this pilot project must be authored by a member of the University of Utah research community and must be complete, digital, less than 500 GB, and publicly available by August 2017. We are not accepting confidential or sensitive data into The Hive at this time. Please feel free to contact Rebekah Cummings at Rebekah.cummings@utah.edu or Daureen Nesdill daureen.nesdill@utah.edu if you have any additional questions.[/bs_col][/bs_row]
---
SUMMER INTRAMURAL SPORTS REGISTRATION DEADLINE: WEDNESDAY, MAY 31[bs_row class="row"][bs_col class="col-sm-4″]
[/bs_col][bs_col class="col-sm-8″]Join the summer fun. Intramural Sports registration is still open and we have a few spots available for softball, soccer and sand volleyball.
Register a full team or join a team as a free agent.
Register today at imleagues.com/utah.[/bs_col][/bs_row]
---
Tanner Humanities Center selects poet and BYU professor as the 2017-18 Marlin K. Jensen Scholar and Artist in Residence[bs_row class="row"][bs_col class="col-sm-4″]
[/bs_col][bs_col class="col-sm-8″]The Obert C. and Grace A. Tanner Humanities Center at the University of Utah selected Kimberly Johnson as the 2017-2018 Marlin K. Jensen Scholar and Artist in Residence fellow. Johnson, U alumnus and professor and associate chair of English at Brigham Young University, is the recipient of numerous awards including fellowships from the Guggenheim Foundation, Utah Arts Council and the National Endowment for the Arts.
Her latest book of poetry, "Uncommon Prayer," was published in 2014. Johnson's fellowship will consist of a semester-long residency at the Tanner Humanities Center beginning in spring 2018. She will lead a semester-length poetry course for U students and lifelong learners featuring a series of guest poets and public readings. She will also contribute to Mormon Studies curriculum planning and program development.[/bs_col][/bs_row]
---
Reimagine Education aims to acknowledge and reward those most successful in creating transformational educational initiatives, enhancing student learning outcomes and/or employability.
Educational innovators from all the world can select one of our 15 award categories and submit their projects for free here until the call for submissions closes on July 31, 2017.
The overall winner will receive $50,000 in funding. The Award Ceremony and Gala Dinner will take place Dec. 5, 2017, at the Reimagine Education Conference in Philadelphia.
To learn more about the application process and criteria, applicants can consult our application E-Guide.[/bs_col][/bs_row]
---
LEARNING ABROAD DEADLINE: FALL, FALL BREAK AND ACADEMIC YEAR GLOBAL CAMPUS, AFFILIATE AND FACULTY-LED PROGRAM APPLICATIONS[bs_row class="row"][bs_col class="col-sm-4″]
[/bs_col][bs_col class="col-sm-8″]Students applying for a Learning Abroad Global campus, affiliate and faculty-led programs should complete their Learning Abroad Applications by 11:59 MST on June 1 for the following terms:
Fall
Fall break
Academic year
Please note that affiliate application deadlines may vary.
The deadline for Learning Abroad exchange programs for fall and academic year programs is March 1.
Check out all of the possibilities and deadlines by using the Learning Abroad program search.
Deadlines that fall on a Saturday or Sunday will be extended to the following Monday. [/bs_col][/bs_row]
---
CAMPUS RECREATION IS HIRING PERSONAL TRAINERS[bs_row class="row"][bs_col class="col-sm-4″]
[/bs_col][bs_col class="col-sm-8″]Join our Crimson Crew team as a Personal Trainer and help others reach their goals. You must be a current U student, be PT certified and have some prior experience.
To apply, contact Cairistiona Flatley, cflatley@crs.utah.edu.[/bs_col][/bs_row]
---
SUPPORT NATIONAL PARKS BY USING ZIMRIDE[bs_row class="row"][bs_col class="col-sm-4″]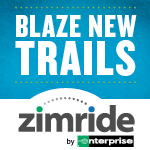 [/bs_col][bs_col class="col-sm-8″]
The web-based ridesharing service Zimride, which is available at the University of Utah, will donate $1 to the National Park Foundation for every new member or new ride posted in April up to $10,000.
In addition, Enterprise Holdings Inc., which owns Zimride, will match Zimride's contributions dollar for dollar.
Sign up and post a ride here.[/bs_col][/bs_row]
---