JUMP TO:
U ranked as top-tier teacher prep program
Utah gymnast named Academic All-District
Utah Football unveils new uniforms
Red Butte Garden summer camps
Support national parks by using Zimride
---
U RANKED AS TOP-TIER TEACHER PREP PROGRAM

The National Council on Teacher Quality, NCTQ, released its latest ratings for 717 undergraduate programs that prepare high school teachers, including ratings for seven colleges in Utah.

The University of Utah is the only school in the state to be included on the NCTQ's list of the "Nation's Top Tier Secondary Teacher Prep Programs." The U is one of only 16 programs to be included on the list.

Programs achieve top tier status because they have solid admission standards, provide sufficient preparation in each candidate's intended subject area and show them how best to teach that subject. Many also do well in evaluating candidates on how to manage a classroom and providing and ensuring the high quality of practice opportunities.

"The teacher preparation program at the University of Utah is committed to the education of all children in P-12 classrooms," said Mary D. Burbank, director of the Urban Institute for Teacher Education and assistant dean of the College of Education. "Our model of research-to-practice is embedded within classrooms, schools and communities. This vision and our actions speak to exceptional preparation for teaching and learning in the 21st century."
Click here for the full article.
---
UTAH GYMNAST SHANNON MCNATT NAMED ACADEMIC ALL-DISTRICT
---
SUPPORT NATIONAL PARKS BY USING ZIMRIDE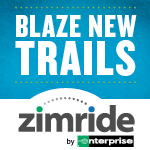 The web-based ridesharing service Zimride, which is available at the University of Utah, will donate $1 to the National Park Foundation for every new member or new ride posted in April up to $10,000.
In addition, Enterprise Holdings Inc., which owns Zimride, will match Zimride's contributions dollar for dollar.
Sign up and post a ride here.
---