JUMP TO:
University announces actions to improve campus safety and security
Jason Shepherd receives $2.5 million to study Alzheimer's disease
Feed U Pantry
University Teaching Grants
Recipients of the Fall 2018 GLAD and Spring 2019 grant and award deadlines
---
UNIVERSITY ANNOUNCES ACTIONS TO IMPROVE CAMPUS SAFETY AND SECURITY[bs_row class="row"][bs_col class="col-sm-4″]
[/bs_col][bs_col class="col-sm-8″]University of Utah President Ruth Watkins announced Wednesday actions to improve campus safety in response to an independent review team's findings and recommendations related to the Lauren McCluskey case.
The measures focus on training and education, staffing and improved communication processes. To read the university's response, click here. The actions include:
Adding staff in the University of Utah's Behavioral Intervention Team, Department of Public Safety (UUPS) and Housing and Residential Education (HRE).
Training police officers and HRE in the Lethality Assessment Program.
Streamlining the reporting process for cases that potentially involve personal safety.
Ensuring staff understand and enforce policies and protocols regarding guests in residence halls and guns on campus.
Directing police officers to conduct mandatory offender information checks when a suspect has been identified in a criminal case and matters more significant than routine traffic stops.
Evaluating current record management systems used by UUPS and HRE to see if better systems or upgrades should be adopted.
Improving communication between key entities on- and off-campus.
"We are acting on all the insights and recommendations in the review team's report, which identified gaps in our training, awareness and enforcement of certain policies and offers us a roadmap for strengthening security on our campus," Watkins said.
McCluskey, an outstanding student and track athlete, was killed on Oct. 22 by Melvin Shawn Rowland, with whom she had a brief relationship.
Rowland was a master manipulator, practiced liar and criminal who exploited Lauren, the university, state corrections and law enforcement systems to commit a horrific act, Watkins said.
"I am holding myself and my leadership team responsible for making these changes," Watkins said. "Our commitment to Lauren, her friends and family, as well as our students, parents, staff, faculty and community is that safety will continue to be a top priority at the University of Utah."
The review team will now begin working with the U's Presidential Task Force on Campus Safety to look more broadly at ways to improve safety and security, with a specific focus on staffing, training and education, and physical infrastructure.
Click here to read the full story or watch the press conference.[/bs_col][/bs_row]
---
Jason Shepherd receives $2.5 million to study Alzheimer's disease[bs_row class="row"][bs_col class="col-sm-4″]
[/bs_col][bs_col class="col-sm-8″]Jason Shepherd, assistant professor of neurobiology and anatomy at University of Utah Health, is one of 17 recipients of the inaugural Ben Barres Early Career Acceleration Award from the Chan-Zuckerberg Initiative. The Chan-Zuckerberg Initiative was founded by Mark Zuckerberg, CEO of Facebook, and his wife Pricilla Chan to provide new solutions to human disease. A major goal of the initiative is to bring new people with innovative ideas that solve intractable problems, in this case neurodegeneration.
The Shepherd lab will receive $2.5M over five years for the project titled "Viral-like mechanisms of intercellular communication in the pathology of neurodegeneration." Their work will explore new molecular mechanisms that may play a role in Alzheimer's disease.
Read the full release here.[/bs_col][/bs_row]
---
FEED U PANTRY[bs_row class="row"][bs_col class="col-sm-4″]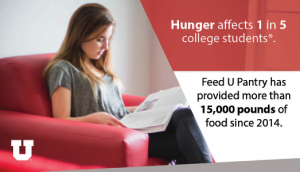 [/bs_col][bs_col class="col-sm-8″]Nationally, 1 in 5 college students face hunger.
Since 2014, the Feed U Pantry has provided non-perishable, nourishing food to students and their families, faculty and staff.
The pantry strives to empower those in need with access to food resources so they can focus on being healthy, happy and successful at the University of Utah without the barrier of fighting hunger.
For more information, go here.[/bs_col][/bs_row]
---
University Teaching Grants[bs_row class="row"][bs_col class="col-sm-4″]
[/bs_col][bs_col class="col-sm-8″]Deadlines: Jan. 11, 2019 and March 8, 2019
Awards are made to faculty to undertake projects that will enhance their teaching or the curriculum in which they teach. Tenure-line and Career-line faculty are eligible to propose individual and group grants. Preference will be given to applicants whose primary professional affiliation is as faculty at the University of Utah. Awards are made for amounts up to $3,500 for individuals and $7,000 for groups for items such as equipment, supplies or travel where appropriate.
Click here for more information.[/bs_col][/bs_row]
---
Recipients of the Fall 2018 Global Learning Across the Disciplines Grant and Spring 2019 grant and award deadlines[bs_row class="row"][bs_col class="col-sm-4″]
[/bs_col][bs_col class="col-sm-8″]The Office for Global Engagement offers grants of up to $10,000 for departmental or interdisciplinary teams composed of a minimum of three faculty members to improve global learning on campus as part of the Global Learning Across the Disciplines (GLAD) initiative at the University of Utah. Global learning refers to curriculum revision to include global learning outcomes and assessment. Information about the grants can be found here.
The Fall 2018 Global Learning Across the Disciplines (GLAD) grant recipients are:
Claudia Geist, Sociology, and team in the Sociology Department: Theresa Martinez, Marcel Paret, Lazarus Adua, and Megan Reynolds. Project: Making the Global Explicit – Systematically Incorporating Global Learning in the Sociology Core Curriculum.
Dean McGovern, Bennion Center, and team in the Bennion Center: Andi Witczak and BobbiJo Kanter. Project: Expanding Assessments to Enhance Community Engagement and Global Learning Across the Disciplines at the University of Utah.
Project proposals and information for all GLAD grant recipients can be viewed here.
Deadline for the Spring 2019 GLAD grant pre-proposals: Jan. 11, 2019. To apply, click here.
Deadline for the Faculty & Staff Excellence in Global Engagement Award: March 1, 2019. For more information and to nominate a colleague click here.
NOTE: there are two excellence awards available annually: one for a faculty member and one for a staff member.[/bs_col][/bs_row]
---